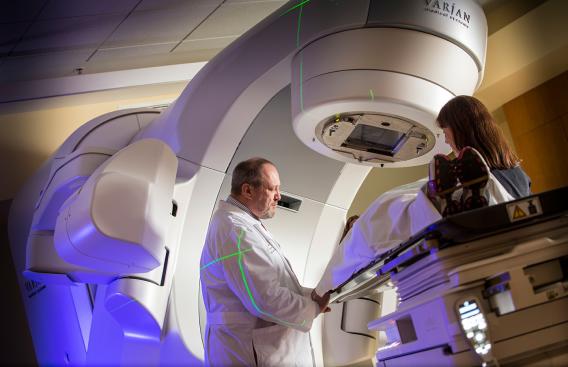 NCCC's TrueBeam offers increased precision and safety for brain, spine, and prostate cancer
Imagine aiming a radiation beam at a moving target like a lung, or a delicate area like a prostate. A new platform for our top-of-the-line linear accelerator makes these challenges easier and safer.
During radiation treatment for cancer patients lie on a treatment table, also called a couch. This table is lifted, tipped, and slanted in every possible direction to align a tumor with the radiation beam. This fall, Norris Cotton Cancer Center was one of the first in the nation to install a new treatment table called the Varian six-degrees-of-freedom couch, just recently approved by FDA. It is an upgrade to our top-of-the-line linear accelerator, the Varian TrueBeam.
This new treatment table on our top machine brings increased precision and efficiency, especially in delicate areas of the body where millimeter accuracy is essential. "Major areas where we envision this being very important include tumors of the brain, the head-and-neck, the prostate, and the vertebral bodies of the spine," says radiation oncologist Alan Hartford, MD, PhD, interim chief of the Section of Radiation Oncology and associate professor of medicine at Geisel School of Medicine.
"This installation is the second in the United States and the fourth worldwide, clearly distinguishing Radiation Oncology at NCCC as a leader in new technology implementation," adds David Gladstone, ScD, chief of Clinical Physics at NCCC and associate professor of medicine at Geisel School of Medicine.
Using sophisticated computer and image-guided technologies, radiation oncology teams routinely align patients in three-dimensions for treatment—front and back, up and down, and side to side, says Hartford. "What the six-degrees-of freedom couch system gives us is the ability to control for the three additional angular dimensions, what we call pitch, roll, and yaw," he explains.
Radiation treatment for cancer gets faster, better, easier
Advancements in radiation treatment technology allow higher doses of radiation to tumors, with less damage to surrounding tissue. A higher dose means fewer treatment sessions overall to treat a tumor.
"In some cases we'll be able to treat multiple lesions simultaneously, with comparable results to what we see now," says Hartford. "Thereby the advancements speed up treatment preparation and delivery. For someone undergoing radiation therapy for a brain tumor, for example, it could mean spending 30 minutes on the table versus two hours."
Lung cancer radiation treatments improve
The TrueBeam system has tools for treating organs that move, like the lungs, or that can easily shift, like the prostate. "We monitor the patient using reflected laser light while they are on the treatment table," Harford says. "If there's too much movement detected, we can stop treatment and make the necessary adjustments before resuming. Another approach called gating allows us to control for tumors that move inside the body, such as those in lung cancer patients, ensuring that we treat them safely and accurately as patients breathe."
Prostate cancer radiation safer during treatment
At NCCC gold coil implants are inserted into prostate tumors to mark the targeted treatment area and help keep radiation from damaging other soft tissue. Until now, pinpointing the marker could only be done before treatment. The TrueBeam real-time imaging capabilities allow technicians to track the markers during treatment sessions so if anything shifts, radiation may be adjusted accordingly. "Because we localize it," says Gladstone, "we can reduce the harmful effects of treatment."
Radiation treatment staff make it easier
As impressive as these advancements are, they're only as good as the "people part" of the treatment process, said radiation oncology patient David Evancich. "I can't say enough about the quality of my entire care team, from my radiation oncologist Dr. Bassem Zaki to the group of radiation therapists I had through my treatments. Everyone was extremely well-trained, knowledgeable, and personable. Having cancer can be a very frightening experience, but they made the process much less intimidating and worrisome than it could have been." (Learn more about David's TrueBeam treatment in this video.)