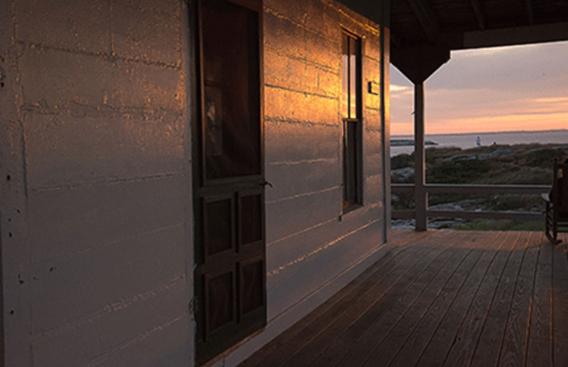 "Healing with Art" program reinforces the healing process for cancer patients and their families
Rich Perry brought rotating art exhibits to NCCC to offer cancer patients a contemplative refuge that might help them find perspective on their experiences. He's found that these exhibits also stimulate people to engage with each other and with life.
As Rich Perry was hanging art for the "Healing with Art" exhibit in the waiting room of NCCC Lebanon's Radiation Oncology department, a patient approached for a closer look at the photograph of a lighthouse he had just placed into position. It was the lighthouse where she had her 40th wedding anniversary, and she shared the story of that happy event. Perry says he often has conversations like this while hanging the exhibits. Sometimes an image reminds people of a specific event, or brings them back to a place long forgotten.
"I love hanging these shows because I always interact with patients and caregivers," he says. "People can enter any of the pieces of art we hang—it's an opportunity to walk into a refuge that offers a chance to become contemplative in whatever way they want."
Nearly two years ago, Perry, a board member of the Friends of the Norris Cotton Cancer Center South, brought the concept of rotating art exhibits to fellow board members after he exhibited one of his own photographs in a similar program at Massachusetts General Hospital. He had experienced the difficult journey cancer patients and their caregivers face (his wife and daughter are both cancer survivors), and saw the powerful impact these art exhibits had on cancer patients, their caregivers, and the cancer center staff.
"I really believe that art can be a major part of healing," says Perry. "It brings comfort and humanity to a clinical setting that can feel very sterile."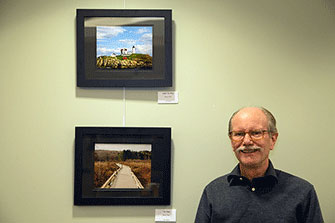 Selected artwork helps with the cancer patient's healing process
The Friends board enthusiastically embraced the idea and worked with him to create a program for the NCCC cancer centers. Every four months the "Healing with Art" committee, a diverse group of artists, medical professionals, and community members, sends out a call for submissions to New England artists.
"We are really clear about what kind of art we are looking for," says Christine Pariseau-Telge, coordinator for the Friends of Norris Cotton Cancer Center South. "Art that may work well in the living room may not be right for this exhibit. We want work that aids in the healing process—art with a specific goal for a specific audience."
The guidelines for submissions on the Healing with Art website explain that submitting artists must consider the perspective of the patients and caregivers in the waiting rooms and infusions suites where the art is hung. People who will be viewing the pieces often experience a heightened awareness of their surroundings, increased anxiety and fear, and may be coping with nausea and fatigue.
The most recent call for submissions, the fourth for the program, drew a record number of submissions (192) by a record number of New England artists (27). The three exhibits just hung in January 2014 showcase 59 works by 26 artists, including photographs, mosaics, and collages as well as paintings done in oil, pastel, acrylics and watercolors.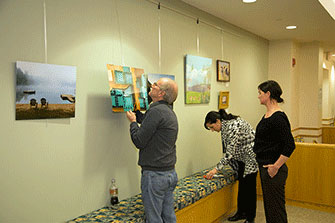 The "Healing with Art" exhibits can be seen at the Lebanon, Manchester, and Nashua Norris Cotton Cancer Centers:
Norris Cotton Cancer Center, Lebanon
Radiation Oncology Waiting Room, 2K
Dartmouth-Hitchcock Medical Center
One Medical Center Drive
Lebanon, NH 03756
Norris Cotton Cancer Center, Manchester
Notre Dame Pavilion, 4th floor
87 McGregor Street
Manchester, NH 03102
Norris Cotton Cancer Center, Nashua
Norris Cotton Cancer Center
Dartmouth-Hitchcock Clinic
2300 Southwood Drive
Nashua, NH 03063
The Healing with Art program was created and is sponsored by the Friends of Norris Cotton Cancer Center South. For more information, please call Christine Pariseau-Telge, (603) 703-6955 or email Christine.A.Pariseau-Telge@Hitchcock.org