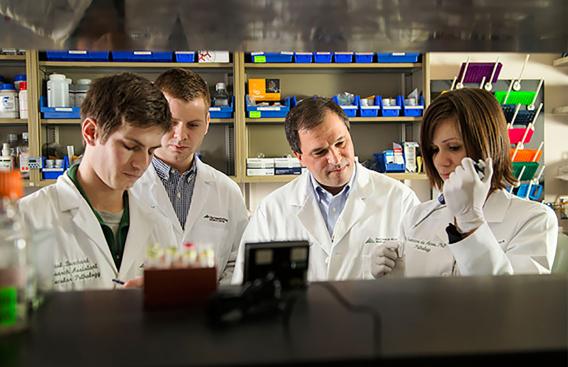 Genetic sequencing helps diagnose tumors and tailor effective treatment
Genetic alterations play a role in the growth of all types of cancer, and researchers also have found that individual cancer tumors each have a unique genetic profile.
Shortly after President Barack Obama announced his Precision Medicine Initiative at the State of the Union Address, Shari Small of NH1 spoke with Chris Amos, PhD, Associate Director of Population Sciences at Dartmouth-Hitchcock's Norris Cotton Cancer Center (NCCC), about how tailored treatments can be used in the fight against cancer. As the Director of Dartmouth's Center for Genomic Medicine, Amos and his colleagues, including Gregory Tsongalis, PhD, are experienced in one of the more innovative aspects of precision medicine: genetic sequencing.
In cancer care, precision medicine is used to describe how genetic information about a specific patient's tumor can be used to more accurately diagnose and tailor effective individual treatment strategies. Genetic alterations play a role in the growth of all types of cancer, and researchers also have found that individual cancer tumors each have a unique genetic profile. At NCCC, genetic sequencing is routinely applied to most patients with metastatic colon cancer, lung cancer, glioma, and melanoma, as well as to some patients with metastatic breast cancer. The process helps suggest targeted therapies that are less toxic and more effective for patients. Learn more directly from Chris in this complete interview, consisting of questions submitted by NH1's Small:
Advances in the analysis of cancer tumors and the technology used for DNA sequencing now allow researchers to create detailed genetic profiles of individual tumors. New drugs have been developed that effectively target genetic differences in chronic myelogenous leukemia, lung cancer, and colon cancers. While only a few tumor types are currently known to respond to these new treatments, as physicians learn more about the "genetic Achilles' heels" of specific cancer tumors, they will be turning to these targeted therapies to improve patient care.
Several new methods for DNA sequencing have been developed and are known as next generation sequencing (NGS). New instruments use small particles (i.e. nanotechnology) and unique reaction vessels to perform millions of sequencing reactions simultaneously, often on multiple patient samples. Each patient's DNA sample is broken into small pieces, and each piece is labeled with a molecular barcode identifier. As fragments are sequenced, computer software is able to distinguish patients by these barcodes. In the final stage of this process, the sequence of data is compared to sequences from healthy people to identify genetic variants.
By using information from the panel, cancer physicians can select drugs to treat a specific patient based on a higher likelihood of response. These individualized regimens are often called personalized or precision medicine. Some of the mutations are targeted because they make the tumor cells sensitive to therapy, and other mutations are targeted because they are known to make tumors resistant to therapy.
In some cases, combinations of these newer targeted therapies (such as monoclonal antibodies and tyrosine kinase inhibitors added to traditional cytotoxic chemotherapies) are shrinking previously resistant tumors and extending patient survival. In other instances, sequencing is helping to highlight where targeted therapies are needed. For example, a recent publication reported on work at Dartmouth-Hitchcock that described mutations in rare, but often aggressive, tumors of the appendix. This new study found that the types of mutations observed can identify the stages of appendiceal tumors, and these mutational observations can be used to identify targets for new therapies to effectively treat this disease.
In New Hampshire, Dartmouth-Hitchcock Medical Center has been performing NGS for routine clinical services since 2012. The first clinical application of this new diagnostic capability has been with cancer: patients with colon cancer, brain tumors, melanoma, and lung cancer have been sequenced with a panel that reports on 50 genes. The panel represents the most commonly altered genes in human cancers and contains those disease-related variants that are potentially treatable with new drugs that have molecular targets.
In addition to genetic sequencing, Amos and his colleagues practice genotyping: the analysis of specific position within the genome. They are the lead site in the Oncology Array project that involves genotyping nearly 500,000 individuals.
Features excerpts from: Emerging Issues Brief: Precision Medicine: How Genetic Sequencing is Changing Cancer Care by Gregory J. Tsongalis, PhD, and Christopher I. Amos.
More on Precision Medicine at Norris Cotton Cancer Center: