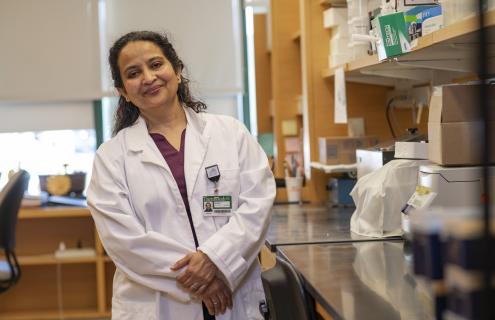 The Dartmouth Innovations Accelerator for Cancer has quickly become a sought-after launching pad for research teams to pursue entrepreneurial support, education and infrastructure. It was in October 2020 that Dartmouth Cancer Center and Dartmouth's Magnuson Center for Entrepreneurship joined forces to create the Accelerator platform.  
In its first year, the Accelerator attracted 17 teams made up of 41 faculty and students— "all eager to turn discoveries into life-changing treatments for cancer patients," according to Steven D. Leach, MD, director of the Dartmouth Cancer Center and the Preston T. and Virginia R. Kelsey Chair in Cancer at the Geisel School of Medicine at Dartmouth.
With guidance from alumni and industry along with philanthropic generosity, Dartmouth cancer research can more easily advance through the development pipeline to commercialization.
Arti B. Gaur, PhD, assistant professor of neurology, and two graduate students won an award of $300,000 for a potential therapy to treat high-grade gliomas—the kind of brain tumor for which the median survival is only 14 months. The award will help fund a critical step toward clinical trials—large-scale pharmacology studies by an independent commercial lab.
"This award will help us get to the next phase, where we can potentially attract big money that will be needed for clinical trials," Gaur said. "I have also seen my thought process evolve as a result of the Accelerator, to think in a more systematic, comprehensive way about bringing a new therapy or technology to patients."
Here's the list of 2021 Dartmouth Innovations Accelerator for Cancer award recipients:
$300,000 Award: Establishing a Safe, Effective Therapy for Brain Tumors
Project Leads:

Arti Gaur, PhD, assistant professor of neurology, Geisel; and Jordan Isaacs, Guarini '24, PhD student in the Cancer Biology Program

Innovation:

To fund dose optimization and pharmacology studies for a new, Dartmouth-created highly selective anti-estrogen compound that targets brain tumors. The studies are necessary to enter clinical trials.
$100,000 Award: Solving MYC, the Most Wanted Target in Cancer
Project Leads:

Michael Cole, PhD, professor of molecular and systems biology, Geisel; and Edmond J. Feris, Guarini '19, research associate, NCCC

Innovation:

To fund the characterization of MYC inhibitors, which were identified by screening 50,000 compounds. MYC is a cancer-promoting gene prevalent in breast cancer, lung cancer, colon cancer, leukemia, lymphoma and melanoma
$50,000 Award: Barcoded-Antibody Library for In Vitro Engineering (B-ALIVE)
Project Leads:

Jiwon Lee, the Ralph and Marjorie Crump, assistant professor of engineering, Thayer School of Engineering (Thayer); Seungmin Shin, PhD, post-doctoral fellow; and Nicholas Curtis, PhD candidate and National Science Foundation graduate fellow, Thayer.

The Innovation:

To fund the development of a technology platform to enable more-accurate high-throughput screening of new, more-effective cancer drugs, specifically monoclonal antibodies.
10-week course
All teams participated in a 10-week course staffed by Dartmouth and two local biomedical companies. During the course, they learned about biomedical entrepreneurship and regulatory requirements. Teams created step-by-step plans for the development of innovations. Lessons involved:
Invention disclosures and patents.

Meetings with venture capital groups.

Discussions with private companies.

Networking with biomedical entrepreneurs and investors.
The Innovations Accelerator has attracted more than $3.5 million. Donors, alumni and parents from across Dartmouth have enthusiastically given of their time, expertise and financial support to establish a robust network of affiliated entrepreneurs, industry partners and investors. Their efforts are solving unmet needs in cancer care and will ultimately improve patients' lives.
"When you look at the number of biotech start-ups that have spun out of our cancer center, it's astounding," says Leach. "The Accelerator builds on our culture of collaboration and innovation."