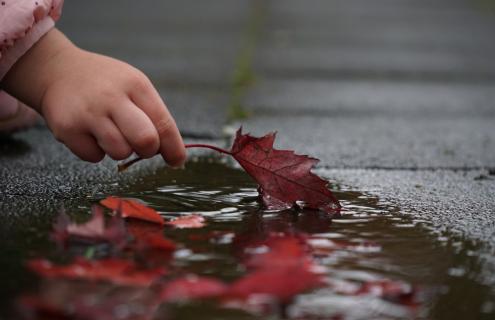 I hope these findings galvanize researchers and public health officials in our neighboring states to work together, so that we can find ways to prevent or reduce childhood cancer in the Northeast.
Judith R. Rees, BM, BCh, MPH, PhD
September is Childhood Cancer Awareness Month. More than 15,000 childhood cancers are diagnosed each year in the United States. In 2018, the U.S. Centers for Disease Control and Prevention published a paper that hit local headlines reporting that New Hampshire had the highest incidence of pediatric cancer in the country.
As a result, the New Hampshire legislature set aside funds for childhood cancer initiatives. Projects at Dartmouth's and Dartmouth-Hitchcock's Norris Cotton Cancer Center (NCCC), in collaboration with the State of New Hampshire, analyzed incidence data and radiation monitoring data in New Hampshire, reviewed causes of childhood cancer and studied challenges faced by patients and their families. Funding also supported a public conference to share data and information.
National childhood cancer analysis
Findings of the 2018 report inspired further studies to compare New Hampshire's race-specific rates to those of neighboring states, and compare the northeastern United States with the rest of the country overall including cancer subtypes.
In New Hampshire, 60 to 70 new cases of childhood cancer and fewer than 10 deaths occur each year. "Our numbers are relatively small because New Hampshire has only 1.3M people," says Judith R. Rees, BM, BCh, MPH, PhD, associate director for Community Outreach and Engagement, a member of NCCC's Cancer Population Sciences Research Program and director of the New Hampshire State Cancer Registry. "These small numbers are hard to study. Research needs a large sample size to study many possible contributing factors such as maternal age, birth weight, radiation and chemical exposures and genetics."
Overall rates of cancer are highest in white children and lowest in African American children, with a 39 percent difference between the two. "A state whose population is mostly white, such as New Hampshire, will have higher childhood cancer rates. Therefore, it's important to address race when we do statistical testing."
Results showed no evidence that New Hampshire or any single northeast state has a significantly higher rate of childhood cancer than the Northeast region as a whole. However, the Northeast has significantly higher rates than the Midwest, South and West U.S. regions by comparison. The reasons for this may be complex. "High childhood cancer rates are a problem in the Northeast, not just New Hampshire. I hope these findings galvanize researchers and public health officials in our neighboring states to work together to find out why, so that we can find ways to prevent or reduce childhood cancer in the Northeast," says Rees.
Radiation monitoring in New Hampshire
The goal of the second project was to analyze and present radiation monitoring data collected in New Hampshire to help increase public awareness and address concerns.
Radiation is energy from a source that travels through space. Some sources of exposure are difficult or impossible to avoid because they come from the world around us: radon (a colorless gas that seeps up from the ground into the air), cosmic radiation from the sun and outer space, and even food.
Ionizing radiation, which has a lot more energy, can damage cells in our body. "Ionizing radiation as a factor for childhood cancer is supported by strong evidence and is also known to cause cancer in adults," notes Rees. A big source of exposure to ionizing radiation comes from medical imaging. "An abdominal CT scan gives us more radiation than we'd get in a year from the environment, and more than 90 million CT scans are done every year in the U.S.," says Rees. "Of these, 4 million are done in children. Efforts are underway to try to reduce CT scans done on children."
The next biggest source of ionizing radiation exposure is radon. While there is evidence that radon in the air causes 21,000 adult lung cancers every year in the U.S. and 100 in New Hampshire, more research is needed on its connection to childhood cancer. "Thousands of homes in New Hampshire with dangerously high levels of radon can be reduced with mitigation systems," says Rees. "A home test kit is inexpensive from your local hardware store, and could be lifesaving."
Other sources of radiation include smoking and airplane travel. Living near a nuclear power plant is on the list, however measured radiation exposure is thought to be lower than that from regular use of a television or computer. In New Hampshire, the Seabrook nuclear power plant has enhanced monitoring. Results show no discernable difference in radiation levels before and after the power plant began operating, nor were radioactivity levels different than those of control samples taken 50 miles away from the plant. A dashboard with references and explanations to help the public understand results is in development.
Childhood cancer literature review
Another initiative involved reviewing and combining almost 1,000 research and review articles on causes of childhood cancer into a summary document. Researchers identified main risk factor categories, including genetic, prenatal, perinatal (after birth), environmental, medical and lifestyle.
Attending physician of Pediatric Hematology and Oncology at the Children's Hospital at Dartmouth-Hitchcock (CHaD), Angela M. Ricci, MD, noted the difficulty and importance of researching causes and risk factors for childhood cancer, saying more cooperative research is needed to make progress in reducing rates.
Childhood cancer survivor study
The Childhood Cancer Survivor Study looked at the lasting effects that cancer diagnosis, treatment and transition into survivorship have on patients and parents in New Hampshire. Several layers surfaced including feelings of isolation, financial difficulties that impact quality of life and lack of support in survivorship.
"If we can build more comprehensive care structure for survivors of childhood cancer that include medical care, school support and advocacy, networking with other families and logistical assistance, it will help ease the burden of the ongoing medical and psychosocial needs we know that pediatric cancer survivors and their families in our region commonly experience," says Ricci. Researchers have already applied for a grant to build on these findings and come up with solutions.
Ongoing discussion
The public Childhood Cancer Initiatives conference held in June provided Rees and Ricci, among experts from across the Northeast, a chance to present research findings openly to an audience of community members, public health staff and clinicians. They also responded to questions about the connection between wood smoke pollution and cancer, proton therapy centers, vitamin D and cancer and at-home treatment options for children with cancer.
The conference also included compelling stories shared by childhood cancer survivors and by families who are living through the experience.
Further work is planned with the NH Department of Health and Human Services.  "We'll be evaluating the conference and deciding where New Hampshire should focus its efforts," says Rees. "We hope the June conference was only the beginning."