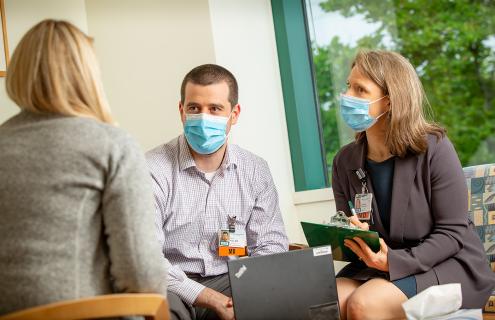 The Promise Partnership Learning Health System pools the knowledge, skills, and experience of leaders from Dartmouth Health, The Dartmouth Institute for Health Policy and Clinical Practice and the Dartmouth Cancer Center in addressing the needs of patients and their families. The Promise Partnership supports D-HH's strategic initiative "The Promise," which seeks to provide the best care possible for the patients, people, and communities it serves.
Per its vision statement at launch, The Promise is a "collaborative and intentional pursuit to bring together the full power of our collective expertise ... Our goal is to break down silos and spread innovative practices by building a robust interdisciplinary community of practice that learns, measures, shares, and improves to spread best practices."
The Promise Partnership focuses on a "Learning Health System" across the Cancer Center's 14 clinical oncology groups. It seeks to demonstrate improvement in these key measures of outcomes and service:
Patient and family experience.

Team well-being/joy in work.

Clinical and functional outcomes.

Diversity, equity, inclusion and belonging.

C

ost, resource utilization and financial indicators.

Research, teaching engagement, and productivity.

A learning culture and community of practice. 
The Partnership involves 6 working groups testing and measuring different interventions as part of the Learning Health System. Here's a quick look at each:
Collaborative Learning Network:

An initiative to develop a robust interdisciplinary community of practice—one that learns, measures, shares, and improves together in spreading innovative practices among and between clinical oncology groups.

Patient Wisdom:

An integrated digital engagement solution that provides care teams with a 20-second snapshot of each patient to support improved delivery, engagement and experience of care.

Point-of-Care Dashboards:

A way to capture and display each patient's goals, concerns, health outcomes and treatments over time.

Serious Illness Conversion Model of Care:

An initiative to ensure patients with serious illnesses have conversations with their clinicians about what matters most.

Peer-to-Peer Support:

Networks connecting care partners to peers and trusted resources. 

Data, Measurement, and Scholarship:

Promotion of data-driven, system-level improvements and scholarship.