By

Lara K. Stahler

Photography by

Mark Washburn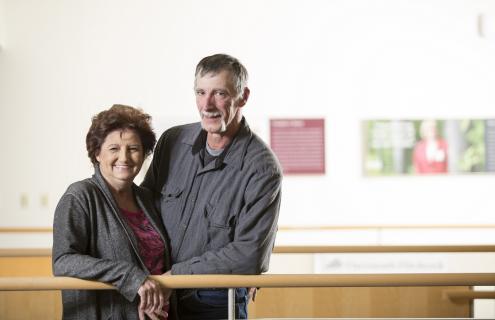 We have been through everything together and we always pull ourselves out. I don't know what we'd do without each other.
Gloria Lopez
In more than 30 years of marriage, Michael and Gloria Lopez have shared a lot. "We're a lot alike yet in some ways we're complete opposites. We've always made a good team that way," says Gloria. "Even back when I was pregnant Michael would get sympathy pains. He would say, "Ah, Honey, I got your cramps again!" she laughs. What they never expected to share were lung cancer diagnoses of very similar size tumors in the same portion of the same lung almost two years apart.
Two alike
Gloria's lung cancer diagnosis in April of 2015 came first. "My Primary Care physician, Jennifer Packard, MD, was concerned because I was losing weight rapidly. I also see a pulmonologist [Mark Pohlman, MD] at Notre Dame Pavilion at Catholic Medical Center in Manchester. CT [computerized tomography]scans and MRIs [magnetic resonance imaging] showed something the size of a dime on my left lung. A biopsy confirmed the nodule was cancerous and I was referred to Dr. (Timothy) Millington, who said he would like to remove it. By May I was in surgery. He immediately reassured me by telling me exactly how we were going to take care of it," Gloria continues. "He explained every small detail of what would happen in the Operating Room. I didn't care as long as I was asleep! I understand it's a teaching hospital. But he promised he wouldn't leave my side for one second through the whole surgery."
Michael's pre-diagnosis experience in January of 2017 was somewhat different. "I wasn't losing weight. I had a little cough, nothing out of the ordinary. But the scan from a new screening test turned up a spot on my lung the size of a quarter, and the biopsy came back as cancer. So my wife stepped in…" "Well, I told the receptionist, 'Michael doesn't have a pulmonary doctor, but I do have a surgeon at Dartmouth-Hitchcock,'" continues Gloria. "Dr. Millington had given me his personal number to reassure me that he was there for me if I needed him. The receptionist said, 'You have a surgeon's number?' I said, 'Yes I do!'" laughs Gloria. "So we called Dr. Millington's assistant on Wednesday, and by Friday we had an appointment with him in Manchester (D-H Manchester) where we live. Was that fast, or was that fast?" Michael adds: "And two weeks later I was on the operating table! They don't mess around."
The Lopez's did discuss treatment options with their physician at the time of their respective diagnoses and ultimately both chose surgery. "We could have opted for radiation and chemotherapy, but Dr. Millington felt surgery was the best way to make sure we got 100 percent of it," recalls Michael. "Instead of just cutting out the spot we were better off taking the upper lobe of the lung out. He also removed some lymph nodes to make sure the cancer hadn't spread, and those came back negative for both of us," he continues.
The tough stuff
The Lopez's were deeply impressed with the high level of care taken with each of them before their surgeries. "I had more testing than Michael had because I have COPD [Chronic Obstructive Pulmonary Disease]. They made sure my heart and breathing were ok and put me on a special high-protein diet to keep my weight up. I was monitored closely to make sure my body was healthy enough to handle surgery," explains Gloria. "People can't believe my recovery from surgery was only two days, but that's exactly as Dr. Millington said it would be!"
As a result of pneumonia years ago, Michael, on the other hand, faced some extra complications due to scarring and lung inflammation. "Dr. Millington knew that he was going to have to scrape that lung. He prepared us for it," says Michael. Although the lobe was removed successfully, the surface of the remaining lung had a small but persistent leakage of air that took extra time to heal. "I was in recovery for eleven days. In that time the hole still didn't close up, and I came home with a chest tube," recalls Michael.
Millington recommended an experimental procedure to close up the prolonged air leak, one of most common complications that extend hospital stays. The procedure involves inserting an "umbrella-like" valve in the lung to plug the hole until it heals on its own. On the morning of Michael's procedure, however, Millington's team checked the leak once more, but to their relief, found that it had closed. "I didn't have to go through that additional process to close up the hole in my lung, but at least he was prepared with a 'Plan B' if we needed it," says Michael.
Making the best of it
Even when Michael was the patient, Dr. Millington's care was vital for Gloria. "I knew my husband couldn't have been in better care," she says. "And I couldn't believe that Dr. Millington remembered me from two years earlier. 'Gloria, I remember all my patients,' he told me. That's just how he is. He especially remembered my surgery because of the 'tree branches' (blood supply vessels that have to be removed with the lung lobe). Every time he thought he was done, another 'tree branch' would pop up. We were actually laughing about it! He has this way of talking to us about things so that we're not scared. We even joke with Dr. Millington because he says that we both have the same size lung now," laughs Gloria. "Michael's lung was bigger because he's a man, and we shouldn't make a joke out of it, but you do what you have to do to get through the difficult times! Because of how much lung Dr. Millington had to remove from each of us, Michael and I now have the same size left lung!"
To anyone else going through a similar experience, Michael and Gloria say, make sure you feel good about who is taking care of you. "We've never had big surgeries like this, and Dr. Millington made us feel so comfortable," says Gloria. "He even took time to conference call my sister in Florida so that she could ask her questions and be reassured too. It made all the difference to me that he would do that," she continues. "He was very detailed and always available for questions even after our appointments," adds Michael.
As for Michael's surgery, "The incisions and scars are actually smaller than you think. It's not like it used to be, just three little incisions: one for the tool to hold the lung in place, one for the vacuum because they have to deflate your lung during the procedure and for the camera so they can see what they're doing, and one through which the surgery is done. It is nerve-wracking to think about, but people shouldn't be afraid. Just ask all your questions and get the reassurance you need."
The Lopez's also emphasized the excellent care from the nursing staff during their recoveries, especially Michael's 11-day stay at 4West at Dartmouth-Hitchcock Medical Center. "When I was in recovery I'd get checked out and go through a detailed process every morning. They'd get me up and walking around to keep my lungs clear so I wouldn't get pneumonia, and I had to do breathing exercises—it's all very thorough. I was very pleased, I wasn't afraid at all," he recalls. "Here we are going on about Dr. Millington, but they are all amazing people!" adds Gloria. "Michael had to sit upright in a chair much of the time so while I visited for hours, I helped myself to his bed. The nurse made sure it was always made up for me! Dr. Millington probably lost track of which one of us was his patient because I was always in Michael's bed!" Gloria laughs. "We were always together, and the nursing staff became like our family. They're all wonderful people."
Michael, who had his surgery more recently, just received good news that his first post-operative CT scan looks clear with no signs of cancer. Michael and Gloria hope to move to six month and then annual follow-ups, preferably, of course, on the same schedule. While the Lopezes do have to get used to slightly different physical limitations because of decreased lung capacity, they will be there to support each other through the changes. That includes, with their physician's blessing, traveling the country in the new camper they bought this spring. "We have been through everything together, and we always pull ourselves out," says Gloria. "I don't know what we'd do without each other."