Photography by

Mark Washburn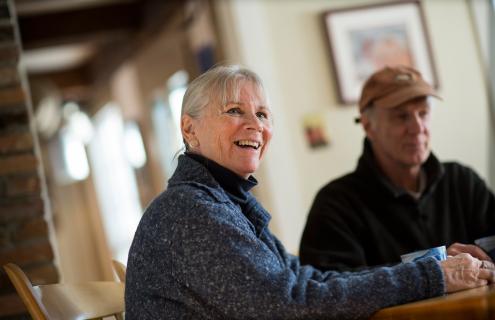 Simple breathing technique helps women protect their heart during radiation treatment for left-breast cancer
Deep inspiration breath hold (DIBH) helped Bonnie Prouty decide to have radiation on her left breast after a lumpectomy. This new technique offers women an easy and painless way to protect the heart from damage associated with radiation treatment for breast cancer.
When Bonnie Prouty was diagnosed with cancer in her left breast she consulted three specialists about her treatment options. As a retired radiation therapist, she knew that patients with left-sided breast cancer are at greater risk for developing heart problems because of radiation near the heart. Her own cancer had been caught early, her lumpectomy had gone well, and some felt that radiation therapy wasn't needed.
"Having treated patients for 35 years I was aware of the short term and long-term effects of radiation," she says. "I was concerned about possible heart damage, and I had some concerns about my lung as well."
Heart-sparing radiation technique helps women worried about radiation exposure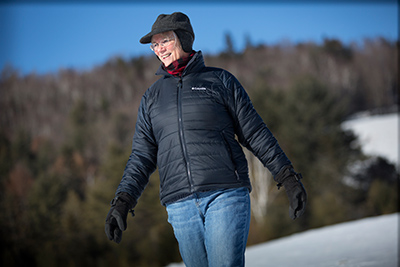 She decided to have radiation therapy primarily to relieve the anxiety of family members—her sister had died of breast cancer, and they worried that all the cancer hadn't been caught with surgery—but a new radiation technique offered at Norris Cotton Cancer Center, Deep Inspiration Breath Hold (DIBH), helped her make this decision.
"The important thing with left breast cancer is to do radiation carefully and avoid excessive radiation near the heart," says Lesley A. Jarvis, MD, PhD, a member of NCCC Comprehensive Breast Cancer Program. "A deep breath pulls the diaphragm and heart down and out of the radiation beam path. Delivering radiation treatment during these deep breath holds protects the heart from exposure."
Holding your breath is a simple, noninvasive way to keep the heart from radiation beam
It is a simple technique, but making sure a patient is properly positioned is difficult. How can technicians be sure that a patient is consistently breathing deeply enough to move the heart away from the treatment area? In the past, multiple X-rays were taken before treatment to see if adjustments were needed, adding more radiation exposure to breast cancer treatment. Some cancer centers who offer DBIH use a mouthpiece that forcibly controls breathing during treatment.
NCCC recently installed a real-time monitoring system that allows technicians to monitor the patient as she holds a deep breath for 20 seconds, without tubes or masks, so radiation is precisely targeted. NCCC was the first tertiary academic medical center in New Hampshire to offer DIBH to patients. DIBH is also offered at the Nashua Regional Center Cancer Center, which is co-owned by the Dartmouth Hitchcock Medical Center.
During a DBIH treatment session three ceiling-mounted cameras on a 3-D monitoring system (Vision RT's AlignRT system) beam a red patterned light grid onto the patient during treatment. Technicians use screens to monitor the patient's position during each breath hold and make sure the heart is positioned away from the chest wall.
"This treatment involved a lot more planning prep than when I was working with patients," says Prouty. "But the treatment was more precise, and once we started the actual treatment time was the same—I was out of the room in 15 minutes."