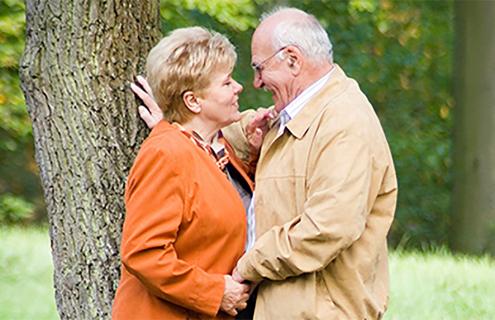 What does "surviving cancer" mean within the context of a patient's personal life, especially in relationships and marriages? How should a cancer survivor and their partner approach the complex, delicate and emotional subject of sexual intimacy?
Bringing sex back into the lives of cancer survivors has grown into a significant area of survivor counseling, including at Norris Cotton Cancer Center (NCCC). As Susan DiStasio, APRN, AOCNP, DNP, MS, Administrative Director for Nursing at NCCC points out, sex is often a complicated subject for people in general, but for cancer survivors it becomes tangled in new perceptions of one's body and how one feels physically on a day-to-day basis.
"When a patient first receives a diagnosis of cancer, the focus is all on treatment and getting through it," Distasio said. "But all of a person's life is affected by a cancer diagnosis. And that includes patients' sexual relationships."
Even so, the frequent and common side effects of treatments such as chemotherapy — fatigue, vomiting, diarrhea — don't usually inspire a romantic mood. "For most patients, at least in the early stages of treatment, sex isn't high on the list," she added.
But when treatment causes remission and years of a renewed, reinvigorated life seems wonderfully possible, a return to a sexual relationship can add an extra dimension of optimism about the future. At the same time, DiStasio adds, many cancer survivors who are excited about getting back to their old life are cautious, even sometimes fearful, about getting involved in sex again.
A Chance to Talk about Fears and Worries
Talking about it is key. "For doctors, nurses and nurse practitioners, sometimes the most important thing they can do for the patient on this subject is simply bringing it up," Distasio said. "In that context, a patient can talk about fears and worries. For example, survivors of gynecological cancer are often worried about whether intimacy might risk infection. For men who have survived prostate cancer, worries about being able to perform are pretty common, and talking to a doctor about it is easier for a lot of men than talking to their sexual partner."
When the doctor brings up the subject of sex, it gains an importance for the patient, who often realizes, sometimes for the first time following treatment, that an active sex life is once again possible.
DiStasio says that patients' reactions to the idea of returning to intimacy vary widely from person to person, and from cancer to cancer. For instance, survivors of colon cancer who wear a colostomy bag, or women who have had a mastectomy, sometimes can't imagine being naked with anyone. "If a person feels undesirable, even though they're still very desirable to their partner, it's very difficult for them to think about having sex again," she noted.
Finding a Safe, Comfortable Path
The struggle for a cancer survivor to bring sex back into their life can be a hard one. Some people feel betrayed by their bodies, and the idea of sharing intimacy again can be depressing or upsetting.
Survivors, with help from counseling, can often figure out a safe, comfortable path for a return to sexual activity. "Cancer does not have to stop sex," DiStasio commented. "It's very individual, patient by patient. Sex after cancer is as individual as everyone's sex life is." While sex is a difficult subject for many survivors — and people in general — to discuss, talking about it with a counselor will often relieve anxiety and bring a measure of comfort back into a survivor's relationship with a partner.
Sometimes, a sexual relationship needs to be entirely redefined. "When physical intimacy is painful or emotionally difficult for a person, just holding hands or hugging can be special," said DiStasio. "Each couple has to negotiate this in the way that's best for them." She adds that this very much applies to same-sex relationships.
Anne Katz on Breaking the Silence
Sex became part of NCCC's cancer survivor counseling a few years ago when several NCCC nurses attended a conference and heard Anne Katz, RN, PhD, FAAN, an adjunct professor of nursing at the University of Manitoba in Canada, give an inspiring, informative presentation on sex after cancer. They became enthused about adding sexual counseling to NCCC's program of survivor counseling. Dr. Katz has written several books on the topic, including Breaking the Silence on Cancer and Sexuality: a Handbook for Healthcare Providers, Women Cancer Sex and its companion Men Cancer Sex, Sex When You're Sick and Surviving After Cancer: Living the New Normal, that make her an authority on sexuality for cancer patients and survivors.
Last November, Dr. Katz came to NCCC and delivered the Marilyn K. Bedell Distinguished Lecture in Oncology Nursing. Her subject? "Cancer and Sexuality: A Survivorship Issue."
Watch Dr. Katz's presentation in full.
"Quite a few nurses came up to me afterward and said that was the best lecture on nursing, not just sex, they'd ever heard," said Distasio. "It was really inspiring. Dr. Katz is a wonderful, very dynamic speaker."
"Any cancer treatment will affect sexuality and sexual function," Katz said. "It affects body image and it affects how we see ourselves as sexual beings."
Katz gives oncology physicians and nurses "the tools to give patients the permission to talk about it. And when you give them permission, they will ask questions. Sexuality is a very, very important part of the quality of life for our patients. Once treatment is over and people move into that survivorship phase, they want to be who they were before. We are all sexual beings from the moment of birth right through to the end of life, so it is really an important topic."
Download our pamphlet "Sex During Cancer Treatment: How to Avoid Complications and Infections" (PDF).