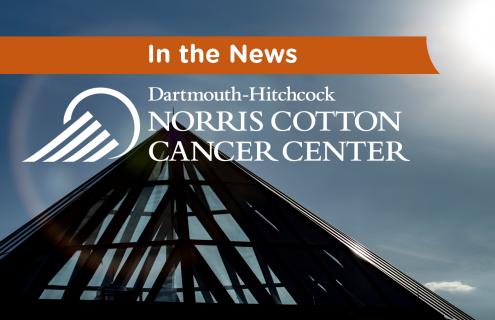 Dartmouth and Dartmouth-Hitchcock's Norris Cotton Cancer Center (NCCC) is teaming up with the National Comprehensive Cancer Network® (NCCN®), the American Cancer Society (ACS) and other leading cancer organizations across the country to endorse the resumption of cancer screening and treatment during the ongoing COVID-19 pandemic.
"Cancer did not pause for COVID-19 and neither did we," says NCCC director Steven D. Leach, MD. "With transformative safety measures and precautions in place in all of our clinics, vital treatments for patients with cancer have continued without interruption since the beginning of the pandemic. We now urge anyone who has been holding off getting screened for breast, colon, lung, prostate, cervical and other cancers to fit these potentially life-saving appointments back into your routines. Screening saves lives. Our clinics are open, safe and ready to take care of our community."
The coalition of 76 organizations has released an open letter reminding the public that cancer still poses a major threat to people's health, but acting as soon as is safely possible can lead to much better outcomes in the future. The letter examines distressing trends showing a significant drop-off in recommended cancer screening and treatment compared to prior years. This concerning side-effect of the pandemic could lead to a staggering number of preventable cancer deaths over the next ten years and beyond. Oncology experts agree that people should not delay any necessary prevention or care.
"When cancer is caught earlier, it is typically easier to treat because there are more options available," said Robert W. Carlson, MD, CEO, NCCN. "When the pandemic first hit the United States, a short delay in care was an appropriate choice for many cancer types. However, the balance of risk has shifted significantly. We now have two impressive vaccines that are being distributed around the world. We also know much more about how to treat and prevent COVID-19. Cancer centers are taking multiple measures to protect patients and staff from COVID-19 and transmission within cancer centers is quite unusual. Meanwhile, far too many cancers are being left to grow unchecked. Postponing cancer care will add tragedy on top of tragedy."
The letter points out that researchers around the world have made tremendous strides in controlling cancer in recent years. Leading oncology experts are now asking everyone, in coordination with their health care provider, to resume preventive and prescribed care and contact their doctor right away about any new symptoms or concerns.
Visit NCCN.org/resume-screening to read the entire letter. For general guidance, visit NCCN.org or Cancer.org. For information about NCCC and COVID-19, visit cancer.dartmouth.edu or dartmouth-hitchcock.org for common questions about COVID-19 vaccination for patients with cancer.
About Norris Cotton Cancer Center
Norris Cotton Cancer Center, located on the campus of Dartmouth-Hitchcock Medical Center (DHMC) in Lebanon, NH, combines advanced cancer research at Dartmouth College's Geisel School of Medicine in Hanover, NH with the highest level of high-quality, innovative, personalized, and compassionate patient-centered cancer care at DHMC, as well as at regional, multi-disciplinary locations and partner hospitals throughout NH and VT. NCCC is one of only 52 centers nationwide to earn the National Cancer Institute's prestigious "Comprehensive Cancer Center" designation, the result of an outstanding collaboration between DHMC, New Hampshire's only academic medical center, and Dartmouth College. Now entering its fifth decade, NCCC remains committed to excellence, outreach and education, and strives to prevent and cure cancer, enhance survivorship and to promote cancer health equity through its pioneering interdisciplinary research. Each year the NCCC schedules 61,000 appointments seeing nearly 4,000 newly diagnosed patients, and currently offers its patients more than 100 active clinical trials.