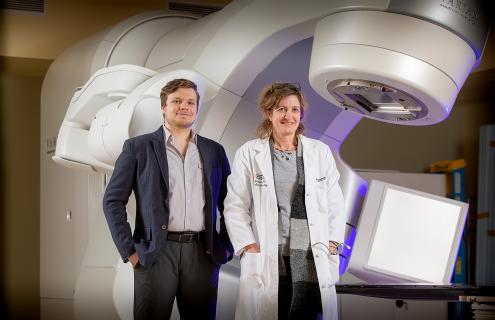 The light is actually emitted from the human eye during radiation therapy.
Irwin Tendler, MEng
Undergoing radiation therapy for head and neck cancer is a unique experience in and of itself. But seeing flashes of light even with your eyes closed during radiation feels just plain strange. Yet this event has long been reported by patients, with no evidence of real-time observation caught on camera in humans and only theories, models and speculation available to explain it. Until now. Using a specialized imaging system engineered at Dartmouth, radiation oncologist Lesley Jarvis, MD, PhD, and Irwin Tendler, MEng, a biomedical engineering and medical physics PhD candidate at Dartmouth's Thayer School of Engineering, have not only been able to capture the "eye flashing phenomenon" in image and video, but have used science to prove their explanation as to where this light comes from and why patients experience it.
Capturing a phenomenon
"The light is actually emitted from the human eye during radiation therapy," explains Tendler. "The emission is very subtle and hard to detect, which is most likely why no one has been able to record evidence of it. However, by using our imaging system, we were able to capture photo and video evidence of this reported experience for the first time."
Tendler and Jarvis found that as the radiation beam passes through the eye, light is generated within the vitreous fluid (the clear gel that fills the space between the lens and the retina of the eyeball). They were able to collect enough data to show that the amount of light produced is enough to cause a noticeable visual sensation. By analyzing the spectral composition of this light, Tendler and Jarvis showed that it can be classified as Cherenkov light. Cherenkov light is produced when a charged particle is moving faster than the speed of light in a dielectric (insulating) medium, such as water or air, which results in a unique blue glow.

The shocking blue beam
John Cholevas is among those who have seen the light flashes for himself. In 2018 he was diagnosed with metastatic small cell lung cancer. He underwent chemotherapy as well as radiation therapy to try to prevent the disease from spreading to his brain. "That was the first time I saw the 'blue beam' as I called it.  It looked like a fast, neon blue colored beam," says Cholevas. "In November of 2019, unfortunately, I received brain radiation again, and again I saw the neon blue beam." Cholevas reported seeing the beam as many as 10 times over the course of his treatments. "It was a shocking and exciting experience. I didn't know what it was, but it was not scary at all. It almost felt spiritual but it was very real," he says. However, at the time, when he told his technicians about seeing the flashes, they didn't have an explanation and even said that it was impossible. Nothing like that had ever been recorded or proven before.
For scientists, the ability to capture evidence of light flash sensation is not just cool, but may help clinicians form treatment decisions based on what patients are experiencing. "The imaging technique could be used to monitor light emission from the eye during radiotherapy and directly determine whether radiation transects the eye," says Tendler. "In the case that the eye is a target, the method could confirm that the beam was delivered as intended; if the eye was not the target, it can provide evidence of a near miss as a safety check."
Jarvis and Tendler also note that being able to provide patients with a valid explanation of the unexpected flashes of light that they are seeing can help relieve treatment-related anxiety. "Actually, the very same technicians who said it was not possible were the ones that notified me of the (Jarvis and Tendler) report earlier this year," notes Cholevas. "They printed the paper out for me."
The paper that the radiation technicians were referring to is Jarvis and Tendler's publication in the International Journal of Radiation Oncology, Biology, & Physics in January of this year. It contains the scientific explanation as well as the first photos and video of the eye light flash phenomenon. Their next steps in research are to connect how recorded light flashes and delivered dose might affect long-term visual outcomes—this information can potentially be gathered wirelessly and non-invasively to the patient, and with no disruption in clinical workflow. They will also continue monitoring patients undergoing radiotherapy as a way of developing this imaging system as a tool to predict and measure eye dose.