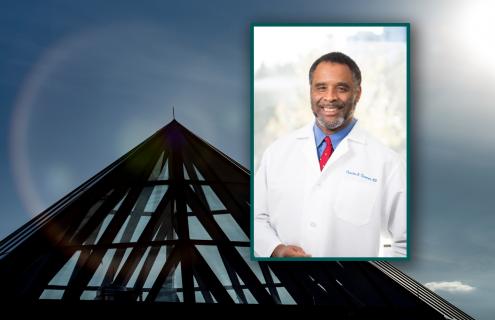 After an extensive national search, Dartmouth and Dartmouth-Hitchcock's Norris Cotton Cancer Center (NCCC) has named Charles R. Thomas, Jr., MD, as the new Chief of the Section of Radiation Oncology.
In this role, Thomas will provide strategic vision and leadership for the growth and expansion of clinical services, training and career development and inter-disciplinary research. Additionally, Thomas will serve as Associate Director for Diversity, Equity and Inclusion at NCCC, and will hold an appointment as Professor of Medicine at the Geisel School of Medicine at Dartmouth.
"I am delighted to welcome Charles Thomas, Jr., MD, to the Dartmouth-Hitchcock Health and Norris Cotton Cancer Center team," said NCCC Director Steven D. Leach, MD. "Charles comes to our organization with outstanding academic, clinical and leadership skills, and we look forward to his contributions to our continued growth towards leading the nation in translating cancer discoveries, seeking the most impactful innovations in cancer prevention, diagnosis, and treatment for the benefit of patients everywhere."
Dr. Thomas is currently the Chair and Professor for the Department of Radiation Medicine at Oregon Health & Science University in Portland, OR.
"I am exceedingly honored for the opportunity to join the radiation oncology team at the Geisel School of Medicine at Dartmouth and Dartmouth-Hitchcock's Norris Cotton Cancer Center," said Thomas. "Their collective commitment to highest quality, patient-centric care is well known. We will aim to help redefine cancer for the citizens of New Hampshire and Vermont. The next decade is critical as the Dartmouth-Hitchcock Health family continues further strategic expansion of our heavily coveted clinical services, including cancer care, beyond the Upper Valley. I'm excited to return and help lead our team's commitment to excellence for our mission."
Thomas earned a medical degree from the University of Illinois College of Medicine in 1985 and completed residencies at Baylor College of Medicine in Texas (internal medicine) and at the University of Washington School of Medicine (radiation oncology). He also trained through fellowships in Medical Oncology at Rush-St. Luke's-Presbyterian Hospitals in Chicago and in Radiation Oncology the University of Washington.  
In addition to his appointments at Oregon Health & Science University, Dr. Thomas' broad clinical, academic, and administrative experience includes board certification in internal medicine, medical oncology, and radiation oncology. He earned a bachelor's degree in biology from Dartmouth College in 1979.
Among his scholarly and research interests are protocol development of translational research-based national cooperative group combined modality therapeutic clinical trials for GI and thoracic solid tumors; development of strategies to address barriers to participation in cancer clinical trials amongst minority and ethnic populations in the U.S.; development of pipeline strategies to increase URM investigators into radiologic sciences and cancer medicine; patient-provider communication; burnout assessment and management in academic leaders; and cancer emergency medicine.
Dr. Thomas will begin his appointments at NCCC and Geisel School of Medicine in mid-September.
About the Geisel School of Medicine at Dartmouth
The Geisel School of Medicine at Dartmouth, founded in 1797, strives to improve the lives of the communities we serve through excellence in learning, discovery, and healing. The nation's fourth-oldest medical school, the Geisel School of Medicine has been home to many firsts in medical education, research and practice, including the discovery of the mechanism for how light resets biological clocks, creating the first multispecialty intensive care unit, the first comprehensive examination of U.S. health care cost variations (The Dartmouth Atlas), and the first Center for Health Care Delivery Science, which launched in 2010. As one of America's top medical schools, Dartmouth's Geisel School of Medicine is committed to training new generations of physician leaders who will help solve our most vexing challenges in health care.
About Norris Cotton Cancer Center
Norris Cotton Cancer Center, located on the campus of Dartmouth-Hitchcock Medical Center (DHMC) in Lebanon, NH, combines advanced cancer research at Dartmouth College's Geisel School of Medicine in Hanover, NH with the highest level of high-quality, innovative, personalized, and compassionate patient-centered cancer care at DHMC, as well as at regional, multi-disciplinary locations and partner hospitals throughout NH and VT. NCCC is one of only 52 centers nationwide to earn the National Cancer Institute's prestigious "Comprehensive Cancer Center" designation, the result of an outstanding collaboration between DHMC, New Hampshire's only academic medical center, and Dartmouth College. Now entering its fifth decade, NCCC remains committed to excellence, outreach and education, and strives to prevent and cure cancer, enhance survivorship and to promote cancer health equity through its pioneering interdisciplinary research. Each year the NCCC schedules 61,000 appointments seeing nearly 4,000 newly diagnosed patients, and currently offers its patients more than 100 active clinical trials.