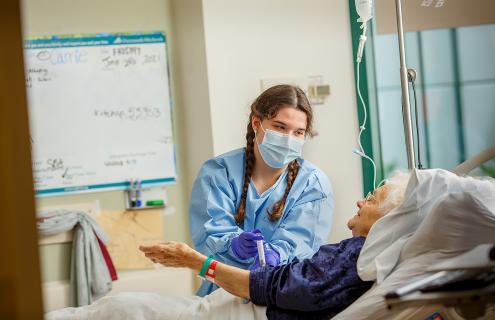 As I grew up I thought maybe using the relatability of what I've been through could be an advantage in a certain role.
Devon Fortier, BSN, RN
June 10, 2005: Two braids in her hair and a brave smile on her face, Devon Fortier, age 7, heads home to collect her belongings after receiving a new diagnosis of acute lymphoblastic leukemia. She would return as an inpatient to the Cancer Center for her first dose of chemotherapy later that day.
June 11, 2021: Her hair still in braids and a smile that now reaches her eyes, Devon Fortier, BSN, RN, is officially certified in administering chemotherapy at the same cancer center that cared for her as a child. She heads home for a nap and returns to the cancer center to deliver chemotherapy to her first patient later that day.
 
"16 years can change your path."
Devon Fortier has always been a hard worker, even as child in Newbury, NH. Immersion into her schoolwork also became a coping mechanism when, just barely age 7, she was diagnosed with cancer. "When I got sick, I poured myself into school because that's the one thing that cancer couldn't change about me outwardly. I still had the same capabilities in academics," she says.
Only a few months before, Fortier was active in the Girl Scouts and cheerleading and showing interest in sports and dance. "And then one day I started having this awful back ache. My pediatrician thought I fell on the playground. But as the weeks went on, I lost my energy, I wasn't eating, I was nauseous and new bruises were appearing all over my body. My mom always knew something wasn't right, it just wasn't showing up in bloodwork yet."
Once tests started revealing elevated white blood cell counts, Fortier and her mom were connected with Dartmouth-Hitchcock's Norris Cotton Cancer Center (NCCC). The next two weeks were a blur of tests and late-night scans. "They would give me a stuffed animal and I would go home and come back the next day for more tests and scans," Fortier remembers. The next thing she knew she was heading home to gather her belongs as she would live her next three months in the inpatient unit at NCCC undergoing treatment for acute lymphoblastic leukemia, one of the most common childhood cancers. Her entire course of treatment would go on for three years.
Even with a mother in the medical field who was open and informative with discussions, she understood that cancer was an illness, but not how it applied to her or the gravity of her diagnosis. What scared Fortier the most was losing her hair during chemotherapy. "I never cried about treatments or the cancer itself. I cried because I lost my hair." It can be difficult for a 7-year-old to explain why she doesn't have hair and for other children to understand.
Fortier's treatment was not without issue. "I was always in the hospital with problems: neutropenic fevers, organs failing at different times, jaundice because my liver was shot. I had aggressive pneumonia and couldn't understand why they wouldn't let me out of my hospital room. It was because of the risk of infection. I got pancreatitis several times from one of my chemotherapy drugs which led me to becoming diabetic at age 8." Fortier still manages diabetes every day as an adult. Her team weighed risk to benefit and opted to continue her treatment according to the original plan despite the complications, because it was working. "It was really, really hard. But overall a small price to pay for my life," she says.
Children manage fear and anger as best they know how. Fortier recalls resorting to the silent treatment at times out of upset at being in the hospital. "Some days I refused to talk to my clinical team," she says. "When they asked me questions I would whisper privately to my mom and she would relay my answer. One day I remember raising my hospital bed all the way to the ceiling, as high as it would go, because I didn't want to talk to anyone. My medical team asked me to please come down so we could talk and I just said, 'Not now.' I do have a little regret about that now, but as a kid I was angry and couldn't understand."
Fortier's medication also continued at home. "I had never swallowed a pill before and learned how by practicing with baby M&Ms. At 8-years-old I was actually proud that I could take 11 pills at a time."
Through it all, Fortier's mother never left her side. "She'd sleep at the hospital every night and kept a binder with every detail throughout my illness," she says. It was that binder to which Fortier referred to confirm that almost 16 years to the day of receiving her last chemotherapy, she became officially certified in chemotherapy administration in NCCC's One West inpatient unit.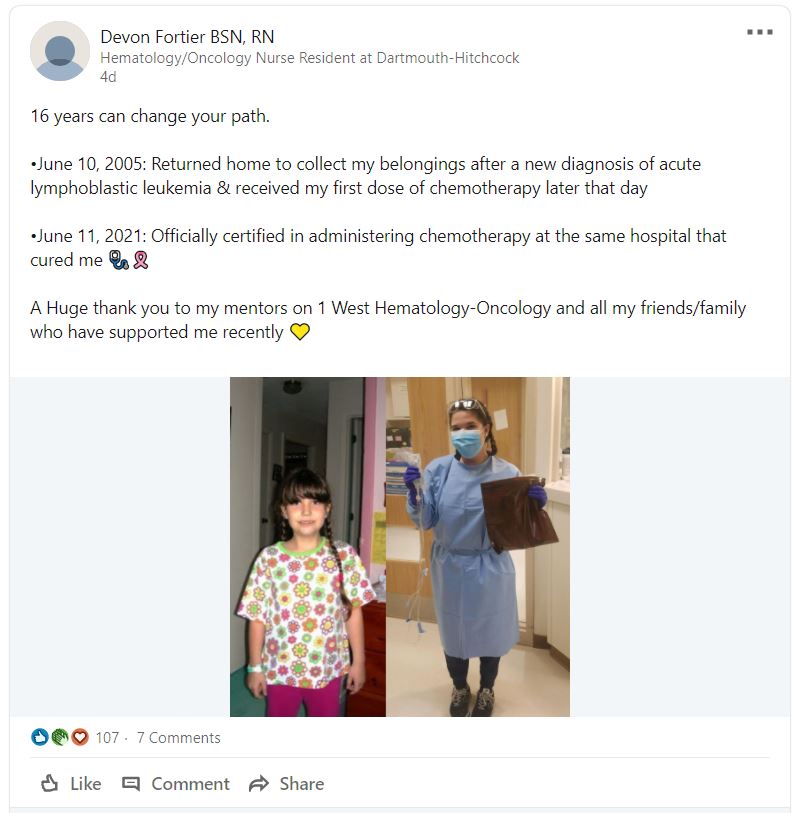 Growing up, Fortier loved learning and remained committed to academics. She earned her licensed nursing association (LNA) license and went on to nursing school at University of New Hampshire. When it came time for hands-on experience during nursing school, the nurse manager interviewing Fortier for a per diem LNA position asked her why she wanted to work in oncology. "I hadn't really thought about exactly why," she reflects. "I ended up telling him that I had cancer once and he said, 'Well that's certainly enough of a reason!'"
As an oncology nurse, Fortier has a unique perspective to understand what goes into her patients' medical decisions and family meetings. She can connect with them. "As I grew up I thought maybe using the relatability of what I've been through could be an advantage in a certain role. I also have a lot of family members in medicine and know this where I belong," she says.
Fortier developed strong relationships with the other oncology nurses who made it very easy to transition from an LNA to a registered nurse (RN). What wasn't easy was finishing nursing school and graduating during the COVID-19 pandemic.
I get anxious about things. But the training slowly builds, and then one day you realize you're signed off in chemotherapy and it dawns on you that everything is working out and you're there for a reason, doing what you were meant to do.
Despite the obstacles, a year of fundamental learning through the Oncology Nursing Society and 12 hands-on weeks through the Dartmouth-Hitchcock Nurse Residency program led to Fortier's full independence as a chemotherapy-certified RN. "I get anxious about things. But the training slowly builds, and then one day you realize you're signed off in chemotherapy and it dawns on you that everything is working out and you're there for a reason, doing what you were meant to do. Nurses are very capable people. It's a great profession that can take you many places. I'm glad to be in One West," says Fortier, who notes that forming special bonds with her patients and their families is what she finds most rewarding. "I don't disclose my story to everyone. But if there's a moment when it feels right, like when I know a patient needs that kind of comfort, or if they notice my medi-port scar, we find ourselves on common ground and can talk about it."
Although she is free of leukemia, spending her adult days with family, friends and her newly adopted cat; enjoying Upper Valley farmers markets; hiking; gardening; and catching up on books and television series she never had time to enjoy, Fortier still manages the aftermath of treatment daily. "We don't know what's going to happen 20 or 30 years down the line because of my chemotherapy. I just take care of myself as much as I can." And take care of her patients with whom she will always be deeply and uniquely connected.