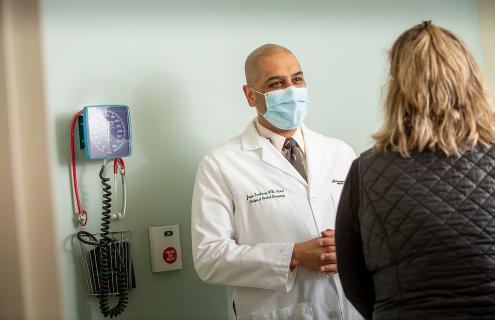 We're dedicated to improving patient-oriented research with patient involvement as well as developing new...surgical techniques, targeted therapies and personalized treatment strategies informed by what matters most to each person.
Srinivas Joga Ivatury, MD, MHA
Despite being preventable, colorectal cancer is still the third most commonly diagnosed cancer in the U.S. Colorectal cancer forms from genetic changes and mutations that occur when cells in the glands of the colon and rectum divide and re-create. Increased awareness and screening and improved treatment plans that focus on patient preference are leading to a decline in occurrence and mortality rates from this cancer.
Surgical advancements
The last few decades have seen the introduction of minimally invasive surgery for colon cancer. "Multiple studies have shown that minimally invasive surgery for colon cancer is safe and has comparable long-term survival and outcomes to open surgery," says Srinivas Joga Ivatury, MD, MHA, division chief of Colon and Rectal Surgery in the Gastrointestinal Oncology Program at Dartmouth's and Dartmouth-Hitchcock's Norris Cotton Cancer Center (NCCC). "Patients are in the hospital for less time with less pain and smaller incisions. They recover more quickly and can move on to what's next."
Rectal cancer, the lower aspect of the large intestine, has seen advancement in the use of radiation therapy to prevent local recurrence. Combining chemotherapy with radiation before surgery can also address disease that may have spread beyond the pelvis. There has been work showing the benefits of different chemotherapy regimens before or after surgery. Ivatury notes that while minimally invasive surgery is done for rectal cancer, outcomes studies are more mixed than they are with colon cancer.
"The hallmark of rectal cancer is still to do an excellent operation where the affected rectum and lymph nodes are resected completely in one piece with good margins and with no cancer left behind," says Ivatury. "Whatever is the best way in the surgeon's hands to accomplish that, whether it be an open surgery, laparoscopy or robotics, leads to good outcomes, especially for rectal cancer. We put a lot of emphasis on surgical technique in addition to excellent multidisciplinary care from a variety of experts."
Involving patients
Rectal cancer surgeons, medical oncologists, radiation oncologists, pathologists, nutritionists, genetic counselors, radiologists and more, meet to review images and pathology from new diagnoses of rectal cancer, discuss treatment options and clinical trial eligibility for each patient, and then devise a recommended treatment plan. Conversations with patients to talk through treatment options are driven by rectal cancer surgeons. Ivatury and his research colleagues have championed the use of patient-reported outcomes from colon and rectal cancer surgery. They are in the process of developing decision aids to facilitate these conversations.
Decision-making for colon cancer tends to be more straightforward. Surgery usually comes first, and sometimes the cancer can be removed completely with surgery alone.
For rectal cancer, there are options for the use and order of chemotherapy, radiation and surgery. There are also two options for major rectal cancer surgery itself: taking the rectum out and re-attaching the intestine in a reconstructive procedure, or removing the rectum and anus and giving the patient a permanent colostomy. Both options have pros and cons. Ivatury's research focuses on using shared decision making strategies and leveraging patient-reported outcome data to set expectations about each type of surgery. Patients that are fully informed can make better decisions about which path is best for them.
 
"Right now, we have a number of patient advocates who have gone through one or the other type of major rectal surgery (reconstruction or colostomy). We connect them with newly diagnosed patients who are preparing for their own operations so they can hear the experience of someone who has been through it before," says Ivatury.
In collaboration with The Dartmouth Institute for Health Policy & Clinical Practice and cancer centers around the country, NCCC is also creating a facilitated social network curated by medical professionals to help instigate peer-to-peer collaboration. "Outcomes rely on the holistic patient side as much as the technical side of treatment," says Ivatury, who hopes research in this area will inspire clinical trials showing that support networks improve quality of life, decision quality and coping strategies.
"The most impactful priority for rectal cancer treatment is state-of-the-art multidisciplinary cancer care including an excellent surgical technique that results in complete cure from rectal cancer while maximizing quality of life and minimizing complications," says Ivatury. "Patients should be actively involved in every aspect of the process from diagnosis to survivorship."
On the horizon
NCCC offers a number of clinical trials in surgical technique, medical oncology and patient perspective for colon and rectal cancer, including:
PROSPECT trial (complete): Looked at survival outcomes from the use of chemotherapy and/or radiation before rectal cancer surgery compared to the standard of care. 
NRG GI-005 (upcoming): For patients with Stage IIA colon cancer (no lymph node involvement). This trial looks for circulating tumor DNA in the blood after surgery as a way of determining which patients might benefit from chemotherapy. 
SCAR (pilot complete): Promising new surgical technique to prevent abdominal hernias after ileostomy reversal using prophylactic mesh placement.
"We're dedicated to improving patient-oriented research with patient involvement as well as developing new minimally invasive and natural orifice surgical techniques, targeted therapies and personalized treatment strategies informed by what matters most to each person," says Ivatury.