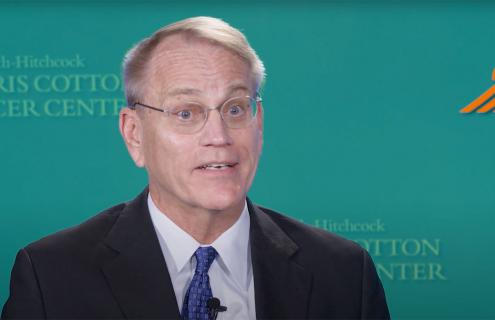 Cancer patients are an especially vulnerable population, as often their treatment causes immunosuppression and other side effects. Steven Leach, MD, Director of Dartmouth's and Dartmouth-Hitchcock's Norris Cotton Cancer Center (NCCC) shares the special precautions the clinicians and staff at NCCC have taken to help ensure the safety of patients. Leach also shares how some of the cancer center researchers are repurposing their research to help the region and the nation deal with the COVID-19 crisis. "I want to remind our patients, and our community, that we will get through this together, D-H strong, Upper Valley strong, and Northern New England strong," said Leach.
Visit the Dartmouth-Hitchcock Norris Cotton Cancer Center website.
About Norris Cotton Cancer Center
Norris Cotton Cancer Center, located on the campus of Dartmouth-Hitchcock Medical Center (DHMC) in Lebanon, NH, combines advanced cancer research at Dartmouth College's Geisel School of Medicine in Hanover, NH with the highest level of high-quality, innovative, personalized, and compassionate patient-centered cancer care at DHMC, as well as at regional, multi-disciplinary locations and partner hospitals throughout NH and VT. NCCC is one of only 51 centers nationwide to earn the National Cancer Institute's prestigious "Comprehensive Cancer Center" designation, the result of an outstanding collaboration between DHMC, New Hampshire's only academic medical center, and Dartmouth College. Now entering its fifth decade, NCCC remains committed to excellence, outreach and education, and strives to prevent and cure cancer, enhance survivorship and to promote cancer health equity through its pioneering interdisciplinary research. Each year the NCCC schedules 61,000 appointments seeing nearly 4,000 newly diagnosed patients, and currently offers its patients more than 100 active clinical trials.