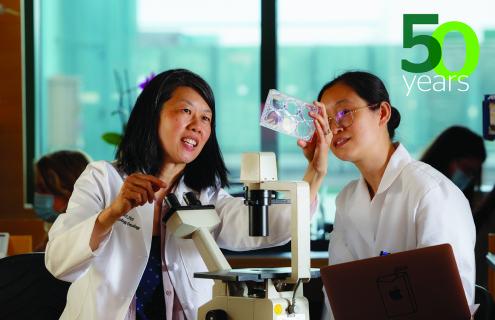 Our Dartmouth Cancer Center is embarking upon an extraordinary second half-century, one that will build on our rich history and have a major impact on the future of cancer care around the globe.
Cancer Center Director Steven D. Leach, MD
On Saturday, October 22, 2022, Dartmouth Cancer Center celebrated the 50th anniversary of opening its doors to patients in New Hampshire, made possible by funds secured through New Hampshire's then-US Sen. Norris Cotton's support of the National Cancer Act of 1971.
Founded in 1972, the Cancer Center (formerly known as Norris Cotton Cancer Center) began as a two-story underground structure in Hanover, NH. Renamed in 2022 to reflect the unity of the work between Dartmouth College and Dartmouth Health, Dartmouth Cancer Center has become a leader in cancer care and research as one of the nation's 53 NCI-designated Comprehensive Cancer Centers—one of three in New England and the only one north of Boston. The cancer center's flagship location at Dartmouth Hitchcock Medical Center in Lebanon, NH, remains named the Norris Cotton Cancer Care Pavilion in honor of the Senator.
The anniversary celebration event kicked off on Saturday with a special keynote address from Craig Thompson, MD, Dartmouth alumnus and former CEO and President of Memorial Sloan Kettering Cancer Center, followed by exciting TED-style research talks from faculty leaders who are working on big ideas that have the opportunity to not only disrupt how we treat cancer but identify ways to potentially prevent cancer. The day wrapped with a community-wide interactive celebratory reception featuring exhibitions, inspiring survivor stories and art, staged against a backdrop of jaw-dropping scientific visual displays.
"Our Dartmouth Cancer Center is embarking upon an extraordinary second half-century, one that will build on our rich history and have a major impact on the future of cancer care around the globe," says Cancer Center Director Steven D. Leach, MD. "Our work as a collective body exists within a time of extreme specialization where we grapple with complex scientific questions. We delight in our interdisciplinary collaboration at the research bench and in diagnostic and clinical settings. Our ambition and capacity for innovation are buoyed by transdisciplinary exchanges that happen throughout the entirety of Dartmouth and Dartmouth Health. Our 'secret sauce' is the confluence of a great academic medical center, a school of medicine, a business school, an engineering school, and an undergraduate college all existing on a human scale that's right-sized for interaction. We have much to be proud of and much to celebrate."
Dartmouth Cancer Center leaders have frequently voiced their gratitude to both the Upper Valley and Dartmouth alumni and parent communities, as well as the Cancer Center's national network of supporters. The tremendous participation and fundraising accomplished through two noteworthy efforts include The Prouty and the successful 2022 launch of The Byrne Family Cancer Research Institute. The 50th celebration was a moment to recognize the collective support of this community and an opportunity to set an ambitious path for the next 50 years.
With multiple locations throughout New Hampshire and Vermont, Dartmouth Cancer Center offers patients award-winning clinical care backed by the discoveries of our world-class cancer research scientists. Whether leading one of more than 240 clinical trials offered to patients to make the next great treatments and prevention strategies and even cures a reality or coming together to tailor the best treatment plan for each individual patient, one thing hasn't changed in 50 years and never will: providing the best care close to home to get our patients back to the things they love.
About Dartmouth Cancer Center
Dartmouth Cancer Center combines advanced cancer research at Dartmouth and the Geisel School of Medicine, with award-winning, personalized, and compassionate patient-centered cancer care and clinical trials based at the Norris Cotton Cancer Care Pavilion at Dartmouth Health's Dartmouth Hitchcock Medical Center. With 14 locations around New Hampshire and Vermont, Dartmouth Cancer Center is one of only 54 National Cancer Institute-designated Comprehensive Cancer Centers. Each year the Dartmouth Cancer Center schedules 74,000 appointments seeing more than 4,500 newly diagnosed patients, and currently offers patients more than 240 active clinical trials. Celebrating its 50th anniversary in 2022, Dartmouth Cancer Center remains committed to excellence, outreach and education. We strive to prevent and cure cancer, enhance survivorship and to promote cancer health equity through pioneering interdisciplinary research and collaborations. Learn more at the Dartmouth Cancer Center website.