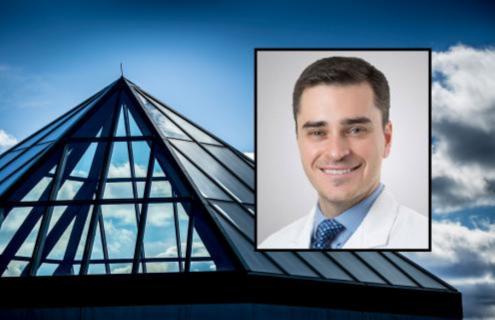 The best thing anyone can do to reduce their cancer risk is to be proactive rather than reactive.
Simon Khagi, MD
Unfortunately, cancer touches many of our lives in one way or another at some point. It can be difficult and scary to talk about, but prevention and education are essential for minimizing and even eliminating cancer's impact. Early screening, preventative nutrition, and lifestyle choices can all help protect you and your loved ones from the worst outcomes associated with cancer.
In an upcoming installment of the Breakfast Briefs webinar series, presented by Dartmouth Health, the Greater Nashua Chamber of Commerce will present "A Cancer Conversation: Prevention and Treatment," featuring Simon Khagi, MD, medical director for Dartmouth Cancer Center in Nashua, Manchester and Concord. He'll be joined by registered dietitian Andrea Hebert, MS, RD, LD, CDE, for a discussion on trends in cancer research, steps you can take to reduce cancer risk, environmental and hereditary factors that can increase risk, living with cancer, and more.
"The best thing anyone can do to reduce their cancer risk is to be proactive rather than reactive," Khagi said. "This webinar will address the best steps people can take in daily life to protect themselves against cancer, from the right foods to eat to the questions you should be asking your primary care provider. I look forward to this opportunity to answer people's questions and empower them with knowledge to keep themselves and their families healthy."
"A Cancer Conversation: Prevention and Treatment" will be held on Tuesday, July 26, at 7:30 am. Registration is required and free of charge. To register, visit https://members.nashuachamber.com/events/details/breakfast-briefs-dartmouth-health-06-22-2022-5571.
About Dartmouth Cancer Center
Dartmouth Cancer Center combines advanced cancer research at Dartmouth and the Geisel School of Medicine, with award-winning, personalized, and compassionate patient-centered cancer care and clinical trials based at the Norris Cotton Cancer Care Pavilion at Dartmouth Health's Dartmouth Hitchcock Medical Center. With 14 locations around New Hampshire and Vermont, Dartmouth Cancer Center is one of only 53 National Cancer Institute-designated Comprehensive Cancer Centers. Each year the Dartmouth Cancer Center schedules 74,000 appointments seeing more than 4,500 newly diagnosed patients, and currently offers patients more than 240 active clinical trials. Celebrating its 50th anniversary in 2022, Dartmouth Cancer Center remains committed to excellence, outreach and education. We strive to prevent and cure cancer, enhance survivorship and to promote cancer health equity through pioneering interdisciplinary research and collaborations. Learn more at the Dartmouth Cancer Center website.