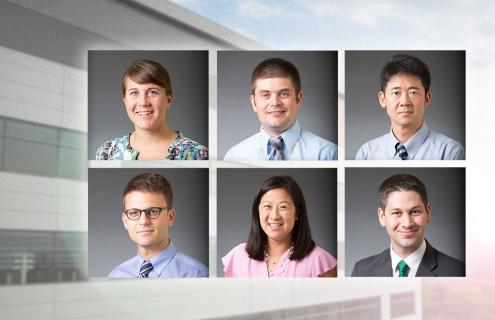 By providing our young investigators with appropriate time to develop their discoveries and bring them to our patients, we are providing the spark for future cancer cures.
Steven Leach, MD
Six D-H Cancer Research Fellows will share $1 million in annual funding to support up to two full days for each of them to continue their important Cancer research. The initial group of Cancer Research Fellows was chosen through a competitive, peer-reviewed process overseen by D-HH CEO and President Joanne M. Conroy MD, and Dartmouth-Hitchcock Norris Cotton Cancer Center Director Steven Leach, MD.  
In June, the selection committee, made up of the scientific leadership of the Cancer Center, announced the first six applicants chosen to receive funding from the program. Recipients range from promising young investigators, to experienced clinicians, all of whom proposed exciting, noteworthy research ideas but were in need of dedicated research time to execute their research.
The first Cancer Research Fellows include:
Medical oncologist Gabriel Brooks, MD, MPH, whose research evaluates health care delivery approaches with a goal of improving the safety, tolerability, and effectiveness of chemotherapy for gastrointestinal cancers. "With the support of the D-H Cancer Research Fellowship, I will develop collaborations across NCCC in diverse areas of implementation science, patient-oriented clinical research, pharmacology, and health care delivery. Fellowship support for the proposed research will allow me to collect preliminary data to support additional national funding applications of health care delivery approaches for improving chemotherapy delivery"
Gastroenterologist Audrey Calderwood, MD, MS, who is passionate about improving care around colorectal cancer prevention. Her research optimizes use of screening and surveillance colonoscopy to ensure that high-risk patients receive appropriate and timely care, and that low-risk patients avoid overuse and unnecessary harm. Protected time funded by D-H Cancer Research Fellow will allow Dr. Calderwood to "apply and compete for critically important large-scale national funding to continue my research, complete ongoing projects, gather further pilot data, deepen collaborative networks, continue publishing and refine project aims with my team."
Surgical oncologist Joseph Phillips, MD, a thoracic surgeon whose research is centered around immunology in non-small cell lung cancer. He is actively recruiting patients for enrollment in a small, funded pilot study. Funding from D-H Cancer Research Fellows will "allow for necessary protected time to analyze data, present and publish the preliminary work, and prepare funding proposals to extramural sources," says Phillips.
Medical oncologist Keisuke Shirai, MD, MSc, a formally trained and accomplished clinical researcher. His clinical practice focuses on melanoma and lung cancer, and research focuses on furthering immune checkpoint inhibitor treatments and immunotherapy. He will use his research time funded by D-H Cancer Research Fellows to lead innovative clinical studies. "I will provide expertise in development and analysis of preclinical treatment strategies for melanoma and lung cancer. I will be able to recruit participants, provide clinical data, evaluate clinical response to immunotherapy, and analyze the data."
Pathologist Louis Vaickus, MD, PhD, who focuses on programmatic data analysis, particularly application of artificial intelligence in global health. He has engaged machine learning and AI to create an accessible and inexpensive system capable of automating bladder cancer screening and extracting inconceivable levels of detail from a specimen. "With protected time funded by D-H Cancer Research Fellows, I am certain that we could create a first-of-its-kind tool created to bring state-of-the-art cancer screening to the world's most vulnerable populations."
Medical oncologist Ivy Wilkinson-Ryan, MD, who studies the effect of chemotherapy on the ovarian cancer immune environment. With protected time funded by D-H Cancer Research Fellows program, Dr. Wilkinson-Ryan will be able to "develop my skills as a grant writer and apply for grant support, perform experiments using fresh ovarian cancer samples, recruit patients who could qualify for sample testing, and carry out my research plan proposal. The D-H Cancer Research Fellowship will allow me to apply for funding and perform what I feel is impactful for ovarian cancer research."
"Each one of these recipients demonstrated a thoughtful approach, a collaborative spirit and an incredible dedication to gathering data and developing strategies to bring their research to fruition – all with the same passionate desire to make a difference in the lives of our cancer patients," says Joanne Conroy, MD, President and CEO of Dartmouth-Hitchcock Health
The funding will compensate for the clinician-researchers' effort and time away from clinic, not the research projects themselves. Participants will write and submit competitive National Cancer Institute grant applications to fund these critical large projects. Each applicant's clinical department has arranged for seamless coverage of patient care time for the two days of research time given to the physicians under the program.
"The Norris Cotton Cancer Center is extremely grateful to the leadership support from Dartmouth-Hitchcock for funding this innovative new program," says Steven Leach, MD, director. "By providing our young investigators with appropriate time to develop their discoveries and bring them to our patients, we are providing the spark for future cancer cures."