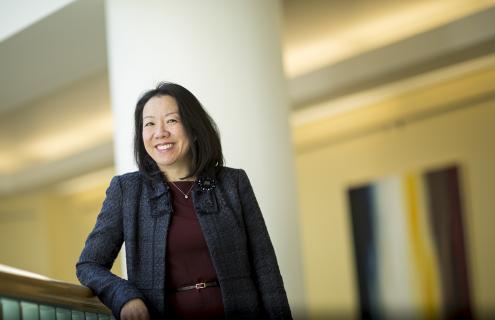 Post-operative symptom management is an underutilized strategy for improving surgical care. This work will help us understand how surgeons should implement ePROs especially for patients who travel great distances for their operations.
Dr. Sandra Wong
Dartmouth-Hitchcock (D-H) is one of six U.S. health care systems sharing a $9 million grant for new research into improving cancer care.
The National Cancer Institute, in association with the Beau Biden Cancer Moonshot Initiative, recently announced the funding of the collaboration, the SIMPRO Research Center. SIMPRO is a consortium of six U.S. health care systems whose goal is to integrate the use of patient-reported outcomes (PROs) into the routine practice of oncology providers to improve symptom management and to decrease hospitalizations.
Dartmouth-Hitchcock Chair of Surgery Sandra Wong, MD, is a co-principal investigator on the project, and is leading the D-H effort. Wong, a surgical oncologist at the Dartmouth-Hitchcock Norris Cotton Cancer Center (NCCC) who is also the William N. and Bessie Allyn Professor of Surgery at the Geisel School of Medicine at Dartmouth, is joined by D-H Chief Health Information Officer Peter Solberg, MD, and NCCC medical oncologist Gabriel Brooks, MD as co-investigators, as well as a team of physician champions.
"Post-operative symptom management is an underutilized strategy for improving surgical care," notes Wong. "This work will help us understand how surgeons should implement ePROs especially for patients who travel great distances for their operations."
In addition to D-H, the other five collaborating sites are Dana-Farber/Brigham and Women's Cancer Center in Boston, Baptist Memorial Medical Center in Memphis, Lifespan Cancer Institute in Rhode Island, West Virginia University Cancer Institute, and Maine Medical Center in Portland, ME. To accomplish this research project, the SIMPRO team will work with Epic, the most widely-used comprehensive health record software and which is used by all six participating institutions.
"Integration of patient-reported outcomes is at the heart of our patient-centered care philosophy," noted NCCC Director Dr. Steven Leach. "As the only NCI-designated comprehensive cancer center located outside of a major urban center, NCCC can play a leading role in delivering care to rural populations. SIMPRO will help us to improve outcomes and experience for those rural patients."
SIMPRO will develop, implement, and evaluate an ePRO reporting and management system through an app called eSyM. Patients' smart devices will enable a secure connection to their cancer care team via the electronic health record, and facilitate symptom tracking following cancer surgery or chemotherapy. The study will test whether monitoring the symptoms patients experience and providing coaching on how to manage them can decrease the need for hospitalizations and emergency room visits.
"Engaging patients to report their symptoms between clinic visits gives us a chance to intervene sooner when new symptoms or treatment-related side effects arise," says Brooks, "and we hope that early intervention will translate to better outcomes for patients."
After development and pilot testing, eSyM will be fully integrated into the electronic health record at each participating center, allowing for direct communication and real-time updates for clinicians who will have access to a dashboard of patients' symptoms to prioritize outreach efforts and coaching.
"The opportunity to partner directly with Epic and their resources, to build these tools into our electronic health record, means in the short-term the research is more likely to bear fruit," said Solberg, "and in the long-term that successful strategies can be disseminated around the country."
The SIMPRO investigators will conduct a randomized trial to evaluate implementation of eSyM from a patient, clinician and health system perspective. Across all study phases, the implementation, adoption, acceptance, and adaptation of the ePRO system will be critically evaluated to promote better delivery of cancer care.
For more detailed information about this project, please visit the SIMPRO Research Center website: www.eSyMCancerMoonshot.org.
About Dartmouth-Hitchcock
DARTMOUTH-HITCHCOCK HEALTH (D-HH), New Hampshire's only academic health system and the state's largest private employer, serves a population of 1.9 million across Northern New England. D-H provides access to more than 2,400 providers in almost every area of medicine, delivering care at its flagship hospital, Dartmouth-Hitchcock Medical Center (DHMC) in Lebanon, NH. DHMC was named in 2019 as the #1 hospital in New Hampshire by U.S. News & World Report, and recognized for high performance in 13 clinical specialties and procedures. Dartmouth-Hitchcock Health also includes the Norris Cotton Cancer Center, one of only 51 NCI-designated Comprehensive Cancer Centers in the nation; the Children's Hospital at Dartmouth-Hitchcock, the state's only children's hospital; affiliated member hospitals in Lebanon, Keene, and New London, NH, and Windsor, VT, and Visiting Nurse and Hospice for Vermont and New Hampshire; and 24 Dartmouth-Hitchcock clinics that provide ambulatory services across New Hampshire and Vermont. The D-H system trains nearly 400 residents and fellows annually, and performs world-class research, in partnership with the Geisel School of Medicine at Dartmouth and the White River Junction VA Medical Center in White River Junction, VT.