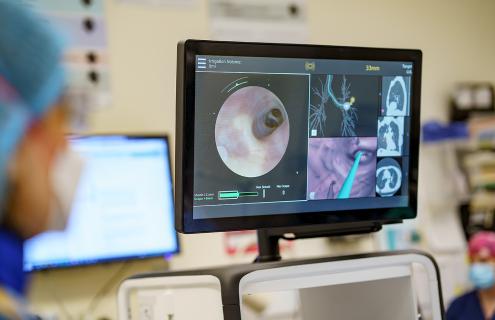 A new innovation that holds promise to fight lung cancer is now in use at the Dartmouth Hitchcock Medical Center (DHMC) in Lebanon, New Hampshire. Used to view the inside of the lungs and obtain a tissue sample for biopsy, the goal of this technology, produced by Auris Health's Monarch™ Platform, is to enable earlier and more-accurate diagnosis of small and hard-to-reach nodules in the periphery of the lung.
Lung cancer is the leading cause of cancer deaths worldwide, in part because it has no symptoms in its early stages. This technology integrates the latest advancements in robotics, software, data science, and endoscopy (the use of small cameras and tools to enter the body through its natural openings) to provide improved reach, vision and control for bronchoscopic procedures. DHMC is among the first hospitals in the United States to utilize the platform, which was recently cleared by the U.S. Food and Drug Administration (FDA).
"We are excited to offer robotic-assisted bronchoscopy at Dartmouth Hitchcock Medical Center," said  David J. Feller-Kopman, MD, section chief, pulmonary and critical care medicine. "This new technology allows our team to biopsy small lung nodules in a minimally invasive and safe fashion with greater accuracy than ever before. Robotic bronchoscopy will advance the diagnostic capabilities of our comprehensive thoracic oncology program, and improve the care we provide to our patients."
This technology utilizes a familiar controller-like interface that physicians use to navigate the flexible robotic endoscope to the periphery of the lung with improved reach, vision, and control. Combining traditional endoscopic views into the lung with computer-assisted navigation based on 3-D models of the patient's own lung anatomy, the Monarch Platform provides physicians with continuous bronchoscope vision throughout the entire procedure.
The Dartmouth Cancer Center continues to provide the latest technology for cancer diagnosis and treatment. The tools for assessing and treating thoracic cancer have changed drastically in recent years. The organization is committed to taking advantage of the latest and most innovative tools and the multi-disciplinary collaboration combined with access to the entire Dartmouth Health system provides the cutting-edge care for patients.
About Dartmouth Cancer Center
Dartmouth Cancer Center combines advanced cancer research at Dartmouth and the Geisel School of Medicine, with award-winning, personalized, and compassionate patient-centered cancer care and clinical trials based at the Norris Cotton Cancer Care Pavilion at Dartmouth Health's Dartmouth Hitchcock Medical Center. With 14 locations around New Hampshire and Vermont, Dartmouth Cancer Center is one of only 53 National Cancer Institute-designated Comprehensive Cancer Centers. Each year the Dartmouth Cancer Center schedules 74,000 appointments seeing more than 4,500 newly diagnosed patients, and currently offers patients more than 240 active clinical trials. Celebrating its 50th anniversary in 2022, Dartmouth Cancer Center remains committed to excellence, outreach and education. We strive to prevent and cure cancer, enhance survivorship and to promote cancer health equity through pioneering interdisciplinary research and collaborations. Learn more at the Dartmouth Cancer Center website.
About Dartmouth Health
Dartmouth Health, New Hampshire's only academic health system and the state's largest private employer, serves patients across northern New England. Dartmouth Health provides access to more than 2,000 providers in almost every area of medicine, delivering care at its flagship hospital, Dartmouth Hitchcock Medical Center (DHMC) in Lebanon, NH, as well as across its wide network of hospitals, clinics and care facilities. DHMC is consistently named the #1 hospital in New Hampshire by U.S. News & World Report, and recognized for high performance in numerous clinical specialties and procedures. Dartmouth Health includes its Dartmouth Cancer Center, one of only 51 National Cancer Institute-designated Comprehensive Cancer Centers in the nation, and the only such center in northern New England; Dartmouth Health Children's, including the Children's Hospital at Dartmouth Hitchcock Medical Center, the state's only children's hospital and clinic locations around the region; member hospitals in Lebanon, Keene and New London, NH, and Windsor, VT, and Visiting Nurse and Hospice for Vermont and New Hampshire; and more than 24 clinics that provide ambulatory services across New Hampshire and Vermont. Through its historical partnership with Dartmouth and the Geisel School of Medicine, Dartmouth Health trains nearly 400 medical residents and fellows annually, and performs cutting-edge research and clinical trials recognized across the globe with Geisel and the White River Junction VA Medical Center in White River Junction, VT. Dartmouth Health and its more than 13,000 employees are deeply committed to serving the healthcare needs of everyone in our communities, and to providing each of our patients with exceptional, personal care.