By

Lara K. Stahler

Photography by

Mark Washburn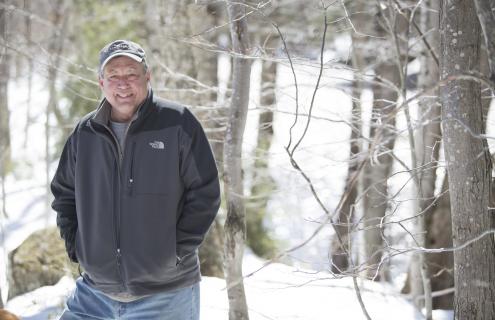 Live in the moment. It takes work, but if you can embrace that philosophy, it will change your life dramatically.
Andy Gluss
Idiopathic thrombocytopenic purpura or ITP is an autoimmune blood disorder that causes dangerously low levels of platelets—the cells that help blood clot, which results in excessive bruising and bleeding. Bondville, Vermont, resident Andy Gluss was diagnosed with ITP when blood-test results prior to the first of his nine hernia surgeries 12 years ago raised the red flag. "You know the game, Pac-Man?" Gluss asks. "Envision a Pac-Man board. Ms. Pac-Man represents my white blood cells. The dots on the board are my platelets. Ms. Pac-Man runs around my bloodstream, the game board maze, eating all my platelets. That is the simplest, best description anybody will ever give you of this disorder!"
A Hard Road
Gluss, an avid skier and founder of a Mountain Safety Patrol group at Stratton, has been on every treatment that's available for this rare disorder, under the care of Dartmouth-Hitchcock Norris Cotton Cancer Center (NCCC)'s Christopher Lowrey, MD. "My body eventually became resistant to every treatment and they all stopped working," Gluss says. "So at this point we're kind of out of treatments. We've actually gone back now to treatments that I've had success with in the past to see if my body, like a computer, rebooted and maybe will accept them again."
Since October of last year Gluss's blood counts have been highly unstable. "I've gone from 100,000 platelets to zero overnight. 'Normal' is 150,000-450,000. I live in the 20,000-range a lot. That's ok, however, the problem is that there's no room for slippage and my counts could drop instantly at any time, like a stone in a lake. Below 10,000 is considered life-threatening. I've been below 10,000 many, many times. I was here for two weeks before Christmas with mouth bleeds. Come to find out, I had no platelets at all." Fatigue, light headedness, and bruising are some of the common symptoms but Gluss doesn't feel or exhibit any of them. "That's one of the issues is that we literally don't know from day to day what my counts will be," he explains.
I can honestly look back on my life and say, 'I did it.'

Andy Gluss
Gluss receives weekly blood tests at his local hospital. "One day my count was down to zero. If I hadn't been tested, I would have gone skiing that afternoon and could have easily died. But my doctor at my local clinic was instantly on the phone with Dr. Lowrey's office and had already made arrangements for me to come to the emergency room at Dartmouth-Hitchcock. I no sooner gave the receptionist my name and date of birth when the nurse came out to get me. That's how responsive they were. I was given a blood transfusion and medicine I needed to be on, neither of which took right away, so they had to 'incarcerate me' for five days. Two weeks before that I experienced a terrible nosebleed so I went to my clinic and my platelets were around 3,000. They rushed me to Dartmouth-Hitchcock then too. I'm not going to lie—I've got a lot of frequent flyer miles at that place!"
It's All About Attitude
Surprisingly, living with such uncertainty does not cause fear in Gluss. "It should impact my life dramatically but I won't let it," he says. "As life-threatening as it is, believe it or not, I've learned to accept it. But I never worry about anything, no matter what it is. Worrying just gets in the way of clear thinking. Ski patrol is a perfect example. If I were tending to someone on the hill, I can't be worrying about my bills or what the weather is, I have to concentrate on that person at that moment."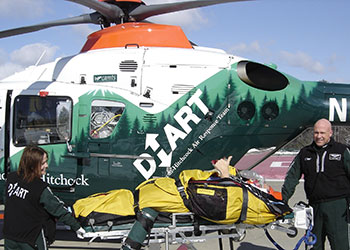 Instead, Gluss relies heavily on attitude. "It's all about attitude and you have the power and control to change your attitude. It's a choice you make. I yell, I curse, I scream sometimes but that's ok! I still don't let anything hold me back. You can't change what happened yesterday. You can learn from it, but you can't change it. Maybe I didn't travel as much as I wanted to, but I can honestly look back on my life and say 'I did it.'"
Gluss's new outlook is perhaps a result of his lowest point, at which he attempted to take his own life. In an educational outpatient program he joined after that attempt, he learned a crucial lesson. "One of the best techniques I ever learned was to live in the moment. It's a philosophy that takes work to grasp—you have to practice until it becomes habit—but if you can embrace that philosophy, it will change your life dramatically. It's an extremely powerful tool. Tomorrow is not a guarantee for anyone, only this moment is."
Gluss has also found a sense of comfort and trust in the Division of Hematology of the NCCC. "They are so incredibly responsive and proactive. There are a lot of good things about it! The care is top-notch. The providers, from the nurses to the residents, interns, doctors, whomever, have a real concern, but more importantly, they listen. They don't just talk at me, they really listen."
While he continues living his life to its fullest, Gluss is also looking for clinical trials that may provide answers to this rare disorder. "Right now there aren't any that I qualify for. There is a new drug that will hopefully receive FDA approval soon. It only works in a small percentage of people, but maybe I'm in that small percentage! You never know..."