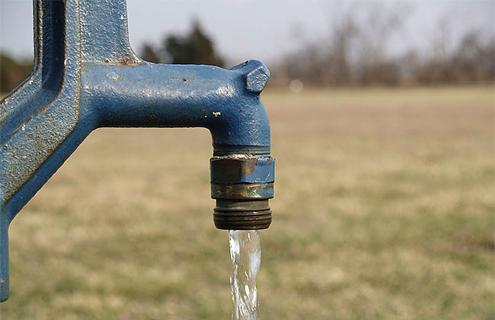 Arsenic is an odorless, tasteless, toxic, semi-metal that can leach into groundwater and wells from natural deposits in soil and rock and from agricultural and industrial sources. Northern New England's geology makes our region a high risk one for natural arsenic contamination. Consuming water with arsenic levels exceeding the Environmental Protection Agency's (EPA's) maximum contaminant level (MCL) is not recommended and may pose health risks. Children who are growing and developing may be especially vulnerable. Long-term exposure to arsenic has been associated with skin, bladder, lung and other cancers. In children, arsenic may impact growth and development.
"The EPA regulates and requires monitoring for arsenic and other contaminants in public water systems, but the only way to know for sure about the arsenic level in a private well is to have it tested yourself. There are regions in New Hampshire that are known, from prior sampling and modeling by the U.S. Geological Survey, to have a higher likelihood of exceeding the 10 ppb [0.010 parts per million] limit," says Carolyn Murray, MD, MPH, director of Community Engagement and Research Translation at the Children's Environmental Health and Disease Prevention Center at Dartmouth College's Geisel School of Medicine.
In New Hampshire, it is estimated that one out of every five bedrock wells exceeds this EPA safety standard. Murray lists the Seacoast area and regions around Concord, NH, with higher probabilities of elevated arsenic in groundwater, "but we get wells with elevated arsenic levels in Hanover, Piermont and other locations in the Upper Valley, so the real message should be that if you don't know if there is arsenic in your well water, then you should have your well tested for it no matter where you live," she says.
The cost of an arsenic test is generally less than $20. The New Hampshire Department of Environmental Services recommends that testing also be done regularly for coliforms, E. coli bacteria, nitrites and nitrates, fluoride, lead, manganese and other elements; an expanded test generally costs about $80. A list of accredited labs (PDF) is available. If arsenic levels in a private well are elevated, there are approaches to remediate the issue, or alternatively choose a different source for drinking water.
The Children's Environmental Health and Disease Prevention Research Center at Dartmouth, with funding from the EPA and the National Institute of Environmental Health Sciences (NIEHS), is conducting an important study to better understand the health effects of arsenic and other exposures on infant and child development. The New Hampshire Birth Cohort Study enrolls pregnant women who use private wells and then follows them through pregnancy and delivery and then continues to follow the children as they grow and develop. Since 2009, over 1,400 committed mothers have enrolled in the study throughout New Hampshire. Questionnaires about child health and diet are tracked and biological samples are obtained to more precisely measure exposure to arsenic and other contaminants. "While there have been health outcome studies of populations outside the U.S. who have had very high exposures to arsenic, we need to understand the health impacts of lower, common level exposures in a U.S. population," Murray notes. Study results will help inform regulators and policy makers as they address arsenic content in food products, as well as drinking water and other issues related to improving children's health.
Get more information from the EPA about arsenic in drinking water. See a digital story book about arsenic, done in partnership with DALI at Dartmouth College.