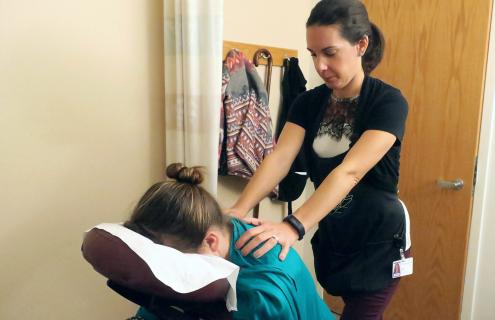 If a medicine had the same result that we've shown with reiki and massage, it would be prescribed.
Maxwell Vergo, MD
Not everyone is aware of the symptom-relieving therapies, like reiki and massage that are available in addition to cancer treatment. Not only are these healing arts prescription-free and non-invasive, but they have few, if any, side effects. Many patients even find them enjoyable. Massage is the act of gently manipulating muscles to promote relaxation. Reiki is a gentle-touch transfer of energy that can quiet the mind, reduce stress and create a sense of peace. 
Research shows
While the demand for these therapies is increasing, some may still be skeptical. Maxwell Vergo, MD, a practitioner in Palliative Medicine at Dartmouth-Hitchcock, and colleagues recently published a study about the personal effectiveness of these treatments in the Journal of Alternative and Complementary Medicine. Vergo and his team looked at five years of data from patients who filled out questionnaires about the impact that these therapies had on their healing and state of well-being. Patients rated their levels of pain, fatigue, nausea, anxiety and depression on scale of 0—10 before and immediately after their first massage or reiki session. "From the science and research angle, it does appear that reiki and massage help people with symptom relief," says Vergo.
Briane Pinkson, LPN, LMT, Healing Arts Coordinator and one of the leading authors on the published study, has been involved in connecting patients to complementary therapies that have been offered at Dartmouth-Hitchcock since 1989. "Both massage and reiki were found to be helpful for reducing symptoms, and increasing a sense of relaxation and well-being," says Pinkson. "Many patients comment that these therapies are as effective as their medications. Some patients fall asleep during the sessions and then share with us later how wonderful it was to finally sleep!"
Back for more
Although Vergo and Pinkson's study tracked patients' responses to their first session of massage or reiki, many patients opt to continue with their sessions. "I work clinically with a lot of people who don't think they would want massage or reiki, but once they've experienced them they change their minds," says Vergo. "I would advise patients that, from what I've seen, it's worth giving them a whirl before making a judgment about whether or not they're for you." Andrea Buccellato, manager of Dartmouth-Hitchcock's Norris Cotton Cancer Center's (NCCC) Patient and Family Support Services, often sees this change of heart as well. "Many patients tell us that there's often an immediate feeling of improvement in mood and that they feel relaxed and less anxious after even one of these hands-on sessions," says Buccellato. "First-time visitors are often pleasantly surprised and return for more."
Nancie Severs experienced this reaction first-hand at the beginning of her treatment for uterine cancer four years ago. "My first session of massage was shortly after my treatment began. I was experiencing neuropathy (numbness and tingling) in my fingers and toes. I discovered that the leg and foot massage I received during a regular pedicure relieved my neuropathy for several hours," notes Severs. "After that I went seeking regular massage. Every time I come to the Cancer Center, even for just a blood draw, I make time for a chair massage. The location is convenient and I leave feeling more restful and energized. I find it helpful in managing my lymphedema (buildup of lymph fluid in the body) because it gets things circulating again."
Jacey Cobb, LMT, is one of the state-certified therapists at NCCC who offers chair massages daily to patients, including Severs. "Patients are often nervous if it's their first time, excited if they've been here before, stressed about upcoming test results, fatigued, weak, sometimes fearful, anxious, experiencing pain and overwhelmed by the many emotions a cancer patient might go through," says Cobb. "As well as improving the physical symptoms, patients frequently get up from the massage chair looking relaxed and happy. I'm often told they sleep better, have improved mental clarity and greater range of movement. To be able to take someone's pain away, whether it's emotional, physical or both is truly rewarding."
Becoming the norm
The health care system as a whole may not think about complementary therapies, but they are gaining in popularity. "Here in our Palliative Care team and at the Cancer Center, it's becoming part of the care that's delivered," notes Vergo. "When we're seeing patients for the first time, we ask them if they've ever heard of massage or reiki. If they say no and they have symptoms that we think might be benefited from one or both of those therapies, we ask them if it would be ok to have a healing arts person come by to educate them about what they are and work with them. Once they've had a session we check in with them at future appointments to see if it's anything they'd like to have again." Vergo encourages his patients who find comfort in these therapies to incorporate them as another way to treat their pain without the side effects of medications.
"If a medicine had the same result that we've shown with reiki and massage, it would be prescribed," concludes Vergo. "I would advocate for patients to be asking for these resources because they're available." Severs agrees. "I personally find massage to be important during all three stages of cancer: diagnosis, treatment and post-treatment. Anything that helps manage my worries, relaxes me and keeps me in the moment is good. For me, massage is one of those tools."
Reiki for oncology patients and their supporters is offered at NCCC locations in Lebanon, NH, and St. Johnsbury, VT. Chair massage is offered in Lebanon, Manchester and Nashua, NH, and St Johnsbury, VT. Both services are offered to both inpatients and outpatients by trained and certified staff and volunteers. For more information about these therapies, please contact Patient and Family Support Services at CancerSupport@hitchcock.org or (603) 650-7751 to connect you with our practitioners. Healing arts are offered free of charge to cancer patients and supporters, through the generosity of annual Prouty funding.