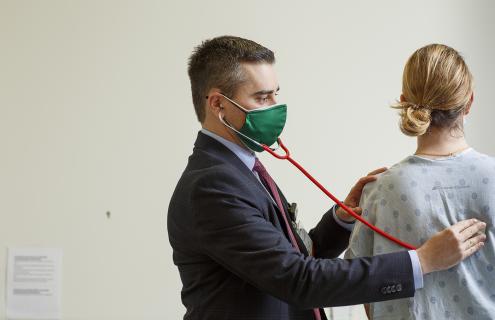 Whether it is through diet, exercise and/or mental well-being techniques, it is never too late to start living a healthier life.  Prevention through lifestyle modification and age-appropriate screening is key.
Simon Khagi, MD
Dartmouth's and Dartmouth-Hitchcock's Norris Cotton Cancer Center (NCCC) has a new medical director for the Manchester, Nashua and Concord NCCC locations. Simon Khagi, MD, also serves as the associate oncology service line director and joined the Dartmouth-Hitchcock (D-H) system in October. Khagi will provide oversight and leadership for hematology and medical oncology care in the southern region of New Hampshire. He will provide patient care and has direct oversight of clinical personnel and holds an appointment as assistant professor of medicine at the Geisel School of Medicine at Dartmouth (Geisel).
Khagi previously held the role of assistant professor for the Department of Medicine and Department of Neurosurgery at the University of North Carolina (UNC) School of Medicine, Chapel Hill, North Carolina, where he was the director of the UNC Neuro-Oncology Program. Khagi is returning to D-H and the Geisel where he previously completed a residency in Internal Medicine.
Khagi took the time to share some of this thoughts on his background and being part of Dartmouth's and Dartmouth-Hitchcock's augmentation of specialty services in southern New Hampshire.
Tell us a little bit about your background and the work you've done in the past?
I lived on both coasts (Brooklyn, New York and Southern California) before my family settled down in St. Louis, Missouri. I attended an accelerated bachelor of arts and medical degree program at the University of Missouri in Kansas City. For residency, I decided to leave the Midwest and go back to the East Coast for the remainder of my post graduate medical education. And I'm glad that I did. I spent a very formative three years at D-H and really enjoyed everything that new Hampshire and Vermont had to offer. I continued my medical training at Tufts Medical Center in Boston in the field of Hematology/Oncology. I'm very thankful for the opportunity to have trained in Boston—this is also where I met my wife! After completing training in Boston, I decided to further sub-specialization in neuro-oncology at Duke University in North Carolina. This was an intensive one year program that allowed me to gain the necessary skillset to treat complex neuro-oncologic conditions. After completing my formal training, my wife and I decided to stay in North Carolina. We settled down in a town called Cary. My first job out of training was the role of director of Neuro-Oncology at the University of North Carolina at Chapel Hill.
What motivated you to become a physician and to work in neuro-oncology?
Ever since I was a child, I was intrigued by the medical field. I knew I wanted to be a physician from a very young age. In high school, I focused my energy on gaining acceptance in to the University of Missouri's combined accelerated program—a very competitive state-sponsored program that only accepted 100 applicants per year.
My interest in neuro-oncology evolved over time. I had great mentors during my fellowship in Boston that encouraged me to pursue neuro-oncology as a career. I enjoyed the research and the patient care aspect of the field. This is an area of medicine with significant unmet need and I felt that, as an oncologist, I could use the extra training to hone my neurologic skills. But more specifically, poor outcomes suffered by patients afflicted with glioblastoma pushed me to engage in exciting research in order to make a positive impact. I found this gratifying.
What attracted you to Dartmouth's Cancer Center and this new role in southern New Hampshire?
The opportunity to return and give back was a big reason for me. I also realized that the southern New Hampshire region really lacked the sub-specialty expertise that was primarily found in Lebanon and Boston. The majority of the population of New Hampshire resides in the south. When faced with a life-changing diagnosis like cancer, many of these patients have to travel to either Lebanon or Boston for sub-specialized levels of care. This is especially true for patients who have advanced disease or rare cancers. This impacts patients and families on multiple levels. I wanted the opportunity to build a center that could provide cancer care at the highest level and that was close to home for these patients and families.
What do you wish you knew about cancer, that perhaps you've shared with your family and friends that you didn't know until you became an oncologist?
Cancer is a myriad of diseases without a single cause or a single solution. But harnessing our immune system to fight different variants of cancer can truly hold the key to making it a manageable condition—if not totally preventable. There is so much HOPE in this field and every day brings a new discovery!
The National Cancer Institute is celebrating its 50th year. Diagnosis and treatment have changed dramatically over the decades. What are some of the most recent discoveries in cancer care that can make a difference in a patient's care? What role do you see research continuing to play in the diagnosis and treatment of cancer?
Over the past couple of decades the management of advanced cancer has changed dramatically. Much of that change has been in the field of immunotherapy and its adoption by the cancer community as a standard of care for many life-limiting conditions. With these advances, we have seen dramatic improvements in the quantity and quality of life of our patients with melanoma, lung cancer, breast cancer, kidney cancer and other difficult-to-treat conditions. I think the scientific community will continue to broaden the mechanisms of immunotherapy through genetic manipulation of key cancer-killing cells within our own bodies. But, in order to do this, we need a willingness and an infrastructure to investigate the safety and effectiveness of these novel treatments. This is where clinical trials play a pivotal role in answering these questions. Clinical trials can be deployed during various aspects of a patient's journey. For example, a patient with advanced cancer with few options for standard treatments can be considered as a potential candidate for a novel treatment as part of a clinical trial. Similarly, novel treatments can be added to existing regimens to assess if the combination is safe and effective. All of this is done with the patient's utmost safety and informed consent in mind prior to enrollment on a clinical trial.
The Norris Cotton Cancer Center celebrates its 50th year in 2022 and has a long history of cancer research. Dartmouth-Hitchcock has a proud history of impacting care through research. What are your research interests and aspirations?
My research interests revolve around improving outcomes in patients afflicted with glioblastoma and in patients with brain metastases from cancers that have spread to that area of the body. I have been involved in numerous studies ranging from intracranial delivery of oncolytic viruses, intramuscular delivery of plasmids (circular DNA) to stimulate the immune system, vaccines developed from bits and pieces of a patient's own tumor tissue, and genetically engineered personalized immune cell therapy. I've also been involved in investigating the potential of alternating electromagnetic fields for the treatment of glioblastoma. I envision bringing all of these treatment techniques to our cancer center and developing a comprehensive clinical research program for patients suffering from glioblastoma and brain metastases.
COVID-19 has led to many people not keeping up with screenings for cancer. Can you talk about the value of being screened?
The importance of cancer screening cannot be understated. The sooner we find a cancer the more likely we are to cure it. COVID-19 delayed many important cancer screening tests for our patient population. From mammograms for breast cancer screening to low dose CT scans for lung cancer, we've seen a drop off in the number and willingness of patients to get screened. This needs to change. As we get more control over the COVID-19 pandemic through vaccines and fastidious mask wearing per CDC guidelines, I am sure we will see the tide change. I am confident D-H and NCCC will do their part to remind patients and families about any missed appointments and the importance of continued screening. 
What is the best healthcare advice you like to offer your patients?
Whether it is through diet, exercise and/or mental well-being techniques, it is never too late to start living a healthier life.  Prevention through lifestyle modification and age-appropriate screening is key.