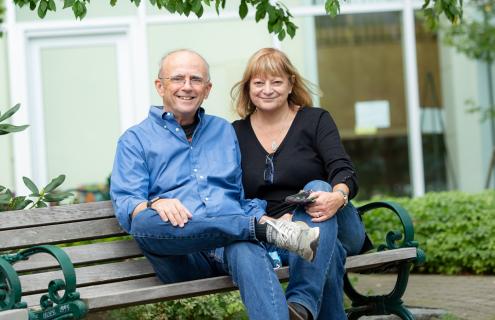 I felt prepared and was excited to be one of the first patients to receive this new therapy at Norris Cotton Cancer Center.
Kim Levitch
Supercharging millions of a person's own immune cells to recognize and attack cancer may sound like science fiction, but it's one of the latest immunotherapies now available to eligible patients through the Transplant and Cellular Therapy (TCT) program at Dartmouth-Hitchcock Norris Cotton Cancer Center (NCCC).
Bringing new science to clinic
A person's own T cells, a type of white blood cell naturally produced by the immune system, are genetically altered in a laboratory to improve their cancer-killing ability. Then they are infused back into the patient, where they are better able to target cancer cells.
Becoming an approved center to offer CAR T-cell therapy took years of training and preparation. "The design and development of this program was extremely difficult, but it has been the most rewarding experience for our team," says Kenneth Meehan, MD, Director of the TCT. "We visited numerous units/sections within our hospital. We informed them that we were starting a new program that would be more work and more training for each one but it's what our patients needed. Every single person rose to the occasion and said 'we'll do it.'"
Preparing the first patient
Kim Levitch, a commercial real estate appraiser from Shelburne, MA, came to NCCC after three unsuccessful chemotherapy regimens for the non-Hodgkins lymphoma he was diagnosed with almost three years ago. "After the first round of chemo, I was told I was cured! But the cancer came back with a vengeance," said Levitch. He and his wife met with oncologists at both NCCC and Boston cancer centers. "Both were very impressive, but we were simply blown away by how brilliant and absolutely kind, caring and wonderful Dr. Hayes was," says Levitch. Following his gut instincts, Levitch chose to become a patient of medical oncologist and transplant physician Christi Ann Hayes, MD.
"Mr. Levitch had an excellent performance status and strong family support. These two factors can really impact a patient's clinic course," says Hayes. "He is also such a positive and motivated person. I felt confident he was a great candidate for the procedure."
Levitch's multi-media education into CAR T-cell therapy began with a personal presentation by Meehan, and was built upon at each visit leading up to his procedure. "I felt prepared and was excited to be one of the first patients to receive this new therapy at Norris Cotton Cancer Center," says Levitch, who carefully followed orders to remain as physically active as possible and avoid exposure to infections, especially amongst coronavirus concerns.
To begin, Levitch underwent collection of his blood's white blood cells. "When they tell you they're collecting millions of T cells, you wonder if you'll have any left when they're done! But millions of cells fit in one small bag of blood," describes Levitch. The blood was sent to a biotech laboratory where the T cells were genetically engineered to produce receptors on their surface called chimeric antigen receptors (CARs). These receptors allow the T cells to recognize and attach to a specific protein (or antigen) on Levitch's tumor cells. The specially engineered cells were then expanded in the laboratory by the millions.
In the meantime, Levitch underwent chemotherapy to prepare his immune system for receiving the supercharged CAR T-cells. "I'll never forget, my infusion was May 4th. My nurse came to my bedside in the One West inpatient unit and said, 'Good morning, Kim. Today is the day. May the fourth be with you.' I'd never heard of the Star Wars reference but I had to laugh."
The CAR T-cells were infused back into Levitch's body, where they continued to multiply. With guidance from their engineered receptors, the CAR T-cells recognize, attach to, and kill cancer cells that have the tumor antigen on their surfaces. "I remained in One West for several weeks for close monitoring," says Levitch. "I was under close care of nurses and LNAs who have special training for CAR T patients. I call them 'super nurses!'"
After infusion
Levitch's team carefully watched for side effects. "Side effects can be treated but they need to be recognized early and addressed immediately. The inpatient team checked Mr. Levitch every few hours," says Hayes.
Adding to an already challenging time, Levitch's entire experience happened during the COVID-19 pandemic. "We had to remain close by after the infusion so we rented a house in the area for two weeks. During COVID-19, that was not easy! But luckily we had the guidance of Kate Caldon, RN, our nurse navigator who helped arrange a rental. In fact she sheparded my wife Nancy and me through all of my appointments, tests and education, and gave us guidance every step of the way. She also introduced us to The Prouty fundraising event. We knew immediately that we wanted to join in! She gave us Prouty bibs and showed us how to join virtually," says Levitch. He and Nancy did just that. They had already had a vacation to Cape Cod booked a year in advance. "So, we walked the beach for our Prouty!" says Levitch. "We will definitely be joining the event every year from now on."
Levitch's physical strength and mental acuity are returning, and his energy is good as he moves into the follow-up phase. "CAR T-cell therapy is in its infancy worldwide," says Meehan. "We wanted to get in on the ground level and build a program we'd feel comfortable sending our own families to. Mr. Levitch's success is the first step in an explosion of these new therapies."