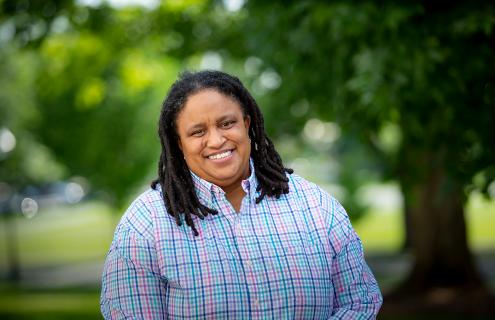 I feel that part of my purpose as a survivor is to walk alongside other survivors who need someone. I believe we're meant to get through life together.
Dia Draper
In 2016, Dia Draper shared her experience of being diagnosed and treated for colon cancer in 2011. Four years later, Dia reflects on survivorship and the complex emotions and changes in life perspective that come along with surviving a serious illness.
"It's the above-and-beyond touches I remember most. One of my worst days was my 38th birthday. I was having a really hard time and feeling depressed. Dr. Gregory Ripple and my nurse, Elizabeth McGrath, showed up in the infusion suite with balloons and flowers! And my visiting nurse, who helped me at home, gave me a little glass bluebird that sits in my office to this day. It's called the 'bluebird of happiness.' How can you not martial all your energy after that? I started to realize how fortunate I was. I had my mom and my family behind me, my work colleagues and my medical team all supporting me, and I realized I had a ton of privilege. I live close to the hospital and didn't have to travel for treatment, I had a great job and good health insurance. I looked around at all the people who were going through their own difficult journeys and recognized that some of them were driving an hour or more to come to treatment and maybe didn't have money to stay over. I vowed that when I got through my journey, I would come back and help out. So for a year, I volunteered with the Comfort Cart and serving lunches in the Infusion Suite as a way to give back.
Around 2014, I had a follow-up colonoscopy and there were no signs of cancer. I continued with follow-up visits every six months. I was always tense waiting for test results, but I also got used to the safety net of being under regular care. After several clear colonoscopies I was told I could transition to yearly visits, but I was not ready to go a year without seeing my care team. It was like training wheels that I wasn't quite ready to take off. Nurse McGrath assured me that I could call at any time if I ever needed them, which had been true since I met them. I didn't abuse the offer, but there were days when I would email them panicking about something and they always responded right away. So between their reassurances, three additional clean scans, no symptoms and the support of the survivor group I had joined at the cancer center, I felt ready to take the training wheels off. I was okay and knew that if anything popped up, my team was right there. Yearly colonoscopies became every other year, and now, officially at the five-year mark of being cancer-free, I don't need another colonoscopy for five more years!  I think I'll always be on guard before I go in for scans. For a long time I called it the dark cloud that will follow me the rest of my life as a survivor. But every year out, the cloud is further behind me, lighter in color and less ominous.
I've always been a decent public speaker but that picked up formally after cancer. I've done a TEDx talk and been invited to speak at oncology conferences and other local channels on the power of perspective. My audience is primarily doctors, nurses, hospital staff and other people connected to oncology. It's really about the difference that each of them makes, no matter how small. The food service workers who remembered what flavors of things I like and don't like. That kind of stuff matters. The reception desk staff who remember my name after not seeing me for three years. They looked me in the eye and they cared how I was doing. The nurse who had the magic touch of getting my challenging colostomy bag to stay on. She missed her ride home one day to stay late and seal the bag so I could have a few days of peace. It was wildly inconvenient but she stayed so I could have a few days of not being stressed and embarrassed. I have tons of stories like this.
Fundraising for cancer has also been important. In fact, my wife and I won the Dartmouth entrepreneurship competition (The Pitch) in 2017. We created the Gift Crate by survivors for survivors. People can order a personalized crate of items for someone going through cancer treatment. That's been a passion project. But mostly it's about connecting with community and letting other survivors and also caregivers know that they're not alone.
I would tell new survivors: hold on to the rail or ask for the training wheels if you need to. Know who in your network of other survivors and caregivers that you can reach out to if you're having a tough time. Join a survivor group or pursue individual or group therapy if that fits with how you process and relate. I didn't realize it at the time but cancer is a traumatic event that will resonate with me in different ways for the rest of my life. I consider myself very mentally and emotionally healthy and sound and even I have difficulty sometimes. It's okay to keep the training wheels on and be scared. Find other survivors you can talk with and eat French fries with, and laugh and cry with and be joyous and sad with to process those complex emotions.
I feel that part of my purpose as a survivor, to make the world a little bit better, is to walk alongside other survivors who need someone. I believe we're meant to get through life together. Through that I can make meaning out of the mess and find purpose in my experience. The silver lining of the dark cloud is that it's pretty easy for me to figure out what my priorities are now, and remember what's really important—as a leader, as a spouse, as a friend and as a colleague. That's one of the gifts that surviving cancer has given to me."