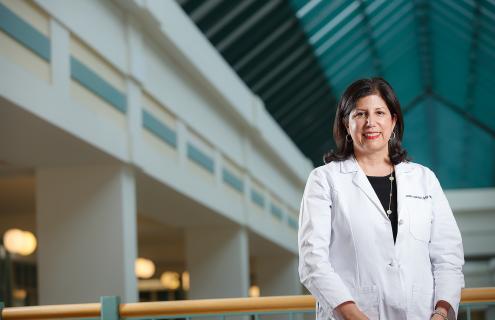 We are delighted to announce that Dartmouth's and Dartmouth-Hitchcock's Norris Cotton Cancer Center (NCCC) and the Department of Medicine have appointed Linda T. Vahdat, MD, MBA, as Deputy Cancer Center Director, Chief of the section of Medical Oncology and interim Chief of Hematology. In her academic role, she will serve as the Milham Professor and Professor of Medicine at Dartmouth's Geisel School of Medicine.
In her role as Deputy Director, Dr. Vahdat will bring extensive experience as a practicing clinical researcher and academic medical oncologist to the NCCC leadership team. She will also lead the overall direction, management and operation of the Sections of Medical Oncology and Hematology, responsible for division clinical performance, fiscal and operational responsibilities, faculty development, personnel management, training and education, and research.
She is currently Chief of Cancer Services and head of the Department of Hematology/Oncology at the Memorial Sloan Kettering Cancer Center Center–Norwalk Hospital Partnership. In addition to her appointments at MSKCC, Dr. Vahdat is board certified in internal medicine and medical oncology.
Dr. Vahdat comes to NCCC with over 20 years of experience in caring for people with breast cancer, with a particular focus on triple-negative breast cancer, metastatic breast cancer and breast cancer at high risk of recurring.
Additionally, her expertise extends to drug development. She has been involved in the identification, conceptualization, design and conduct of Phase 0 through III clinical trials of new therapies in high-risk adjuvant and metastatic breast cancer patients since 1994. She has led three separate drug-development efforts that led to FDA approval of three drugs active in metastatic breast cancer. She founded the Triple Negative Breast Cancer Clinic, the second in the U.S., in 2014.
Dr. Vahdat earned a medical degree from Mount Sinai Medical School in 1987 and completed a residency in Internal Medicine at Mount Sinai Hospital. She then completed her fellowship in Medical Oncology/Hematology at MSKCC. She later received an MBA from the Massachusetts Institute of Technology in 2014.
She has been recognized as one of America's Top Doctors for cancer from 2016 to 2020, included in the Castle Connolly: New York Magazine Top Doctors (2017-2020) and Top Doctors New York Metro Area (2016-2020). Dr. Vahdat has also been actively involved with—and has held several leadership positions in—the American Society of Clinical Oncology, including co-chair of the ASCO Breast Cancer Symposium, and served on the Executive Board of Cancer Care from 2006 until 2012.
We wish to thank search committee members Chris Lowrey (Chair), Mary Chamberlin, Yoli Sanchez, Kari Rosenkranz and Amy Stansfield for the successful effort that brought Dr. Vahdat to us. Please join us in welcoming Linda to the D-HH, Geisel and NCCC community. We look forward to her arrival on February 21st.