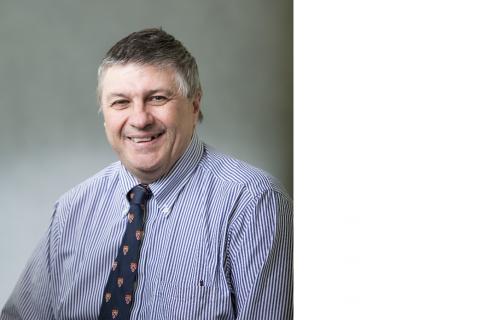 LEBANON, NH – Lionel D. Lewis, MD, MA, MB BCh, has been elected as a fellow of the British Pharmacological Society, a premier global society in the science of pharmacology, for his substantial contributions, demonstrated distinction, and peer recognition in clinical pharmacology and therapeutics.
"It is an honor to be recognized by the British Pharmacology Society as a major contributor to the field and discipline of clinical pharmacology, which is the study and optimal use of drugs in human beings," says Lewis. "This international societal recognition reinforces the institutional recognition I have received for my expertise and reputation in this field."
A practicing physician and section chief of Clinical Pharmacology at Dartmouth-Hitchcock, as well as Professor of Medicine and of Pharmacology and Toxicology at the Geisel School of Medicine at Dartmouth, Lewis also serves as director of The Dartmouth Clinical Trials Office, senior member of the Norris Cotton Cancer Center (NCCC) Early Phase Clinical Trials Oncology Group, member of the NCCC Cancer Biology and Therapeutics Research Program and vice chair of the Alliance Pharmacogenetics and Population Pharmacology Committee. Lewis also directs the NCCC Clinical Pharmacology Shared Resource, a bioanalytical and pharmacokinetic core, which has received continuous funding from the National Cancer institute (NCI) since 1994.
Lewis' research is centered on hematology/oncology phase l studies. "My whole academic career research focus has been to develop the best understanding of the pharmacology of anti-cancer agents as they progress through phase I studies and beyond, so that we can optimize the prescribing of these drugs and agents for the benefit of our patients," says Lewis. He has published more than 170 peer-reviewed papers on human anti-cancer drug pharmacology, specifically on Phase I studies of novel onco-therapeutic agents.
British Pharmacology Society President Professor Sir Munir Pirmohamed said in an announcement: "Our fellows and honorary fellows play an incredibly important role in the society. Through their work, publication and presentation of research, they further the disciplines of Pharmacology, Clinical Pharmacology and Therapeutics. And through their leadership, and contribution to society life, they inspire and support members at earlier stages of their career or study."
***
About Norris Cotton Cancer Center
Norris Cotton Cancer Center, located on the campus of Dartmouth-Hitchcock Medical Center (DHMC) in Lebanon, NH, combines advanced cancer research at Dartmouth College's Geisel School of Medicine in Hanover, NH, with the highest level of high-quality, innovative, personalized, and compassionate patient-centered cancer care at DHMC, as well as at regional, multi-disciplinary locations and partner hospitals throughout NH and VT. NCCC is one of only 51 centers nationwide to earn the National Cancer Institute's prestigious "Comprehensive Cancer Center" designation, the result of an outstanding collaboration between DHMC, New Hampshire's only academic medical center, and Dartmouth College. Now entering its fifth decade, NCCC remains committed to excellence, outreach and education, and strives to prevent and cure cancer, enhance survivorship and to promote cancer health equity through its pioneering interdisciplinary research. Each year the NCCC schedules 61,000 appointments seeing nearly 4,000 newly diagnosed patients, and currently offers its patients more than 100 active clinical trials.
About Dartmouth-Hitchcock Health
Dartmouth-Hitchcock Health (D-HH), New Hampshire's only academic health system and the state's largest private employer, serves a population of 1.9 million across northern New England. D-H provides access to more than 2,000 providers in almost every area of medicine, delivering care at its flagship hospital, Dartmouth-Hitchcock Medical Center (DHMC) in Lebanon, NH. DHMC was named again in 2020 as the #1 hospital in New Hampshire by U.S. News & World Report, and recognized for high performance in 9 clinical specialties and procedures. Dartmouth-Hitchcock also includes the Norris Cotton Cancer Center, one of only 51 NCI-designated Comprehensive Cancer Centers in the nation; the Children's Hospital at Dartmouth-Hitchcock, the state's only children's hospital; affiliated member hospitals in Lebanon, Keene, and New London, NH, and Windsor, VT, and Visiting Nurse and Hospice for Vermont and New Hampshire; and 24 Dartmouth-Hitchcock clinics that provide ambulatory services across New Hampshire and Vermont. The D-H system trains nearly 400 residents and fellows annually, and performs world-class research, in partnership with the Geisel School of Medicine at Dartmouth and the White River Junction VA Medical Center in White River Junction, VT.