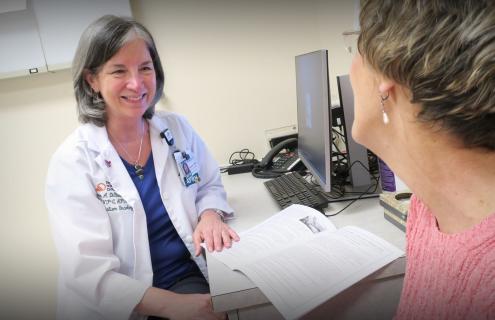 This position requires critical thinking skills, compassion, excellent communication skills and willingness to make evidence-based decisions.
Susan DiStasio, DNP, APRN
By following their own unique skills and interests within nursing, the oncology nurses at Dartmouth and Dartmouth-Hitchcock Norris Cotton Cancer Center (NCCC) provide the most exceptional, genuine and passionate care for patients with cancer.
Clinical nurse
As their job title implies, clinical nurses are involved directly in patient care in the clinic, from first visit to discharge. "Providing this level of total patient care makes clinic nursing a dynamic and rewarding experience," says Elaine Luther, RN, MSN, OCN, a clinical nurse at NCCC North in St. Johnsbury, VT. Clinical nurse responsibilities include patient education, physical and psycho-social assessment, coordination of care with providers and support staff, evaluation of financial concerns and assisting with claims paperwork, as well as providing emotional support for the patient and their family.
In oncology, clinical nursing also means administering infusions to patients receiving chemotherapy and other intravenous (IV) medications. Infusion nurses start IVs, run central lines and access mediports (types of catheters for accessing veins), and draw blood for
What's that degree?
Oncology nurses at NCCC have taken many paths into nursing. The letters you see after a nurse's name typically come from their education, licensure, certification, or a special achievement. But what do all those degrees stand for?
ADN: Associate Degree in Nursing
APRN: Advanced Practice Registered Nurse
ANP-C: Advanced Nurse Practitioner-Certified
AOCNP: Advanced Oncology Certified Nurse Practitioner
BSN: Bachelor of Science in Nursing
CNS: Clinical Nurse Specialist
DNP: Doctor of Nursing Practice 
LNA: Licensed Nursing Assistant 
MSN: Master of Science in Nursing 
NP: Nurse Practitioner
OCN: Oncology Certified Nurse 
RN: Registered Nurse
laboratory tests. They make sure medications are administered at the proper rate, monitor patients for any signs of reaction and provide take-home instructions. Weeks and sometimes months of personal interactions during chemotherapy often allow infusion nurses to form strong bonds with patients and their families. "Our small infusion suite here in 'Saint J' allows us to take care of our patients and their families as if they were our own," says Jenna Watkins, RN, BSN, OCN, an oncology infusion nurse at NCCC North. "We ease their nerves on Day 1 so they are happy to come to us for future treatments.  And we sing to them to celebrate their last day of chemotherapy!"
Clinical nurses also triage patients, helping to manage physical or emotional symptoms of patients who call with concerns. Triage nurses coordinate with pharmacies and carefully monitor patients who are taking oral medications and chemotherapies in pill form at home. "It is a challenging role as you try and discern what a patient is calling you about," says Marie Miller, RN, a clinical nurse at NCCC North. "You learn very well how to ask questions and listen to figure out what is needed."
As research and clinical trial access expands in NCCC's Manchester and Nashua locations, Jillian Bagley, RN, is shifting from triage nursing at NCCC in Manchester to research nursing. The shift will allow her to remain in oncology but in a different capacity.
Research nurse
NCCC offers patients access to a robust network of clinical trials. Clinical trials are later-stage human studies of new treatments for cancer that have shown promise in earlier studies. "My triage skills and history will be a huge plus in my transition to research nursing," says Bagley. Research nurses identify potential patients, guide them through a lengthy informed consent process, start eligible patients in the trials, report and manage side effects, and follow all laws and guidelines of a very strict protocol-driven schedule. Brian Highhouse, RN, BSN, OCN, is an NCCC research nurse based in Lebanon. "I wanted to be involved in advancing cancer treatments and improving outcomes," says Highhouse. "I like guiding patients through the process of a clinical trial, tending to their individual needs and helping to ensure their safety while following the guidelines of the protocol."
Surgical oncology nurse
Surgical oncology nurses cover a spectrum of needs before, during and after surgery for cancer, whether it be open surgery or minimally invasive robotic surgery. They'll address medical history, surgical consent, education about procedures for patients and families before surgery, and more. Inter-operative (meaning during surgery) nurses assist in a wide array of surgical procedures and know what to do to support patients during their procedures. Post-operative nurses help patients recover both physically and emotionally after operations. They manage symptoms and adverse events, provide pain relief, and educate patients and families about what to expect and make phone calls to check in with patients once they are home. They also coordinate ongoing care with physicians and support teams such as nutritionists, speech pathologists and physical therapists. "It's important to have the ability to assess and communicate to the team," says Tamara Moran, RN, a thoracic surgical oncology nurse in NCCC, Lebanon. "We work very closely with the surgeons, physician's assistants, nurse practitioners and their assistants all day, every day."
Licensed nursing assistant (LNA)
Assisting patients and nurses alike, are licensed nursing assistants (LNAs). In oncology, LNA responsibilities include transferring patients in wheelchairs, taking vital signs, stocking supplies, changing bed linens, sanitizing infusion chairs and equipment and preparing clinic rooms. In the inpatient setting, LNAs assist patients with bathing, dressing, eating and mobility. They also document
We go to work every day to help others heal and learn how to get back to their everyday activities.

Amanda Beauchine, LNA
medication changes, pain or other concerns as patients arrive, and report the information to the clinical nurses. Amanda Beauchine became an LNA because she wanted to help people. "Cancer patients and their families need all the support that we can give them. Whether it's sitting with them during chemotherapy, giving them a hug or even just a 'Hi, how are you?' it makes their day better. We go to work every day to help others heal and learn how to get back to their everyday activities," says Beauchine. "We work under the direction of registered nurses who see the patients after we do and rely on the information that we give them."
Advanced practice registered nurse (APRN)
An advanced practice registered nurse (APRN) has earned a graduate-level degree such as a Masters of Science in Nursing (MSN) or a Doctor of Nursing Practice (DNP), and has been specially trained in a recognized APRN role. Advanced degrees allow APRNs to lead clinical appointments with patients, order tests and imaging, and prescribe medications for symptom management. "This position requires critical thinking skills, compassion, excellent communication skills and willingness to make evidence-based decisions," says Susan DiStasio, DNP, ANP-C, APRN, AOCNP, an advanced practice nurse based in Lebanon. "It's challenging keeping up with all the new changes in oncology and medicine in general. I read journals, attend team patient case discussions (tumor boards), conferences, and participate in national conferences annually.  Clinical time takes up most of my practice but I try to incorporate other aspects of the advanced practice role such as research, participation in professional organizations and presentations at educational events."
Nurse navigator
Even with careful team monitoring, patients can benefit from having one person help navigate them through their cancer care journey and the health care system. Nurse navigators are that "go-to-person." Anna Marie DeVito, RN, OCN, is a nurse navigator based in Lebanon. "In my mind, nurse navigators are part triage nurse, part case manager, a bit of a social worker, confidant and support group," says DeVito. "Cancer care can be really complex. In the outpatient setting, vulnerable patients may experience barriers and obstacles such as poverty, lack of transportation or support, medical illiteracy, anxiety and fears to name a few."
NCCC celebrates our oncology nurses in all capacities. With each patient they become a vital part of their life during what is quite possibly the most difficult time they have ever experienced.