By

Lara Stahler

Photography by

Mark Washburn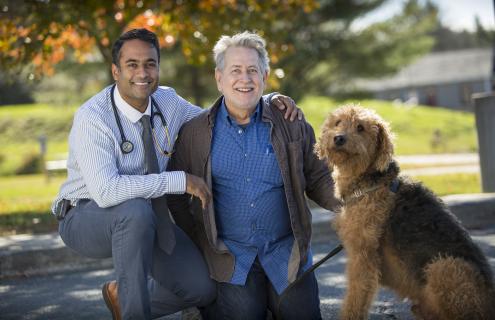 How a person feels mentally and emotionally has a lot to do with their physical state. Even if it's uncomfortable I would strongly encourage other men going through prostate cancer treatment to talk about sexual aspects of treatment with your doctor.
Dick Poulin
With a degree in microbiology, Richard (Dick) Poulin has learned to take a scientific approach to many challenges. Cancer was no exception. "I'm a scientist. When prostate concerns became apparent in my family, probabilities, factoring my age at 72, tell me, 'Do something about this, you're at risk!" Poulin says. "My PSA blood test in January came back high. Later, my Gleason Score (a measure of cancer-cell aggressiveness) indicated that, although found in only a small portion of my prostate gland, the cells were unfortunately aggressive and had to be treated."
Weighing Probabilities
A resident of Gorham, NH, Poulin was referred to Norris Cotton Cancer Center (NCCC) North in St. Johnsbury, VT, under the care of Nirav, Kapadia, MD. "I hate to say it, but I chose this Cancer Center for convenience," laughs Poulin. "It was far less stressful for me than driving to Boston, and came with all the advantages of being close to home. Professionalism was expected due to the Dartmouth-Hitchcock hospital affiliation, but NCCC North exceeded that expectation. It was a well-oiled machine. Swift and orderly but without that 'clinical' feeling, which was a real plus. The people there added to that plus. The human touch was genuine. It wasn't deliberate, it was just second-nature to them. I like these people. Certainly my preconception of a Cancer Center involved a 'doom-and-gloom' ambience, death being 'the elephant in the room.' I was mistaken. The connections, the friendships, the care was wonderful and pleasant, like being at home with your buddies. That's really what I remember."
At NCCC North, Poulin discussed treatment options with Kapadia and ultimately decided on radiation and hormone therapy. "During the decision-making process I looked at the probabilities of life and death, and my life afterwards and having a reason to live. I talked to my brother and to a friend who had his prostate removed, and I learned what risks were involved with that option. My physician suggested that radiation was the way to go; I pressed him a number of times—we talk about things openly. I googled it. People who google become 'experts' overnight—I followed that herd—I decided it wasn't worth the risk of having my prostate removed so I took the option of radiation and it was no big deal," he says.
Poulin has completed his course of radiation therapy and will continue hormone treatments for two more years. He also chose to partake in a randomized clinical trial that is studying the size of the radiation beam. "In my case they 'flipped the coin' and on my side of the coin the radiation is a little wider to focus on the peripheral areas of the prostate. So I got 'the high test.'"
Broaching Delicate Matters
Poulin is making adjustments to manage side effects. "I've had to struggle more, but try to maintain a good frame of mind. Fatigue from the radiation annoyed me because I'm active and I wanted to do things, but that is getting better. I've been a weight lifter since I was 18, and I used to bike and run. The weight gain and huffing and puffing was very irritating for me, as were the hot flashes, a side effect of the hormone shots. For a weight lifter it's 'mind over matter.' That skill set was useful in getting me through.
"Also, there is one area of side effects that happens in some men that we, fragile creatures as we are, are not comfortable bringing up, and that is shrinkage, impotence and lack of libido. It can be very disturbing and take a toll on your self-esteem especially if it's unexpected; not all doctors address this concern. Some men don't feel comfortable talking to their doctors about sexual side effects; others have to be told to be prepared for the shock when it does happen. There are medications and natural alternatives that can help. It's a delicate subject but can damage the psyche if it's not brought up and addressed properly. How a person feels mentally and emotionally has a lot to do with their physical state so even if it's uncomfortable I would strongly encourage other men going through prostate cancer treatment to not be afraid to talk about sexual aspects of treatment with your doctor. Understand the possibilities and choices completely, and bring up concerns right at the beginning—Your sexual health is at risk and doesn't have to be."
Reflections
Throughout his experience, Poulin learned that getting through the most difficult parts of cancer treatment has a lot to do with who you are. "For some people the sky is always falling. It's fearsome. I would say, have all the information. Talk to people who have gone through it. Don't be afraid to talk about the sexual aspects. Know and be informed. There are mechanisms that will bring things back to normal. The odds are in your favor. Be comfortable talking to your physician. That's truly important. The thing people don't realize is that radiation doesn't hurt. The worst part is holding your bladder! In my case, just the fact that NCCC North is so well-run helped a lot. And Dr. Kapadia and I have a good relationship; he's a great doctor and good friend."
Even with years of experience as a microbiologist, an engineer, a state representative, political activist and chair of many boards, it's prostate cancer that has caused Poulin to reflect on his own life. "Before cancer, age is just a factor. You know you're getting close to 'the goal line,' but having prostate cancer makes you keenly aware of how long you have. You start thinking, 'maybe I should revise my priorities, my schedule; maybe I shouldn't do this or that…". My family tends to live a long life but an experience like this brings a new awareness of just how much life each of us is given."