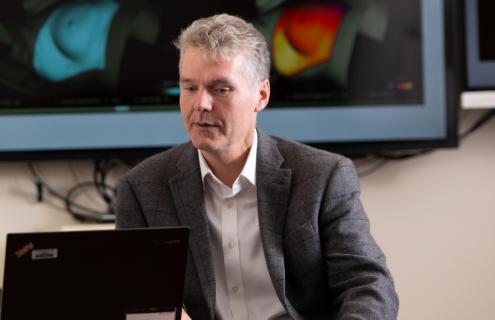 Going from basic idea to commercially deployed systems, all within a single cancer center, has been amazing opportunity
Brian W. Pogue, PhD
Brian W. Pogue, PhD, co-director of Dartmouth's and Dartmouth-Hitchcock's Norris Cotton Cancer Center (NCCC) Translational Engineering in Cancer (TEC) Research Program has been named a fellow of the National Academy of Inventors (NAI). 
Election as an NAI Fellow is the highest professional distinction for academic inventors who "have demonstrated a highly prolific spirit of innovation in creating or facilitating outstanding inventions that have made a tangible impact on the quality of life, economic development and the welfare of society."
Pogue is a renowned expert in medical imaging systems, particularly biomedical imaging guidance for cancer therapy and dose imaging in radiation therapy. He is co-founder of both QUEL Imaging LLC and DoseOptics LLC, which develops cameras capable of capturing real-time imaging of radiation beams by utilizing the Cherenkov effect. This effect occurs when radiation beams interact with tissue such as skin, producing a small light emission from the surface. NCCC is the first cancer center in the world to install the newly FDA-cleared BeamSite Cherenkov imaging cameras in its radiotherapy rooms for the benefit of patients.
"The invention of Cherenkov imaging was designed around simply trying to provide an intuitive tool for the therapy team to use, and one which has the potential for automated detection of errors if they happen. This will make radiotherapy as safe as is physically possible," says Pogue.
NCCC has served Pogue and his team as a working laboratory for cancer therapy and research. "The ability to translate our Cherenkov imaging testing into human studies was seamless over the years. Going from basic idea to commercially deployed systems, all within a single cancer center, has been amazing opportunity," says Pogue, who also has long-standing involvement in The Prouty, NCCC's multi-million dollar annual fundraiser, profits from which have gone full circle to directly funding some of Pogue's pilot research.
Pogue joins fellow TEC co-director Keith D. Paulsen, PhD, as an NAI Fellow, whose product the Breast Cancer Locator, which he co-invented with the development team at NCCC and CairnSurgical Inc., recently won the NH Tech Alliance 2021 Product of the Year.
In addition to co-directing NCCC's TEC program and teaching as the MacLean Professor of Engineering at the Thayer School of Engineering at Dartmouth, Pogue also serves as an adjunct professor of surgery at the Geisel School of Medicine and co-directs the Dartmouth Medical Physics PhD Education Program, which he founded. He has authored more than 400 peer-reviewed journal articles which have been cited more than 30,000 times. While at NCCC, he has received more than $37 million in grant funding from the National Institutes of Health. He holds 12 patents, with an additional 12 pending.
The induction ceremony for this year's fellows will take place at the NAI annual meeting in June 2022 in Phoenix, AZ. The 2021 Fellow class hails from 116 research universities and governmental and non-profit research institutes worldwide. They collectively hold over 4,800 issued U.S. patents and conduct research and entrepreneurship that covers a broad range of scientific disciplines.
The NAI was founded in 2010 to recognize and encourage inventors with patents issued from the U.S. Patent and Trademark Office, enhance the visibility of academic technology and innovation, encourage the disclosure of intellectual property, educate and mentor innovative students and translate the inventions of its members to benefit society.