By

Lara K. Stahler

Photography by

Mark Washburn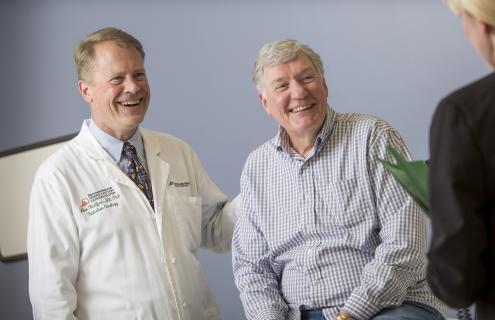 The benefit is very real, the cost is relatively low and the results are significant into the long term. I believe that over time most radiation oncologists will build this approach into their standard clinical practice.
Alan Hartford, MD
Unless you or a family member has undergone treatment for prostate cancer, you may not even know where in the body the prostate is located. The prostate is a walnut-sized gland in men that sits just below the bladder and in front of the rectum, nestled between both organs. Men who are diagnosed with prostate cancer often have the option of undergoing surgery to remove the prostate, or of receiving targeted radiation therapy that is focused on the prostate gland; however, while radiation therapy is an effective treatment, in addition to killing prostate cancer cells, healthy cells in part of the rectal wall may also be damaged by high-dose radiation, putting the rectal organ at risk for side effects. Some common side effects of radiation therapy can include increased bowel frequency, urgency, loose stools and bleeding.
Hydrogel Technology
In 2015, the FDA approved a device named Space()OAR®, "Spacing Organs At Risk," a novel hydrogel that serves as rectal protection for prostate cancer patients who are undergoing radiation therapy. The SpaceOAR system reduces rectal injury in men by acting as a spacer that pushes the rectum away from the prostate. Dartmouth-Hitchcock's Norris Cotton Cancer Center (NCCC), under the expertise of radiation oncologist Alan Hartford, MD, PhD, is the first and currently only medical center in New Hampshire, Vermont and Maine to offer this technology to prostate cancer patients. "Over the past two decades, radiation oncology has developed technologies that target the prostate with millimeter precision," says Hartford. "However, the rectum is directly adjacent to the prostate. SpaceOAR allows us to separate the rectal wall from the prostate gland, thereby reducing the rectal dose of radiation tremendously."
Placed between the prostate and rectum, the gelatin-like SpaceOAR hydrogel pad provides up to 1.5 cm of space between the rectum and the prostate, pushing the rectum out of the high-dose radiation region, ultimately reducing potential radiation damage to the rectum. The clear hydrogel spacer is injected during a minimally invasive procedure. Once in place, patients typically can't feel it. The hydrogel is safe and similar to other products used in brain surgery, cardiology and ophthalmology. It remains in place for three months during radiation treatment, and is then absorbed into the body and excreted in the urine, leaving nothing behind.
Most prostate patients treated with radiation at NCCC will qualify for placement of the SpaceOAR gel. "We use a critical eye to assess every patient's disease individually, to assure that this procedure has a good chance of providing a benefit," explains Hartford. "In a few cases, the anatomy of the gland, or the position of the tumor may argue against using this technology."
Real Experiences
James Terrell and William Handy were two patients that qualified for the treatment. Terrell has just finished radiation treatments after learning of his prostate cancer in February. Because his cancer had pushed outside of the prostate, the best treatment option for him was radiation. "I was under anesthesia for a routine coil implant procedure and the gel was injected at the same time so I didn't even notice or feel anything," Terrell says. "Dr. Hartford said I might feel a fullness, but I didn't feel different at all. Everything went very smoothly." Likewise, Handy, who began radiation therapy later in the spring, did not feel any pain or discomfort during the injection. "It's a low-level anesthesia like when you have a colonoscopy. It was very quick and I didn't feel a thing. There was no discomfort during or after. Now that it's in place, I can't even tell it's there," Handy says. "Dr. Hartford was so excited when we got my MRI back showing how much space had been added between my prostate and rectum. He said, 'Look, Bill, we got almost half an inch of space!' I liked seeing the grin on his face. I felt good that he was happy with the results."
As for their reactions to the idea of the new technology, Terrell's was positive from the beginning. "Anything that can make the treatment process easier on a patient is great. If I'd had bowel problems on top of other symptoms from hormone treatments, it would have been a lot more difficult. As far as protecting my bowels, the gel did a great job." Handy did not hesitate either. "I agree with Dr. Hartford that it was a 'no-brainer.' He went over all risks in great detail, but really it's a very low-risk procedure and the gel eventually dissipates."
Since radiation treatments have ended as far as his SpaceOAR gel is concerned, Terrell says everything has gone smoothly and he's had no problems. "I think this is a great opportunity. Anything to make treatment easier on a patient is a bonus. I'm glad I was able to utilize the technology and think it did help my process." Having the information and experience that he has now, going back, Handy would "absolutely make the same decision again."
Aside from such positive patient experiences, Hartford maintains a necessary realism. "It's important to maintain a critical and honest eye. My job in caring for a cancer patient is to provide him (or her) as many tools as possible for exerting control over his disease, to make his own choices that may best improve the length and quality of his life, and to enable the patient to better his happiness and well-being. SpaceOAR is a novel option and a very good one. But most important is the patient's overall health. Thousands over the years have lived happy lives after radiation therapy for prostate cancer. SpaceOAR technology is not a necessary part of this success, but merely a potential improvement."
Becoming Common Practice
Research of the technology is favorable. Large-scale national studies have demonstrated that SpaceOAR reduces rectal toxicity risk from 9 percent to 2 percent. In clinical trials, patients who received SpaceOAR placement prior to their prostate cancer radiotherapy demonstrated rectal (bowel), urinary and sexual function benefits three years post-treatment.
Hartford anticipates that placement of SpaceOAR gel will become a standard step in radiation therapy of the prostate gland. "Clinical data and common sense argue that separating the rectal wall from the prostate will lower a patient's risk of side effects. The benefit is very real, the cost is relatively low and the results are significant into the long term. I believe that over time most radiation oncologists will build this approach into their standard clinical practice."
Looking ahead, SpaceOAR also has the potential to be useful with other types of cancer. "The capacity to move normal tissues away from radiation targets is a common-sense approach that may provide benefits in many anatomical locations," says Hartford. "It's possible that this hydrogel technology may have multiple applications for several tumor types."
SpaceOAR not only protects the organs close to the prostate, but protects a patient's quality of life during and after prostate cancer radiation treatment. "It's wonderful to have options," says Hartford. "This technology provides an additional option for our prostate cancer patients, one which may offer a very real benefit at a modicum of effort and expense."