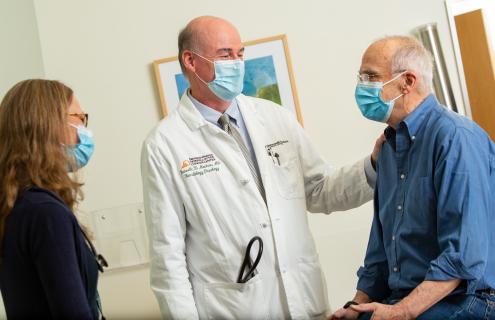 Dartmouth and Dartmouth-Hitchcock Norris Cotton Cancer Center (NCCC) has successfully treated its first two patients with a commercially available CAR T-cell therapy. CAR T-cell therapy is used to treat children up to age 25 with acute lymphoblastic leukemia (ALL) and adults with relapsed/refractory diffuse large cell lymphoma or mantle cell lymphoma. The therapy is new and rapidly expanding, with FDA-approved products for the treatment of multiple myeloma expected in the near future, and clinical trials with CAR T cell products for new indications are underway.
CAR T-cell therapy involves collecting blood from the patient and separating immune T cells from the blood. The separated T cells are genetically engineered to produce receptors on their surface called chimeric antigen receptors (CARs). These receptors allow the T cells to recognize and attach to a specific protein (or antigen) on the patient's tumor cells. The specially engineered cells are expanded in the laboratory by the millions and then they are infused back into the patient after chemotherapy. After the CAR T cells are infused back into the patient, the cells continue to multiply, while attacking the patient's tumor cells. With guidance from their engineered receptor, they recognize, attach to, and kill cancer cells that have the antigen on their surfaces.
Kenneth Meehan, MD, Director of the Transplant and Cellular Therapy Program and his team modeled the program after the success of the Blood and Marrow Transplantation Program and adapted procedures to suit the unique needs of CAR T-cell therapy patients. It took two years from the first meeting with hospital leadership to the treatment of the program's first patient, Kim Levitch, a patient of Christi Ann Hayes, MD, a medical oncologist in NCCC's Blood and Marrow Transplant Program. That time was spent developing procedures across all departments who may see CAR T patients and participating in an extensive quality assurance process with the pharmaceutical companies to ensure safety and processing standards were met. "My wife and I met with oncologists at both NCCC and Boston cancer centers. Both locations were very impressive, but we were simply blown away by how brilliant and absolutely kind, caring and wonderful Dr. Hayes was," says Levitch. "I felt prepared and was excited to be the first patient to receive this new therapy at Norris Cotton Cancer Center." Now, five months out from his CAR T cell infusion, Levitch's physical strength and mental acuity are returning, and his energy is good as he moves into the follow-up phase.
"CAR T-cell therapy is in its infancy worldwide," says Meehan "We wanted to get in on the ground level and build a program we'd feel comfortable sending our own families to. Mr. Levitch's success is the first step in an explosion of these new therapies. The design and development of this program was extremely difficult, but it has been the most rewarding experience for our team. We visited numerous units/sections within our hospital. We informed them that we were starting a new program that would be more work and more training for each one, but it's what our patients needed. Every person rose to the occasion and said 'we'll do it.'"