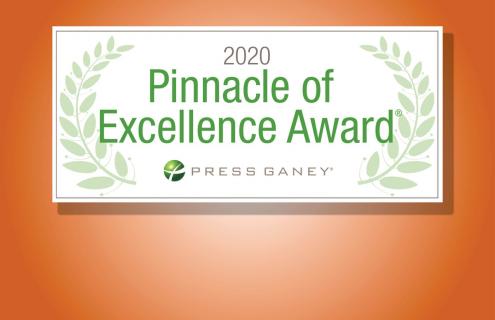 This award exemplifies the truly patient- and family-centered care we provide at the Norris Cotton Cancer Center.
Steven Leach, MD, Director, NCCC
Lebanon, NH – Dartmouth and Dartmouth-Hitchcock's Norris Cotton Cancer Center (NCCC) is pleased to announce that the Dartmouth-Hitchcock Hematology/Oncology department has been awarded the 2020 Press Ganey Pinnacle of Excellence Award® for Patient Experience. This award recognizes institutions who have maintained consistently high levels of excellence in patient experience over a three-year period.
"As New Hampshire's only NCI designated Comprehensive Cancer Center we pride ourselves on our commitment to our patients and are humbled to be recognized by Press Ganey, an industry leader in measuring patient experience," says Steven Leach, MD, Director, NCCC. "This award exemplifies the truly patient- and family-centered care we provide at the Norris Cotton Cancer Center."
The award considers performance on patient satisfaction survey questions including Likelihood to Recommend, Overall Rating and Teamwork, and recognizes top performing healthcare organizations nationwide.
"This award reflects Dartmouth-Hitchcock Norris Cotton Cancer Center's deep commitment to listening to the voices of their patients and our shared mission to reduce suffering and improve the safety, quality, and experience of patient-centered care," said Patrick T. Ryan, Chairman and Chief Executive Officer, Press Ganey. "I continue to be humbled and inspired by their heroic efforts to care for patients in the face of the uncertainty, stress, and fear brought on by the COVID-19 pandemic. Press Ganey is proud to partner with them in this noble work and we congratulate them on this tremendous achievement."
                                                      ###
About Norris Cotton Cancer Center: Norris Cotton Cancer Center, located on the campus of Dartmouth-Hitchcock Medical Center (DHMC) in Lebanon, NH, combines advanced cancer research at Dartmouth College's Geisel School of Medicine in Hanover, NH with the highest level of high-quality, innovative, personalized, and compassionate patient-centered cancer care at DHMC, as well as at regional, multi-disciplinary locations and partner hospitals throughout NH and VT. NCCC is one of only 51 centers nationwide to earn the National Cancer Institute's prestigious "Comprehensive Cancer Center" designation, the result of an outstanding collaboration between DHMC, New Hampshire's only academic medical center, and Dartmouth College. Now entering its fifth decade, NCCC remains committed to excellence, outreach and education, and strives to prevent and cure cancer, enhance survivorship and to promote cancer health equity through its pioneering interdisciplinary research. Each year the NCCC schedules 61,000 appointments seeing nearly 4,000 newly diagnosed patients, and currently offers its patients more than 100 active clinical trials.
About Press Ganey: Press Ganey pioneered the health care performance improvement movement 35 years ago. Today Press Ganey offers an integrated suite of solutions that enable enterprise transformation across the patient journey. Delivered through a cutting-edge digital platform built on a foundation of data security, Press Ganey solutions address safety, clinical excellence, patient experience, and workforce engagement. The company works with more than 41,000 health care facilities in its mission to reduce patient suffering and enhance caregiver resilience to improve the overall safety, quality, and experience of care.