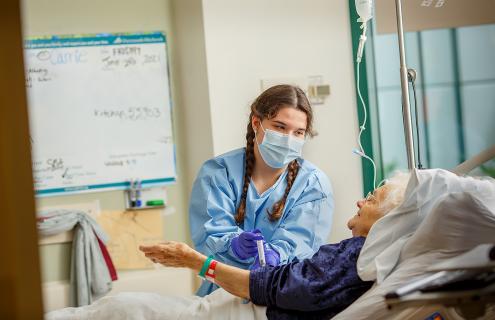 Nurses are very capable people. It's a great profession that can take you many places.
Devon Fortier, BSN, RN
Like any nurse, Devon Fortier, BSN, RN, felt a call to caring for others in need when she chose her profession. And like many other nurses, a personal connection to the health care field drove her decision. But Fortier's own life experience as a childhood cancer survivor makes her career as a chemotherapy nurse at Dartmouth's and Dartmouth-Hitchcock's Norris Cotton Cancer Center (NCCC) all the more meaningful.
When Fortier, a Newbury, NH, native, began experiencing a persistent back ache and waning energy at age 7, her mother knew something wasn't right. Once tests started revealing elevated white blood cell counts, Fortier and her mother were connected with NCCC, where she would be diagnosed with acute lymphoblastic leukemia, one of the most common childhood cancers. She lived for three months in the inpatient unit at NCCC, and her entire course of treatment went on for three years.
Her treatment was grueling and anxiety-inducing for a young child, but ultimately successful. Now 23, Fortier is cancer-free – and as an adult, she has dedicated her life to helping fellow cancer patients. Fortier became a licensed nursing assistant (LNA) as a teenager and then earned a bachelor's of science in nursing (BSN) from the University of New Hampshire. When it came time for hands-on experience during nursing school, the nurse manager interviewing Fortier for a per diem LNA position asked her why she wanted to work in oncology.
"I hadn't really thought about exactly why," Fortier said. "I ended up telling him that I had cancer once, and he said, 'Well that's certainly enough of a reason!'"
As an oncology nurse, Fortier has a unique perspective to understand what goes into her patients' medical decision-making and family meetings. "As I grew up, I thought maybe using the relatability of what I've been through could be an advantage in a certain role," she said.
No stranger to challenges, Fortier completed her nursing degree during the height of the COVID-19 pandemic. Despite this obstacle, a year of fundamental learning through the Oncology Nursing Society and 12 hands-on weeks through the Dartmouth-Hitchcock Nurse Residency program led to Fortier's full independence as a chemotherapy-certified registered nurse – almost 16 years to the day from her final chemo treatment at NCCC.
"I get anxious about things. But the training slowly builds, and then one day you realize you're signed off in chemotherapy, and it dawns on you that everything is working out and you're there for a reason, doing what you were meant to do," she said. "Nurses are very capable people. It's a great profession that can take you many places."
What Fortier finds most rewarding: forming special bonds with her patients and their families going through an experience she understands all too well.
"I don't disclose my story to everyone. But if there's a moment when it feels right, like when I know a patient needs that kind of comfort, or if they notice my medi-port scar, we find ourselves on common ground and can talk about it," she said.
About Dartmouth-Hitchcock
DARTMOUTH-HITCHCOCK HEALTH (D-HH), New Hampshire's only academic health system and the state's largest private employer, serves a population of 1.9 million across Northern New England. D-H provides access to more than 2,400 providers in almost every area of medicine, delivering care at its flagship hospital, Dartmouth-Hitchcock Medical Center (DHMC) in Lebanon, NH. DHMC was named in 2019 as the #1 hospital in New Hampshire by U.S. News & World Report, and recognized for high performance in 13 clinical specialties and procedures. Dartmouth-Hitchcock Health also includes the Norris Cotton Cancer Center, one of only 51 NCI-designated Comprehensive Cancer Centers in the nation; the Children's Hospital at Dartmouth-Hitchcock, the state's only children's hospital; affiliated member hospitals in Lebanon, Keene, and New London, NH, and Windsor, VT, and Visiting Nurse and Hospice for Vermont and New Hampshire; and 24 Dartmouth-Hitchcock clinics that provide ambulatory services across New Hampshire and Vermont. The D-H system trains nearly 400 residents and fellows annually, and performs world-class research, in partnership with the Geisel School of Medicine at Dartmouth and the White River Junction VA Medical Center in White River Junction, VT.
About Norris Cotton Cancer Center
Norris Cotton Cancer Center, located on the campus of Dartmouth-Hitchcock Medical Center (DHMC) in Lebanon, NH, combines advanced cancer research at Dartmouth College's Geisel School of Medicine in Hanover, NH with the highest level of high-quality, innovative, personalized, and compassionate patient-centered cancer care at DHMC, as well as at regional, multi-disciplinary locations and partner hospitals throughout NH and VT. NCCC is one of only 52 centers nationwide to earn the National Cancer Institute's prestigious "Comprehensive Cancer Center" designation, the result of an outstanding collaboration between DHMC, New Hampshire's only academic medical center, and Dartmouth College. Now entering its fifth decade, NCCC remains committed to excellence, outreach and education, and strives to prevent and cure cancer, enhance survivorship and to promote cancer health equity through its pioneering interdisciplinary research. Each year the NCCC schedules 61,000 appointments seeing nearly 4,000 newly diagnosed patients, and currently offers its patients more than 100 active clinical trials.