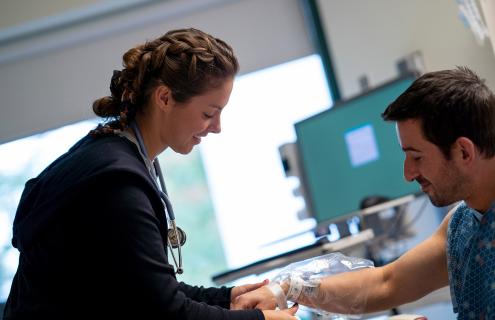 We are proud to introduce our new name as a part of the Dartmouth Health System.
The new Dartmouth Cancer Center name reflects the longstanding partnership between Dartmouth, the Geisel School of Medicine and the Dartmouth Health System. Together we have evolved and grown to provide cancer care throughout New Hampshire and Vermont. The Dartmouth Cancer Center name represents the success of our partnership in patient care, research, and technology both past and the future. 
Our history will not be lost as we will continue to honor Senator Norris Cotton's key role in the creation of our Cancer Center 50 years ago. The Dartmouth Hitchcock Medical Center location in Lebanon, New Hampshire will become the Norris Cotton Cancer Care Pavilion.
We're proud to be part of a health system that's filled with people who stand among the nation's best. People who break boundaries and push medicine to new heights—all right here, close to home. So you can do more of what you love, because that's what matters most.
Learn more