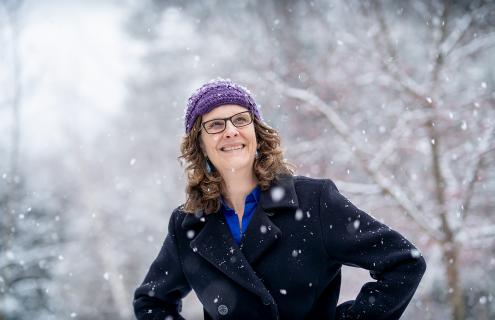 If joining these studies can help future patients make more informed decisions because there is research backing the choices, then it's worth it to me.
Amy Visser-Lynch
2017 was an especially difficult year for Amy Visser-Lynch. Taking care of her ailing father and then his burial and resettling her mother after he passed away proved very stressful and emotional. Soon after, she woke up with chest pain and noticed one breast was larger, red and didn't feel good. She called her primary care physician and within a couple days had the results of her biopsy—breast cancer. Having recently had a family member go through early-stage breast cancer with good results, Visser-Lynch was not overly concerned at first. "I first thought, 'Oh, I can survive this,'" she recalls. "Once I learned how much more advanced my breast cancer was and the treatments I would need, I knew there were going to be lots of decisions."
An experienced nurse at Mt. Ascutney Hospital, Visser-Lynch thought she'd be able to figure things out pretty easily. "Even as a nurse and knowing the medical terminology, it's not easy to figure out. But my doctor at the time was wonderful helping me sort everything out." In fact, she recalls fondly how wonderful her entire medical team was. "I've never really been sick or had reason to be in the hospital before so this was a little scary. My whole team was so good to me and walked me through all of the decisions I had to make—the ones with a pretty clear option to choose and the ones that just came down to personal choice," she recalls. "It was really nice to see from 'that side' the difference we make as nurses—how much the little things really mean. It's one of the biggest things I carry with me now." 
The first day of chemotherapy can be stressful enough, but Visser-Lynch's first treatment happened to fall on the day Dartmouth-Hitchcock endured an active shooter in the building. "I had my mediport accessed and was in the middle of reviewing my labs with my doctor and getting ready for infusion, and suddenly we all had to run outside. But another oncologist was able to get me back in for infusion the very next day."
Once Visser-Lynch was settled into her chemotherapy routine, her oncologist told her about a clinical trial that she was eligible for and asked her if she'd be willing to consider it. That trial was to study different breast imaging techniques, looking for improvement over mammograms. "I asked if I had to get a mammogram and if there were any radiation downsides. He assured me no on both so I said ok, I'm in!"
Participation in the imaging trial led to more study opportunities for Visser-Lynch. After the few lymph nodes she had removed during her bi-lateral mastectomy came back positive for cancer cells, she became eligible for a trial that gave her the choice between removing the remaining lymph nodes or moving on to radiation therapy while monitoring the lymph nodes to see if the second surgery was still needed.  "There was nothing that said one way was better than the other. I said to my husband, since there is no clear good or bad here, I say we flip a coin and let the study decide." The study decided Visser-Lynch would have a full lymph node resection and then radiation. 
Visser-Lynch is also in a study that randomizes breast cancer patients into taking a daily aspirin or not, to track rates of recurrence (the cancer coming back). "It's a blind study so I don't know if I'm taking aspirin or placebo. But all I do is log the date and time I take the pill. That's it," she says. She is also in a trial that monitors lymphedema, the swelling that can happen as a result of lymph node removal.
Not all of the studies Visser-Lynch participates in are medical treatment-oriented. Her favorite is the BeWell study, in which she works directly with a health coach who not only optimizes her diet and exercise routine, but also helps mentally with the setbacks along the way due to treatment. "I've really made a lot of changes in my diet, my activity and my work—life balances," she says.
Visser-Lynch's experiences over past couple years have formed the outlook she has on life today. "I've taken a new lease on not saying 'no' to opportunities that come my way." For her, that included accepting a promotion at work that she likely would not have accepted in the past, and joining the new breast cancer survivors rowing team at The Prouty, an empowering experience she looks forward to again next year. She remains open new clinical trials that may come her way. "Anything we can do to make things better down the road or pay it forward, I believe in. We wouldn't be where we are today if others hadn't been part of studies. If joining these studies can help future patients make more informed decisions because there is research backing the choices, then it's worth it to me." She notes that she has never once felt uncomfortable and knew that she could always step away if she wanted to. "I also never felt that something was not a benefit either to me or to someone down the road. There was never a 'down side' to me. And all of the studies were coordinated into my regular appointments, so it was never a burden. Plus, knowing I'm helping others makes me feel good."