By

Tom Haushalter

Photography by

Beth Rexford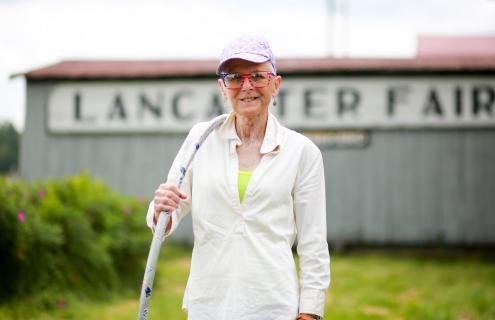 The chance to help others is what drove me to get better
Gerrie Scott
Gerrie Scott of Lancaster, NH, clowned around for 22 years. In character as a hula-hooping goofball named Jingle the Clown, it was how she made a living, bringing games, pratfalls and laughter to countless children's birthday parties, parades and festivals around the region.
Aside from how busy it kept her—weekends were often chock-full of parties, sometimes a great distance apart—Scott found a kind of home in the guise of Jingle, always with the gift of joy sprouting from her pockets, until a critical turn in her health and surgery meant her clowning days were about to change.
It all started with a sore throat in August 2011. "It hurt to swallow," Scott recalls, and after several days of pain, she went to her doctor who examined her, found nothing and referred her to a nearby ear, nose and throat specialist. "So he went up my nose with a rubber hose and said, 'Well, this is pretty concerning. I want to do a biopsy tomorrow.'"
A month later, the test results were still inconclusive, and her throat was still sore. Her doctor sent her to Dartmouth-Hitchcock (D-H), where on October 14, 2011, after repeating her biopsy, Joseph Paydarfar, MD, in Otolaryngology and Audiology, diagnosed her with carcinoma of the tongue.
First step, remove the tumor under her tongue. Scott remembers asking Paydarfar: "'Is it possible you'll have to remove my tongue?' He said it was a possibility."
That became Paydarfar's difficult determination, and in January 2012, he performed the surgery to remove Scott's tongue and epiglottis and, in effect, her tumor. Gary Freed, Jr., MD, PharmD, in Plastic Surgery, performed the reconstructive work in her mouth and throat—in total, 19 hours of surgery.
Scott's new reality
Scott awoke to a whole new reality. With staples from ear to ear, as well as up the thigh of her leg—where muscle tissue was taken in order to reconstruct her throat—realizing that she would have to relearn how to talk, she could only wonder, "What next?"
Although at first she resisted the idea of a feeding tube, her doctors and family insisted that, without a tongue, it was the only way she could get the nutrients she needed. Far from satisfied with this solution, when she returned home, she began experimenting with a method of drinking liquid down her throat.
Using a wide-mouthed bottle, to ensure it empties easily, and in a seated position with her neck straight and head tilted back, she carefully, but quickly pours the liquid down. "It's like creating a funnel," she says. "You have to think volume—lots of liquid at once."
At her next appointment with Paydarfar, Scott decided to show him what she'd taught herself to do. He was astonished, and asked, "How did you do that?" She told him she'd been doing it for quite a while, and after performing the "trick" for a number of other doctors and nurses, she was approved to continue this means of eating with high-fiber, protein-rich liquid food.
Scott's recovery also included intensive speech therapy, and her medications prevented her from driving for several weeks. Nor was surgery the end of her cancer plan: in March 2012, she received the first of 30 radiation treatments from Philip Schaner, MD, PhD, in Radiation Oncology. She would also require six rounds of intensive chemotherapy with Thomas Davis, MD, in Hematology Oncology, both at Dartmouth-Hitchcock's Norris Cotton Cancer Center.
"I was feeling really lonely, and then I got mad," Scott says. "My family saw me changing, and they helped me to better understand what all I had been through and how long this process had been."
Through her anger she discovered the life she had still to live, and although not as Jingle the Clown, she could still create a lot of good in her community, in some way to pay forward all the support she had received. She says, "I knew what I needed to do."
Finding her voice again through helping others
Scott has a friend named Ronaldo, a schoolteacher, who has had amyotrophic lateral sclerosis (ALS) for seven years. In April 2012, she held a fundraiser for Ronaldo called "Paint for a Purpose," and sold spots for people to paint an encouraging message or picture on the side of his van, where she had already painted in large letters "Ronaldo Rocks!" In one afternoon, she raised $500 for Ronaldo.
This is how Scott found her voice. "The chance to help others is what drove me to get better," she says.
Another man in town, only 30 years old, developed a brain tumor, so Scott made goats milk soap ("Lots of it!") and sold it to raise funds to help him cover his health care costs.
And for the town of Lancaster's 250th anniversary in 2013, she sold links in a commemorative "Love Chain"—250 interlocking, personalized paper loops—and gave the $500 she raised to the local historical society.
Scott says she has coordinated more than 20 fundraisers for local people and organizations in need. In 2014, the town manager presented her with a plaque for Volunteer of the Year, recognizing her "unselfish devotion and distinguished service to the town of Lancaster."
Helping others has put her at peace with not only the challenges of living with severely-limited speech, but also with what comes next.
Last December, an MRI showed a mass on her lung. While she's deeply grateful for all of her providers at D-H and for the amazing work they did, Scott has elected not to enter a new phase of chemotherapy. "I've had five healthy years [since throat surgery]," she says, "and I'm grateful for that."
With whatever time she has left, she can still hula hoop. And because it doesn't require speech, she's taken up miming.