By

Bonnie Barber

Photography by

Mark Washburn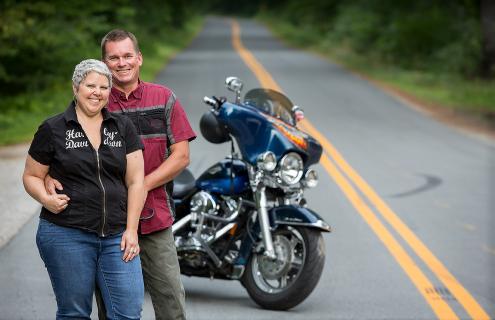 I never viewed my cancer as a battle. I view it as something that is dancing with me in order to propel me further.
Kat Barrell
When Kathleen "Kat" Barrell walks the corridors of Dartmouth-Hitchcock Medical Center (DHMC), the large framed photos of Dartmouth-Hitchcock (D-H) patient stories always make her smile. As a D-H marketing manager, Barrell was part of the team on the "Our Patients, Their Stories" project. D-H photographer Mark Washburn spearheaded the project and designer Erin Nott helped to create the portraits that hang throughout the D-H facilities. The team felt it was an ideal way to pay tribute to D-H's patients and clinicians and share some of the wisdom gained from their medical experiences. Barrell never imagined that someday she would share her own story as an ovarian cancer patient.
Her patient journey began in October 2016. After experiencing pressure in her side for four months, which Barrell thought was due to digestive problems, the Newport, NH, resident scheduled an appointment with her DHMC primary care physician, Megan Adamson, MD, MHS-CL. "Dr. Adamson thought it might be a fibroid, but she wasn't sure. When she pushed in a certain spot I just about hit the roof, it was very painful," says Barrell. "But honestly, I was more worried that I might be pregnant. I thought, 'I can't be pregnant at age 46!'"
Adamson ordered a CT [computed tomography] scan and an MRI [magnetic resonance imaging], which revealed a four-pound tumor. "It was essentially the size of a bag of flour inside my right ovary," says Barrell. A review of the MRI report revealed septations, which Adamson describes as "like dividing walls of tissue within the cyst. Thick septations or other solid material within a cyst is a more concerning feature." Adamson told Barrell that she would need to go to reception 3K to see Dr. Evelyn Fleming in Gynecologic Oncology at Dartmouth-Hitchcock's Norris Cotton Cancer Center (NCCC). "As a hospital employee, I knew that 3K was Oncology," says Barrell. "I was thinking, 'Wait a minute. I'm not a cancer patient.'"
After meeting with Fleming to discuss surgery to remove the mass, Barrell scheduled the procedure for early November. "I still didn't know if I had cancer because even the MRI report wasn't very clear. But I felt like I was in such qualified hands with Dr. Fleming," Barrell says. "She was totally calm and told me not to get too far ahead as there still was a lot they didn't know for sure." During the surgery, the tumor was sent to the lab for analysis and tests revealed the mass was clear cell carcinoma. "Waking up in the recovery room, I looked up at my husband Chris, who was sitting there, holding my hand," Barrell recalls. "I asked, 'So, is it?' And he just kind of looked down, shaking his head yes. It was the most heartbreaking moment of my life."
At this point, the stage of the cancer was still unknown. About a week later, Fleming called Barrell with the results—she had stage IIIC ovarian cancer. "I sat with that for a period of time before I had my next appointment with her," Barrell says. "I was trying not to let my mind get away from me. I did not go onto the internet and I did not research what it means to have stage IIIC cancer. All I knew was that it meant it had spread."
After "sitting in the muck" for a few days, Barrell began to formulate her cancer strategy. It was based in part on what she learned from Anita Moorjani's book Dying to be Me, advice and wisdom she'd gotten from D-H patient story interviews she'd done over the years, and from her own philosophies and beliefs as an intuitive and an energy healer. When she met with Fleming to review her chemotherapy treatment plan, Barrell says, "I had decided to focus on what I wanted the end result to be. So, I told Dr. Fleming that I didn't want to know what symptoms I might experience or what my prognosis was. And I think that shocked her."
Fleming says, "I was probably a little surprised when she initially told me that. But I've been doing this awhile and I've seen a lot of different approaches to things. My job is to try to help my patients however I can and try to meet them where they are and really respond to their cues. One thing that makes Kat so special is that she can express what she wants in a way that really allows you to have a great relationship and really work as a team, because she doesn't hesitate to tell you what she needs from you and how she wants information transmitted. So, I think patients can learn from her to be forthright."
Barrell explains, "My thinking was that I have my own cells and my own health history and there is every possible outcome for every type of cancer and every type of stage. People with a stage I diagnosis can die in six months because their mind got away from them and totally dragged them down. And people with stage IV can go on and live for years. I thought if she told me anything about symptoms or a prognosis, my mind would seize on that and it would then ensue within my body. So, I told her that I only want to hear what I need to know for my safety.
"And that same mode of thinking applied to my co-workers, friends and family. I had so many people trying to mother me at first and saying with a sad face, 'Oh, Kat.' People are probably thinking, 'She's going to die and I just need to support her and she must feel terrible.' So, I found myself re-setting everybody because if I start receiving that kind of energy response from people, then I almost feel like I have to fulfill that, like a mirror reflecting back. I had to tell people, 'I don't want you to feel bad for me,' and 'Please, no sad faces.' Because what I truly felt was that the cancer showed up to bring me to my edges so that I could bring the very best of myself forward in this world. I wanted them to see me as strong and capable, and already well. It is not helpful to the patient for people to automatically see us as less than what we are. It is that idea of the law of attraction. I wanted to focus on what I wanted the end result to be, and then that's what ended up happening."
Nine months after her surgery and four-and-a-half months after completing six chemotherapy treatments, Barrell's CT scan and blood test numbers came back clear in August. "It's pretty incredible how Kat got through all of this and how she continues to smile and be her lovely, chipper self," Fleming says. "She found a way to bring joy and light to something that was really tough and emotionally very heavy. That's incredibly unique."
Adamson adds, "I am continually struck by Kat's poise and enduring positive attitude.  She faced with grace what is often a nerve-wracking time of uncertainty between getting the results of an abnormal test and coming to a final diagnosis. Her mindset and optimism have carried her through this journey."
"For me, it was never about battling against cancer," Barrell says. "People would say and they still do, 'You're really battling this!' And I actually correct them because I never viewed my cancer as a battle. I view it as something that is dancing with me in order to propel me further. And it has."