Photography by

Mark Washburn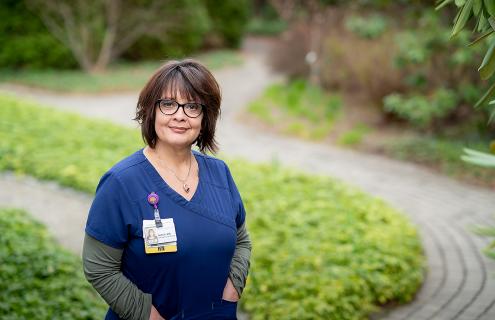 I am truly blessed.
Kelly Laperle, RN
Here is my story of the incredible care I received as a patient at Dartmouth-Hitchcock Medical Center (DHMC). First a little background. I was raised in Wyoming, and I've been a registered nurse (RN) for 27 years. I met my husband in 2016, and we were married a year later. He grew up in New England, but I had never been to the East Coast. We went to Cape Cod for our honeymoon and then again for our one-year anniversary. I fell in love with New England, applied for a job at DHMC and, in August of 2018, I started working on 3K; the Norris Cotton Cancer Center's Hematology-Oncology Infusion Suite.
Three months after I began at DHMC, I started to have constipation and urinary incontinence, which is not uncommon in women especially after childbearing. I made an appointment with Live Well/Work Well Primary Care Physician Polina Sayess, MD. I cannot say enough nice things about her. She is very knowledgeable, thorough, easy to talk to and empathetic. Unlike providers I had seen previously, Polina listened to me as a patient and not as a nurse—she did not treat me as if I was being overreactive. She sent me in for several tests, and when everything came up negative, she did not give up on me. She told me she loved challenges! But I was so frustrated that all my test results were normal; I thought I was going crazy especially as my symptoms increased and included neuropathy, weakness and pain in both legs that extended to my trunk, nausea, GERD (gastroesophageal reflux disease) and abdominal pain.
She referred me to Andrew Smith, MD, in Neurology, to rule out MS (multiple sclerosis). I also saw neurologist Nathaniel Robbins, MD, for an EMG (electromyography) to rule out other neurological conditions. Everyone was very nice and treated me with dignity and respect, even through tears of frustration because I did not know what was wrong with me.
The next provider I saw was Susan Shinn, MSN, APRN, for what I thought was a routine OB/GYN exam. Surprise! I had an 11 x 10 x 9-centimeter mass on my right ovary. I was nervous, to say the least because my mother had ovarian cancer in 2015 (she survived and is now in good health). Susan was incredible—she was very thoughtful, well-educated and took great care of me.
I have a strong faith in God, so I gave all my worries and fears to him at that moment. Susan called and got me in to see Ultrasound right away. Luckily there was a snowstorm that day, and there was a cancellation right at the time she called. After hugging me, Susan sent me right over.  
The radiologist Stephanie Yen was amazing as well. She and the technician Bonnie Nester also gave me reassuring hugs when they saw how anxious and tearful I was about the outcome. Stephanie recommended that I walk over to Oncology to find out if I could see an oncologist sooner. I knew exactly where to go since I'm an infusion nurse and work right next door. Pam Wider, my coworker, walked me over. Everyone had left except one licensed nurse assistant, Amy Dexter. She called and left a message for the scheduler and told me someone would get back to me. Amy was amazing.
I received a call within 20 minutes that they had an opening with Evelyn Fleming, MD, the next day. I arranged to take the day off and saw her the next day. I was so blessed by everyone who helped me get through this stressful time. You see, I was not only worried because my mom had ovarian cancer. I was worried because I had been married for less than two years and my husband had already lost his first wife to cancer. I was worried for him, and how to tell him, if I did have cancer. I also give chemotherapy to patients every day and treat women with ovarian cancer. So, of course, that made me more concerned because I see some of what they go through.
I had my appointment with Dr. Fleming. She showed me great compassion and was very encouraging. She is extremely knowledgeable and told me she would do everything she could to have my co-workers be just my friends, not my chemo nurses. She gave me a lot of hope and also gave me a reassuring hug. She is absolutely amazing!
I had surgery two weeks later on March 1, 2019, and thankfully my tumor was benign. Eight of the symptoms I was having were gone within days of my surgery. By my second day post-op, I was walking two miles a day, and I came back to work in a week. I currently walk five-to-eight miles a day, and I am only nine weeks post-op since the removal of my ovaries, fallopian tubes and "Fred," the name I gave my mass because it sounded better than mass or tumor!
This journey has been a huge blessing. I am eating better and exercising more. It took the thought of having cancer to make me realize I needed to take better care of myself.
I want to thank the nurses I work with on 3K. They were all so encouraging, helpful and took care of me like I was their sister. I told Dr. Fleming that if I did have cancer, I at least knew that I would have outstanding nurses to take care of me. I have an amazing group of friends that get to stay my friends and not as my chemo nurses. They are all truly an amazing group of women, and this group, in particular, stood out during my time of need by calling me, bringing food and checking in: Janet Stender, Sharon Grader, Laurin Comeau, Laura Forauer, Anna McDowell, Christine Mitchell, Deb Lewis, Erin Cartier and Kim Wilkinson.
I am truly blessed.