Photography by

Mark Washburn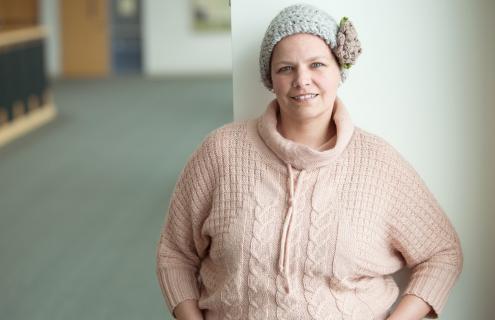 I am stronger than I gave myself credit for.
Kerry Clifford
In July 2016, after three days of ignoring nagging abdominal pain a friend persuaded Kerry Clifford to have it checked out while they were on a trip in Providence, Rhode Island. Clifford was admitted to the Emergency Room, and after 10 hours of tests, including an ultrasound, doctors discovered masses on her liver. Her discharge papers only suggested the possibility of cancer, but on the drive home to Vermont she streamed every podcast she could to take her mind off of it.
Days later, Clifford's physician referred her to Dartmouth-Hitchcock (D-H), and so began her journey with a team of doctors who have, at every turn, far exceeded her hopes and expectations.
Jeffrey Adler, MD, Gastroenterology, was the first to reach out to Clifford. "When I got the initial call from Dr. Adler, he was so empathic and wanted to get me in immediately," Clifford recalls. "He said he just couldn't bear to make me wait another week. That call stands out because that was my first interaction with D-H and set the tone for every interaction to come."
First an MRI confirmed the masses on Clifford's liver, and then vascular tests determined that they weren't just blood clots. After a biopsy and a colonoscopy, not only could her doctors determine that they were malignant tumors, but that the tumors had begun in her colon and metastasized to her liver. Clifford was diagnosed with stage IV colorectal cancer on August 26, 2016.
Working at first with Frederick Tucker, MD, in Hematology/Oncology at Dartmouth-Hitchcock's Norris Cotton Cancer Center, Clifford is now under the care of Gregory Ripple, MD, whom she feels total confidence in. And the treatment plan is a hopeful one, with everyone on her care team committed to eradicating her cancer. "Rather than just finding a way for me to live it," she says, "we're going to get rid of it."
As of April 2017, Clifford has completed her second (of three) eight-week cycles of chemotherapy. According to plan, this latest round comes right after the successful removal of tumors on her colon. She awaits surgery to remove the tumors on her liver, followed by the final eight weeks of chemotherapy.
The things that sustain her, despite extended periods that she "feels like dirt," take many forms. Clifford's confidence in her care at D-H remains unchanged. "Every time I go in to D-H, I feel like I'm playing the odds and, will eventually, interact with someone who's less than amazing. But each time I go in prepared for that, I get someone who's responsive and available for me," she says and adds, "The sheer compassion of everyone at D-H is admirable and so important and does make a difference."
In her beloved town of Windsor, Vermont, Clifford did not imagine the magnitude to which her family and friends would rise up and care for her, too. From coordinating meal trains to establishing a GoFundMe page to help offset lost income while in treatment, efforts to allow her to focus on her health and on being with her two teenage boys, have affirmed and deepened her dedication to the community. "Over the past 17 years, I've invested so much in Windsor, never expecting my investment would be returned hundredfold when I got cancer and needed help. I just hope I can be there half as much for others as they have shown up for me."
Her son's football team even named her their honorary captain. Last season they wore ribbons on their helmets and after each game would devote a cheer to Clifford. "Little things like that may seem insignificant," she says, "but when I'm miserable in the middle of chemo, when I feel like I don't have much left, remembering those tributes has filled my bucket a little bit."
Inside her faith community at Old South Church, while surrounded by love and support, Clifford admits she still struggles with prayer and healing, and that "this experience has highlighted that struggle and magnified the mystery of faith for me, though I also realize I am stronger than I gave myself credit for."
As she continues down the difficult road of treatment and more surgery, Clifford finds most comfort in things that haven't changed since her diagnosis. Like the chai tea at Boston Dreams in Windsor, she says, "not just because it tastes so good, but because even in the dark times I can see the faces I know and love, and I can be in the world."