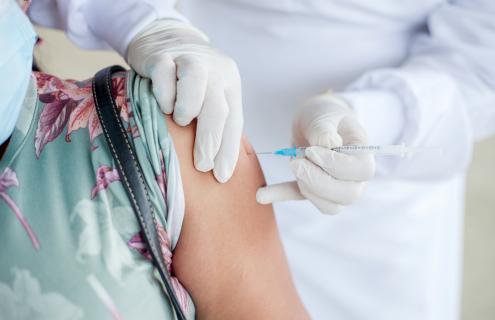 COVID-19 is a threat to the health of everyone, but especially people with cancer. Studies have shown that people with cancer have higher risk than the general population of being hospitalized, of developing a critical illness or severe complications, and of dying from COVID-19.
Flu season is also now upon us. People with cancer, especially those 65 or older, or those who have a history of cancer are at higher risk for developing serious complications from the flu.
"People with active cancer or a history of cancer, as well as their care partners and anyone who comes in contact with cancer patients are strongly encouraged to receive COVID-19 and flu vaccinations," says Dartmouth-Hitchcock Norris Cotton Cancer Center (NCCC) medical oncologist, Gary N. Schwartz, MD.
COVID-19 booster shots are also approved for anyone of eligible age, and are encouraged six months after the second dose.
Safety
The COVID-19 vaccines, currently approved for anyone age 5 and older, are safe for people with cancer and can help protect them against serious illness and death. Because the virus can still spread after vaccination, it is important for people with cancer to reduce their risk of exposure to the virus by continuing to wear a mask, wash their hands and social distance.
Flu vaccines are approved for use in people with cancer and other health conditions. "The flu shot has a long, established safety record in people with cancer," says Schwartz.
Family and care partners
It is also important for people who live with, care for, or come in contact with cancer patients to be vaccinated against COVID-19 and seasonal flu. Vaccination greatly reduces the risk of getting the cancer patient sick.
Resources
The American Society of Clinical Oncology (ASCO) and Centers for Disease Control (CDC) provide many resources to help people with cancer understand and navigate COVID-19 and flu.
Resources include answers to common questions about the COVID-19 vaccine and people with cancer and what cancer patients, survivors and care partners should know about the flu vaccine.
Please also visit the NCCC COVID-19 vaccine patient and care partner FAQ for information about vaccine safety, effectiveness and availability for people with cancer.
For information about the flu vaccine and how you can schedule one and other flu vaccine resources, please visit the Dartmouth-Hitchcock Flu Vaccination Clinic page.