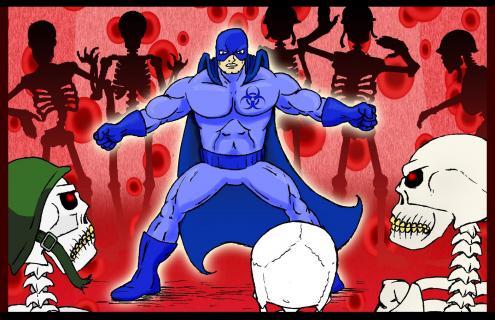 I like this one. It may be a little over the top, but the title for this one would be, 'Captain Chemo: Remission Accomplished!'
Kevin Laski
Kevin Laski is a music lover. He's seen his favorite band, Pearl Jam, at least 12 times, even as far as Amsterdam (story title from Pearl Jam's "Daughter"). This love is evidenced in the illustrated comic-like slideshow movie that he made depicting happy memories from his life, and most recently, the infiltration of multiple myeloma. Laski sees his disease as dark villain skeletons partying hard and dangerously in his immune system, and "Captain Chemo" the caped superhero winning his battle for him. The battle is set to a hard-hitting heavy metal soundtrack. The music in the movie progresses with time, each image telling the story of memorable phases of his life, set to its own appropriate rock and roll accompaniment.
The diagnosis scene
Laski's first diagnosis came in 2014. "I had severe back pain. It was so bad getting out of bed that I had to crawl along the walls like Spiderman. It was diagnosed elsewhere as a bad back. I didn't believe that so I had a test done here (Norris Cotton Cancer Center [NCCC]) and they said, 'Kevin, come in right away. You have multiple myeloma.' That's when the ball started rolling."
"I had my first bone marrow transplant in 2015, followed by two strong years in remission. Then it started creeping back and I had another transplant this past Thanksgiving." Laski's second transplant, also under the care of Ken Meehan, MD, from the Blood and Marrow Transplant Program at NCCC was with his own stem cells. Using autologous cells reduced the risk of graft-versus-host disease (which occurs when a donor immune system attacks the recipient's tissues) and eliminated the need to find an immunologically identical stem cell donor. "The stem cell collection wasn't too bad," Laski says. "The care team always comforts you more than you need. That's good because I'm very squeamish."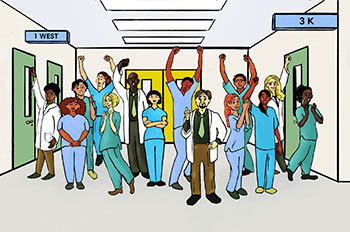 Even the difficult scenes are depicted in Laski's movie. He is determined to keep his optimistic attitude even through his recovery in One West, the Cancer Center's inpatient unit, after a collapsed lung and trouble breathing. "I'm not a guy who's going to quit. One time when I was in chemotherapy for 96 straight hours, I walked around the nurses' station almost 1,500 times to simulate walking from the hospital to my home in Plymouth, VT. It's 35 miles."
The life experience scenes
Laski came to VT from CT where he worked in Occupational Therapy at the Department of Mental Health and Addiction Services. He went on anti-smoking campaigns, where "they liked my show and gave me unrestricted creative liberty and funding to make it as crazy as I could. I traveled to schools, juvenile detention centers, prisons and destroyed the stage at the end. It was fun!" In VT he started a small hobby farm. He cared for everything from Scottish Highland cattle, Jacob's sheep, baby goats, two donkeys, three giant Leonberger dogs, a Chesapeake Bay Retriever and a cat named Sabre. "All the animals were just pets. I liked the yogurt made from water buffalos so I got one of those." He creatively makes things such as a spinning-top horse racing game and a Fenway Park whiffle ball field. "It took a whole summer, making the Green Monster, and I had the crowd scenes painted in murals. It had audio cheering and all sorts of things."
Laski also passes the time listening to classic rock music and reminiscing about his concert experiences. "It has to be real rock though—musicians playing their own music." He recalls a particularly special experience after a Temple of the Dog concert, when he found himself in a private hotel lobby room next to Stevie Wonder, who sat down at the piano at 1:00 in the morning to play some Beatles and other songs. 
The ending scene
Laski's movie is meant as a token of appreciation to the wonderful staff at NCCC he says took such great care of him, to his friends who he keeps in close quarters and as help to anyone who may be going through what he is. It is, at the moment, incomplete, though he has every intention of changing that. "As I'm writing this movie, I'm better off writing it positively," he says. "Instead of making it sad, I'm going to make it happy. A happy ending and the end to Kevin's efforts. There will be tributes to my nurses and doctors, dietary, housekeeping—the whole team. There will be images of them and at the end we all start cheering. It should be really heartfelt. And have more Eddie Vedder in it!"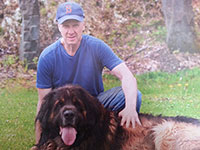 Update: We are deeply saddened to say that during the story writing process, Kevin Laski passed away. He was very keen on sharing his story and hoped his words would help other patients and families who are enduring their own hardships. We are glad we can honor him by fulfilling his request and telling his story. Lisa Wesinger, a clinical nurse in One West's special care unit who took care of Kevin notes: "His movie is complete…and pretty amazing." He will be deeply missed.