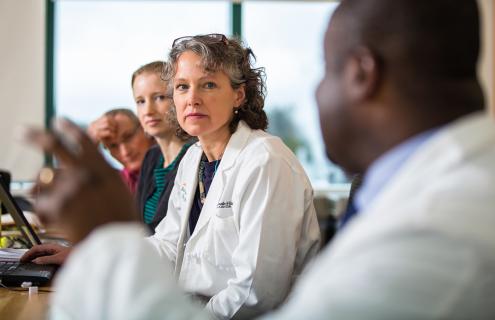 As the associate director for clinical research at Dartmouth-Hitchcock's (D-H's) Norris Cotton Cancer Center (NCCC), Konstantin Dragnev, MD, is focused on finding the right answer to that question—for each and every patient. Increasingly, Dragnev says, the best solution for patients can be found in their genes—and the unique genetic make-up of their tumors. "Doing genetic testing on cancer patients should be the standard of care," he says.
Dragnev says that the combined experience and knowledge of a team of experts—who can effectively use that information to develop the best possible approach to treatment—is also critical. As a result, he is a big believer in a team approach to cancer treatment. "You cannot have a single person, or even a single specialist, design the best treatment," he explains. "You need a multidisciplinary approach… one that includes scientists, pathologists, radiologists, medical oncologists, surgeons, radiation oncologists… It should be done as a team."
Taking a Team Approach
At the Cancer Center, there are 15 such teams, officially called "clinical oncology programs," but often referred to simply as "tumor boards." Each team focuses on a specific cancer and meets regularly, usually weekly, to review individual patient cases and recommend treatment plans. Those recommendations may be for the "standard of care," using approved drugs considered to be the best available options based on current research. Or they may be for new therapies being tested in clinical trials, which study new drugs and new uses of existing drugs, and compare them to the current standard of care.
Many hospitals and cancer treatment centers will have a single tumor board that reviews all cancer cases; however, at National Cancer Institute-designated comprehensive cancer centers, of which NCCC is one of a select number in the U.S., tumor boards are highly specialized and made up of experts whose primary focus is in a particular type of cancer. The tumor board teams also have greater exposure to the many "subtypes" that can develop in one type of cancer, simply because they see and treat tens, even hundreds, of patients with that cancer.
Basic scientists also participate in tumor boards at the Cancer Center, bringing the latest research on cancer to the team's efforts to determine the best possible treatment for each patient, and to discuss potential clinical trials of value to a patient. As further example of the multidisciplinary focus of the tumor boards, other participants include physical and occupational therapists, nurses, nutritionists and social workers—all focused on the best treatment plans for a patient.
Thinking about Cancer in New Ways
Efforts to understand the genetic underpinnings of cancer have been in progress since the human genome was first sequenced. New and more cost-effective methods for analyzing the genetic basis of disease—referred to as "next-generation sequencing"—now enable scientists to determine the genetic changes that play a role in the development and growth of different types of cancer.
At D-H, physician-scientists have been using next-generation sequencing for routine clinical services since 2012. Today, patients at the Cancer Center diagnosed with colon cancer, brain tumors, melanoma or lung cancer have their tumors sequenced with a panel that reports on 50 genes commonly altered in these cancers. Cancer Center physicians make use of that genetic information, offering new drugs that precisely target the genetic mutations involved in the tumor's growth or treatment resistance.
This new approach to cancer treatment is referred to as "precision medicine," and two years ago the Cancer Center created a new Molecular Tumor Board to foster efforts to offer these advanced treatment options for patients. Medical oncologist Mary Chamberlin, MD, directs the Molecular Tumor Board, along with Todd Miller, PhD, who is an assistant professor of Pharmacology and Toxicology at the Geisel School of Medicine.
"This is the only tumor board that deals with any type of cancer," Chamberlin says. "We meet to discuss treatment options for cancers based on the biology of the tumor—the mutations found in the tumor—not the part of the body where the tumor started. So that's a completely new way of thinking about cancer. This has allowed us to expand the use of precision medicine to all types of cancers, especially those that have not responded to standard therapies."
Scientists play a prominent role in the Molecular Tumor Board, Miller says, because routine use of genetic profiling is quite new to cancer treatment. "Oncologists who are treating patients need help in understanding the genetic profiles of tumors, and in interpreting the genetic information about the tumor in order to make the best treatment recommendations," he explains. The Molecular Tumor Board also works to educate providers and to incorporate this new approach to treating cancer into existing systems of cancer treatment and clinical trials at the Cancer Center.
Matching Genetic Mutations to Treatment Options
Currently the Molecular Tumor Board works solely with patients with late-stage (advanced/metastatic) cancer. If genomic analysis of the tumors identifies a mutation, Miller and the other basic scientists conduct an extensive review of the evidence on that mutation; for example, determining whether the mutation has been described before, and if a treatment directed to the mutation is likely to be effective.
Many of the mutations are so rare that no drugs have been developed yet to target them, says clinical researcher Dragnev. In those cases, the Molecular Tumor Board will look for possible treatments with drugs currently approved for use in a different disease or in another type of cancer, but known to have an effect on cancer cells with the particular genetic mutation in question.
Dragnev uses an example to explain further: "There may be four approved drugs for a type of lung cancer, and maybe another four that are approved for another cancer. We're testing for mutations in 50 genes, and that means for roughly 40 of these 50 genes there will not be an approved available drug for that type of lung cancer, even off-label." When patients fall into that category, he says, the more difficult work of the Molecular Tumor Board begins, with scientists reviewing databases of clinical trials to find one that is testing a drug that might work for a patient with a cancer with that genetic change.
Changing Cancer Medicine
This year, the National Cancer Institute (NCI) began a nationwide clinical trial to study whether treating cancers based on their genetic mutations will be effective. The Cancer Center at Dartmouth-Hitchcock is participating in the NCI-Molecular Analysis for Therapy Choice (NCI-MATCH) trial, which is beginning with a select number of "arms"(groups) that pair mutations more commonly found in cancer with drugs that target them. Chamberlin is a principal investigator on one of these arms. "Each arm is one drug and one mutation," she explains. "The trial uses a drug that has been found to be effective in a certain type(s) of cancer with that particular mutation, and broadens to see if the drug will work in any cancer that has that same mutation."
Dragnev explains that the NCI-MATCH Trial is also reshaping the way that clinical trials are conducted. "It's changing the paradigm from having the trial open and waiting for the patient to come—the old way of doing trials—to evaluating the patient and, as soon as you find a specific genetic change, bringing the trial to the patient." For the mutations and drugs paired in the MATCH Trial, Dragnev says, "Within a month, we can start a patient on the trial."
Dragnev expects this approach to become more and more common, and eventually to change the way that cancer is treated. "This will be how we're going to treat cancer in the future, and not in 20 years but probably in the next three to five years at most," he says. "This is the direction oncology is going, uncovering more cancer subtypes based on molecular analysis—even though under the microscope they look the same—and then designing treatments specific for each of these subsets," he says.
It is a goal that will be reached, says scientist Miller, through the combined efforts of clinicians and scientists, and the critical support of D-H Cancer Center leadership. Miller also stresses the important role that cancer patients play in this effort. At the Cancer Center and other NCI cancer centers around the country, clinical trials require patient participation to develop new treatment options and determine if they improve patient outcomes and survival. "We gain new information from every patient," Miller says.
Chamberlin concurs. "I think the concept of precision medicine has promise and makes sense, and I want it to be available for my patients," she says. "My patients drive me to keep looking for better options for them. That's why we're here, that's why we do what we do."