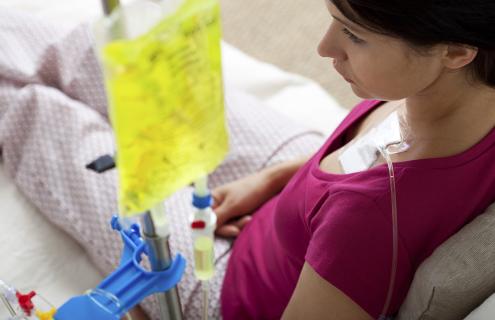 Patients with abnormal variants (mutations) in the DPYD gene are known to be at risk for severe toxicity from treatment with 5-fluorouracil or capecitabine—chemotherapies commonly used to treat colorectal cancer, as well as pancreatic, breast, gastroesophageal and other cancers. But previous studies have not reported the extent to which these DPYD gene variants are linked to fatal chemotherapy toxicity, as fatal toxicity is rare in any individual study. Pooling studies is needed to examine the association of DPYD gene variants with this severe outcome.
In a meta-analysis of previously published studies, researchers at Dartmouth's and Dartmouth-Hitchcock's Norris Cotton Cancer Center (NCCC), led by Gabriel A. Brooks, MD, MPH, found that uncommon variants in the DPYD gene, present in 4 percent of all cancer patients, were associated with a 25 times increased risk of fatal toxicity after treatment with standard doses of either chemotherapy drug. The absolute risk of fatal toxicity was 0.1 percent in patients without DPYD gene variants, and as high as 3.7 percent in patients with any of the three most severe DPYD gene variants.
The team's study, "Pathogenic DPYD variants and treatment-related mortality in patients receiving fluoropyrimidine chemotherapy: A systematic review and meta-analysis," is newly published online in The Oncologist.  
Though DPYD and other gene testing has been recommended by the European Medicines Agency since spring of 2020, gene testing is not widely done in the U.S. before patients are administered chemotherapy with 5-fluorouracil or capecitabine. Brooks' study suggests that adding pre-treatment screening may help prevent avoidable chemotherapy-related deaths without interrupting standard of care, as most patients who carry abnormal gene variants can still be treated with reduced doses of these chemotherapies. NCCC has already implemented routine screening for DPYD gene variants in most gastrointestinal cancer patients.
"U.S. organizations such as the Food & Drug Administration (FDA), the American Society of Clinical Oncology, or the National Comprehensive Cancer Network should consider recommending this testing. The FDA is currently considering a citizen's petition advocating for more widespread genetic testing, of which I am a cosigner," says Brooks.
*  *  *
Gabriel A. Brooks, MD, MPH, is a medical oncologist in the Gastrointestinal Oncology Program and member of the Cancer Population Sciences Research Program at Dartmouth's and Dartmouth-Hitchcock's Norris Cotton Cancer Center, and assistant professor of medicine at the Geisel School of Medicine at Dartmouth. His research focuses on systematic approaches to improving the delivery of safe and effective cancer care, with an emphasis on gastrointestinal cancers.
About Dartmouth-Hitchcock
DARTMOUTH-HITCHCOCK HEALTH (D-HH), New Hampshire's only academic health system and the state's largest private employer, serves a population of 1.9 million across Northern New England. D-H provides access to more than 2,400 providers in almost every area of medicine, delivering care at its flagship hospital, Dartmouth-Hitchcock Medical Center (DHMC) in Lebanon, NH. DHMC was named in 2019 as the #1 hospital in New Hampshire by U.S. News & World Report, and recognized for high performance in 13 clinical specialties and procedures. Dartmouth-Hitchcock Health also includes the Norris Cotton Cancer Center, one of only 51 NCI-designated Comprehensive Cancer Centers in the nation; the Children's Hospital at Dartmouth-Hitchcock, the state's only children's hospital; affiliated member hospitals in Lebanon, Keene, and New London, NH, and Windsor, VT, and Visiting Nurse and Hospice for Vermont and New Hampshire; and 24 Dartmouth-Hitchcock clinics that provide ambulatory services across New Hampshire and Vermont. The D-H system trains nearly 400 residents and fellows annually, and performs world-class research, in partnership with the Geisel School of Medicine at Dartmouth and the White River Junction VA Medical Center in White River Junction, VT.
About Norris Cotton Cancer Center
Norris Cotton Cancer Center, located on the campus of Dartmouth-Hitchcock Medical Center (DHMC) in Lebanon, NH, combines advanced cancer research at Dartmouth College's Geisel School of Medicine in Hanover, NH with the highest level of high-quality, innovative, personalized, and compassionate patient-centered cancer care at DHMC, as well as at regional, multi-disciplinary locations and partner hospitals throughout NH and VT. NCCC is one of only 52 centers nationwide to earn the National Cancer Institute's prestigious "Comprehensive Cancer Center" designation, the result of an outstanding collaboration between DHMC, New Hampshire's only academic medical center, and Dartmouth College. Now entering its fifth decade, NCCC remains committed to excellence, outreach and education, and strives to prevent and cure cancer, enhance survivorship and to promote cancer health equity through its pioneering interdisciplinary research. Each year the NCCC schedules 61,000 appointments seeing nearly 4,000 newly diagnosed patients, and currently offers its patients more than 100 active clinical trials.