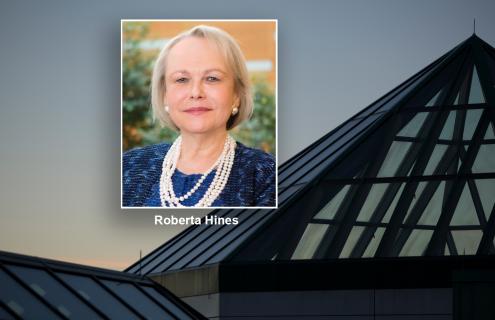 Roberta Hines, MD, has been named to Dartmouth-Hitchcock's Board of Trustees. She will serve a three-year term that began on April 1, 2019.
Dr. Hines is the Nicholas M. Greene Professor of Anesthesiology at the Yale Medical School and Chief of Anesthesiology at Yale New Haven Hospital.
As Chief of the Department of Anesthesiology, Dr. Hines has expanded both the scope and depth of the clinical practice. At the current time, the department's ten divisions provide care to over 70,000 patients annually. The department is recognized for its excellence in promoting interdisciplinary care models, developing procedural services and providing quality patient care beyond the traditional operating room environment. The department has become a nationally recognized leader in designing approaches that optimize patient care while increasing patient satisfaction. She has also helped create an innovative curriculum for medical students, residents and fellows. This curriculum incorporates academic programs and research opportunities early into the post-graduate training and provides inter-disciplinary avenues for research.
Her own research and clinical practice have focused on critical care medicine, and cardiovascular and respiratory physiology. Dr. Hines' work as a clinician earned her recognition as one of the "Best Doctors in America" and "Best Doctors in Northeast United States". Currently, her academic interests are focused on developing care delivery models in the era of value-based health care. 
Dr. Hines earned her bachelor of arts from the University of New Hampshire and her medical degree from Dartmouth Medical School (now known as the Geisel School of Medicine at Dartmouth). She completed her anesthesia residency at Yale New Haven Hospital followed by a year as a cardiovascular fellow. She has been an attending physician at Yale New Haven Hospital since 1984 and has served as Director of the Post-Anesthesia Care Unit, Director of the Cardiothoracic Intensive Care Unit and as Director of the Division of Cardiothoracic Anesthesia.
Dr. Hines joined the faculty at the Yale School of Medicine as an Instructor in 1982 and rose to the rank of full Professorship in 1995, when she was also named Chair/Chief of Anesthesiology, having held that post in an acting capacity the previous year.
About Dartmouth-Hitchcock Health
Dartmouth-Hitchcock Health (D-HH), New Hampshire's only academic health system and the state's largest private employer, serves a population of 1.9 million across northern New England. D-HH provides access to more than 2,000 providers in almost every area of medicine, delivering care at its flagship hospital, Dartmouth-Hitchcock Medical Center (DHMC) in Lebanon, NH. DHMC was named again in 2020 as the #1 hospital in New Hampshire by U.S. News & World Report, and recognized for high performance in 9 clinical specialties and procedures. Dartmouth-Hitchcock Health includes the Norris Cotton Cancer Center, one of only 51 NCI-designated Comprehensive Cancer Centers in the nation Children's Hospital at Dartmouth-Hitchcock, the state's only children's hospital; member hospitals in Lebanon, Keene, and New London, NH, and Windsor, VT, and Visiting Nurse and Hospice for Vermont and New Hampshire; and 24 Dartmouth-Hitchcock clinics that provide ambulatory services across New Hampshire and Vermont. The D-HH system trains nearly 400 residents and fellows annually, and performs world-class research, in partnership with the Geisel School of Medicine at Dartmouth and the White River Junction VA Medical Center in White River Junction, VT.