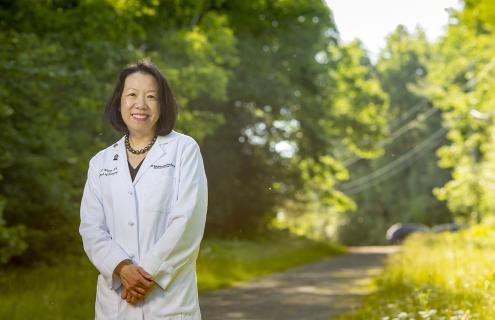 Fifty years ago, U.S. Senator Norris Cotton broke ground on the first cancer center to bring advanced cancer care to urban areas of New Hampshire. Today, Dartmouth Cancer Center is the only cancer center in a rural area to earn the National Cancer Institutes' highest designation as a Comprehensive Cancer Center. This designation is not without challenges. Among them: dealing with disparities in healthcare.
Conversations about disparities in healthcare are gaining traction. Disparities are "when we see unequal access to screening and care, resulting in unequal outcomes," according to Sandra L. Wong, MD, MS, FSSO, a surgical oncologist at Dartmouth Cancer Center, chair of the Department of Surgery at Dartmouth Health and president-elect of the Society of Surgical Oncology.
Disparities are often reflected in outcomes—who lives versus who dies from cancer. Wong acknowledges there are many layers in between.
"Screening, timely diagnosis and treatment delivery can be impacted by finances and coverage, travel time and distance, and quality and consistency in standard of care, among other factors," Wong said.
To assess those issues, Wong—collaborating with colleagues from the Geisel School of Medicine at Dartmouth and Dartmouth Institute for Health Policy and Clinical Practice—published an editorial about rural cancer care. Evaluation of cancer care, they noted, takes into account race and ethnicity as well as insurance-based and broader socioeconomic inequities. But there's a striking lack of understanding as to how "space and place" influence care delivery.
Data from the National Cancer Database show that rurality is contributing to inequities at multiple points. As a result, rates of screening, timely diagnosis and overall survival are lagging.
Rurality defined
"Rural" is not just where a patient lives. Within rural populations, multiple factors should be considered. Among them: local area employment, transportation, poverty, segregation, age, Medicaid access and income inequality. Data needs to reflect both the hospital level and a larger, comprehensive population.
"It's tempting to 'bucket' rurality as one thing when, in fact, it's not," Wong said. "Rural Mississippi is not the same as rural Massachusetts, nor is it the same as the Native American communities in New Mexico."
In their editorial, Wong and her colleagues conclude more data is needed on the diversity of rural communities and their challenges.
Tailoring the approach
From a surgical perspective, Wong worries "that people who need surgery are not getting it," she said. She points to a gap between the number of diagnoses that likely need some type of surgery and the number of surgeries being performed.
"We don't know if the discrepancy is because a patient didn't get referred for surgery or because they didn't want surgery," she said. "And if they didn't want surgery, is it because they had a misunderstanding of what surgery meant—or because they were well informed and still opted out? If we know the reason, we can facilitate a solution."
Solutions may require tailoring the approach to the need. In northern New England, for instance, transportation is an issue. And it can be affected by limited availability of cabs and rideshare apps, winter weather and slippery roads, an aging population, and cancer treatment side effects. Furthermore, cancer care—which may involve lab draws, consultations, treatments, and follow-up care—isn't a single trip.
"Telling people to come and we'll take care of you is the easiest thing to say but can be the hardest thing to do," Wong said. "As a cancer center, we have acknowledged that disparities exist and that work needs to be done. We don't have a magic answer but are being quite intentional about putting resources toward resolving challenges. That's an important first step."
Neighbors taking care of neighbors
Despite its size and location, or more likely because of them, Dartmouth Cancer Center ranks 6th in the nation for innovation and entrepreneurship. A collaborative approach is possible because of researchers who are not just in the community but of the community. The challenges they work to resolve are for cancer patients and families they call neighbors. Their efforts include:
Clinical trials:

Dartmouth Cancer Center was chosen as a site and awarded a National Cancer Institutes (NCI) grant known as CATCH-UP (Creating Access to Targeted Cancer Therapy for Underserved Populations). The grant is for increasing clinical trial awareness and participation for rural patients, who make up almost half of the area served. Through CATCH-UP, clinical research teams set out to open 15 clinical trials across 10 disease types that wouldn't otherwise be available without driving to a big city.

Outreach:

Dartmouth Cancer Center Community Outreach and Engagement team reaches Vermont and New Hampshire residents through programs that help patients quit using tobacco, educate them about the importance of cancer screenings and improve awareness of cancer research and clinical trials. They also seek input from cancer survivors, caregivers and community members.

Guidance: "

Nurse Navigators" partner with patients to connect resources and services and to overcome barriers that prevent patients from completing care. Connections facilitate transportation, lodging, social workers, volunteers and financial resources. They also guide patients through their cancer journey, explaining what to expect, while educating and answering questions.

Telehealth:

The medical community believes telehealth will remain a permanent fixture in cancer care. "As we emerge from the pandemic, telehealth is really useful to keep us in touch with our rural patients," Wong said. "Why not also use telehealth to connect physician networks and really partner with our colleagues across health systems and across the urban rural divide to better coordinate care?"

Grants:

Thanks to

Prouty Pilot Project grants, funds raised by the Cancer Center dedicated community are going right back into the community to reduce disparities. Principal Investigators Inas Khayal, PhD, and Amber E. Barnato, MD, MPH, MS, are developing images of our health care system that can identify disparities in end-of-life cancer care. "A method that visualizes health disparities along the care continuum and supports decision-making to reduce these disparities can ensure that all patients receive the highest quality cancer care," Dr. Khayal said.

Research:

Wong shares NCI-funded grants with colleagues to study surgical oncology disparities. "We're gathering data on Medicare patterns across the country and electronic patient-reported outcomes to learn about variations in rural cancer surgery," she said. "If we can identify similarities and differences, we can really drill down into what we're doing locally. It feels like slow-going, but we need to do this background work."
Moving the needle
Rurality is somewhat new to the study of health care disparities. "It's time to move from the acknowledgment phase to the action phase," Wong said. The Mobile Lung Cancer Screening Unit is an example of that "action phase." It's a team of Cancer Center investigators helping to address northern New England's transportation challenges.
"With health systems and policymakers focusing on rural disparities, we can move the needle toward more equitable cancer care for all Americans," Wong said.