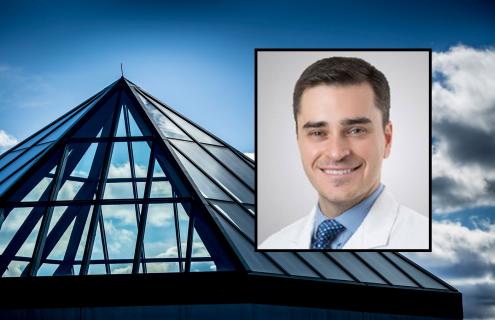 We are delighted to announce that Dartmouth's and Dartmouth-Hitchcock's Norris Cotton Cancer Center (NCCC) and the Department of Medicine have appointed Simon Khagi, MD, as Associate Oncology Service Line Director and Medical Director of the Nashua, Manchester and Concord NCCC sites. He will join us on October 4, 2021.
In this role, Dr. Khagi will provide oversight, leadership and vision for hematology and medical oncology care at NCCC Manchester, NCCC Nashua and future NCCC sites in the southern region of New Hampshire. Dr. Khagi will provide patient care and will have direct oversight of clinical personnel. He will work with clinic administration to ensure that timely care of the highest quality is provided to our patients. He also will hold an appointment as Assistant Professor of Medicine at the Geisel School of Medicine at Dartmouth.
Dr. Khagi comes to Dartmouth-Hitchcock after serving as Assistant Professor for the Department of Medicine and Department of Neurosurgery at the University of North Carolina (UNC) School of Medicine, Chapel Hill, NC, where he was the Director of the UNC Neuro-Oncology Program. We look forward to Dr. Khagi's contributions to our continued growth toward leading the nation in translating cancer discoveries, seeking the most impactful innovations in cancer prevention, diagnosis and treatment for the benefit of cancer patients.
He earned a medical degree from the University of Missouri-Kansas City School of Medicine in 2009 and completed a residency in Internal Medicine at Dartmouth-Hitchcock Medical Center, Geisel School of Medicine (formerly known as Dartmouth Medical School). He also trained through a fellowship in Hematology/Oncology at Tufts Medical Center, Tufts University School of Medicine and a fellowship in Neurological Oncology at Duke University Hospital, Duke University School of Medicine.
In addition to his appointments at the Department of Medicine and the Department of Neurosurgery at UNC Dr. Khagi's clinical, academic and administrative experience includes board certification in internal medicine, medical oncology and certification by the United Council for Neurologic Subspecialties in Neuro-Oncology. Dr. Khagi is pleased to be returning to Dartmouth-Hitchcock and the Geisel School of Medicine at Dartmouth.
His scholarly and research interests have been centered on improving treatments for patients with aggressive brain tumors such as glioblastoma, metastatic disease to the brain from breast and lung cancer, alternating electromagnetic tumor treating fields, novel cell-based therapies, engineered viral neuro-immunotherapeutics and enhanced imaging techniques for brain tumors.
We are delighted to welcome Dr. Khagi to the entire Dartmouth, Dartmouth-Hitchcock and Norris Cotton Cancer Center community. We are looking forward to his arrival in October.