Photography by

Mark Washburn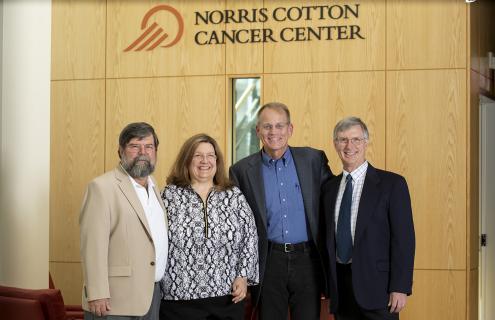 Whenever my mother was given credit for her community work, she would be quick to say that it took a lot of people working together to make anything happen.
Brad Quinn
As a beloved professor at Dartmouth's Tuck School of Business for more than 35 years, the late Brian Quinn established a reputation as an expert on entrepreneurship and technology. Outside of the classroom, he and his wife, Allie, were known for their active involvement in the Dartmouth College, Dartmouth-Hitchcock (D-H), and Upper Valley communities.
Brian Quinn passed away in 2012 and Allie died earlier this year, but thanks to their foresight as well as the initiative of their three children, Virginia, Jim and Brad, their legacy will continue through a new innovation awards program at Dartmouth-Hitchcock's Norris Cotton Cancer Center. The Quinn's advised that funds from an IRA their parents left to the Cancer Center be used to help launch a new program to support Cancer Center investigators working to transition promising new drugs and devices from the laboratory to clinical use. Recipients of the award will be known as the J. Brian and Allie J. Quinn Scholars.
"It takes bold ideas to develop new drugs and devices to advance the treatment and prevention of cancer. Our Cancer Center has been the source of many such discoveries, and these bold ideas need to be supported," says Steven Leach, MD, director of the Cancer Center, and the Preston T. and Virginia R. Kelsey Distinguished Chair in Cancer. "I'm so grateful to the Quinns for their visionary gift."
Long before Brian was himself treated for a rare and serious form of cancer in the 1990s, both of the elder Quinns were involved with D-H and the Cancer Center: Allie as a member of the hospital's Assembly of Overseers, Brian as a hospital trustee, later as chair of the Assembly of Overseers, and as a collaborator on strategic initiatives with then Cancer Center director Mark Israel, MD.
"Mark and our father were allies, and became close friends," says Jim. "Our parents credited Mark's leadership and the Cancer Center for another wonderful decade together, and this gift reflects their deep appreciation for Mark's contributions to both the institution and their lives."
Whether through teaching or philanthropy, Brian and Allie made giving a cornerstone of their lives. "Mom was a community activist," Jim recalls. "Through her volunteer work and her devotion to environmental and educational causes such as the Montshire Museum, Vital Communities, Vermont Institute of Natural Science, and the Hanover Conservancy, she made significant contributions to the Upper Valley."
The Quinns are thrilled that the funds will be directed toward entrepreneurship and research. "It's a perfect fit with our parents' lifelong interest in scientific innovation," says Virginia. "Our hope is that this will also encourage other donors to jump in with their own support."
The idea of their gift inspiring other donors fits with their parents' philosophy as well, affirms Brad. "Whenever my mother was given credit for her community work, she would be quick to say that it took a lot of people working together to make anything happen. My parents always looked for ways to build bridges between where a need existed and where the effort to meet that need could best be made."