By

Lara K. Stahler

Photography by

Mark Washburn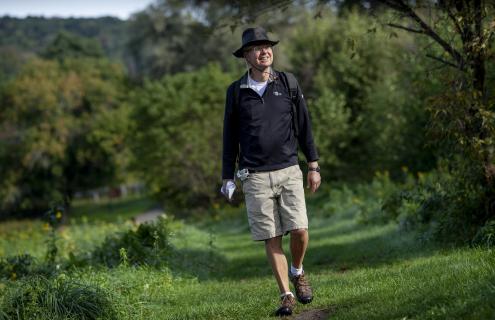 I set small goals and force myself to reach them. And slowly, I get stronger. Even small achievements really improve my mood.
Stig Hansen
Stig Hansen topped 230 pounds while working on Wall Street in New York City. After moving with his wife and three children to the Upper Valley in 2007, he got back into shape through one of his favorite activities: rowing.
"One night I woke up with my left leg jerking like crazy. My first thought was that it was caused by my rowing exercises. The next day I was sitting at the table and my left foot started tapping uncontrollably. I thought I might have Parkinson's Disease, which really terrified me. I was teaching at the time and the leg shaking was quite distracting while I was lecturing. Luckily, there was a podium in front of me."
Eventually, Hansen made an appointment with his physician, who he says "had me do what I would call a 'heel-to-toe walking sobriety test,' which I failed miserably. My physician told me that he didn't think it was Parkinson's but scheduled an MRI for the next morning." After the MRI (magnetic resonance imaging), Hansen was pulled aside. "I remember what they said, 'We see a mass in your brain.' At the time I didn't know that 'mass' meant cancer." They decided it would be best to have the mass removed as soon as possible.
In early 2015, Hansen underwent surgery to remove the mass. Soon after, he was informed that he had glioblastoma multiforme (GBM), the most common yet also deadliest form of brain cancer, with a life expectancy of just 13 to 14 months. He was told that the best course of action was to begin six weeks of chemotherapy and radiation therapy once he had recovered. "I was told I'd feel very tired by the end of treatment. Despite that, I asked if it would be ok to exercise." His surgeon, Nathan Simmons, MD, explained that evidence showed that cancer patients who exercise live longer. "He said to avoid contact sports, which made me laugh." So Hansen slowly got back into exercising on his rowing machine and also went trail hiking, another favorite activity of his. "I had expected to get weaker, but I actually got stronger during treatment. I began to think, well, maybe this is not the end of it."
Hansen's first MRI after completing treatment showed evidence of a tumor recurrence. The news, though, was not entirely unexpected. A test performed immediately after surgery had revealed that chemotherapy and radiation therapy was unlikely to be effective. Still, it was considered the best treatment option. After learning that the tumor had returned, Hansen discovered that patients who used a wearable device called Novocure Optune lived longer than their predicted survival times. The device creates alternating electric fields that interfere with cell division and cause cancer cell death. After three months of using the device, another MRI showed that the tumor had shrunk significantly.
Despite the tumor recurrence, Hansen set an optimistic goal of participating in the rowing event of The 2015 Prouty, Norris Cotton Cancer Center's largest annual fundraiser. Although he rowed a shorter distance than the standard route, he was happy he could still join in. "My team from the Upper Valley Rowing Foundation was very supportive the whole time, as were my family and friends. Their support was extremely uplifting." The following year, Hansen was back to rowing full-time and even got to compete in the prestigious Head of the Charles Regatta in Boston, MA.
Hansen acknowledges that it hasn't all been smooth sailing. His strength isn't what it used to be. Earlier this year, he came down with both the flu and walking pneumonia, which sapped his energy. To help himself through frustration, Hansen relies on little milestones. "I set small goals and force myself to reach them. And slowly, I get stronger. If there are setbacks, such as walking pneumonia, I adjust my goals. Even small achievements really improve my mood."
Since 2015, all of Hansen's MRIs have been stable. "I still get nervous before an MRI but my nurses tell me that's very common. I'm hoping I will live long enough for researchers to find a cure." The frequency of Hansen's MRIs has decreased from every six weeks to every 12 weeks. "As much as I don't like doing the MRIs, I do love the feeling of relief when the results show 'no evidence of tumor progression.'" Since the walking pneumonia, Hansen is listening to his body and doing exercises that he can handle, such as weight training and trail hiking. "I look forward to regaining my strength and rowing with my teammates again next summer."